Hi friends! Today I'm sharing how to make pretty and delicious pizzelles for the holidays! Pizzelles have been a longstanding tradition in our Italian family and I'm so excited to share my tips & tricks for pretty and delicious pizzelles.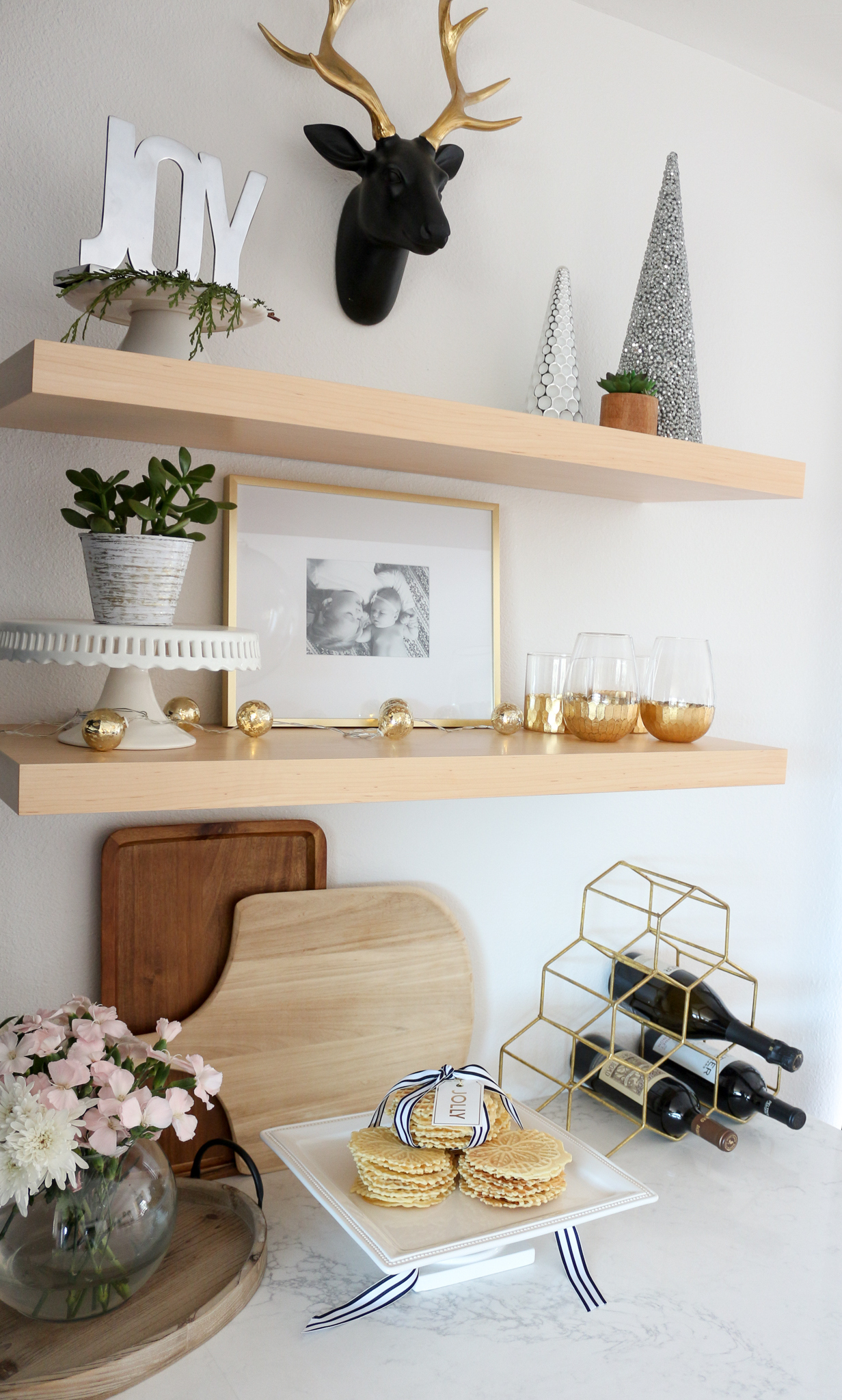 My grandmother used to make pizzelles during the holidays – they were always sooo good and I loved when she would make them. She passed the tradition down to my mother. I couldn't wait to adopt this tradition and share this delicious treat with my sweet girls. Thanks mama for lending me your pizzelle maker! I think I need to invest in my own 🙂
p.s. my grandma's tradition of calamari on Christmas Eve that I shared last year can be found here – it's soooo delicious!
Must Have Tools & Items for Delicious Pizzelles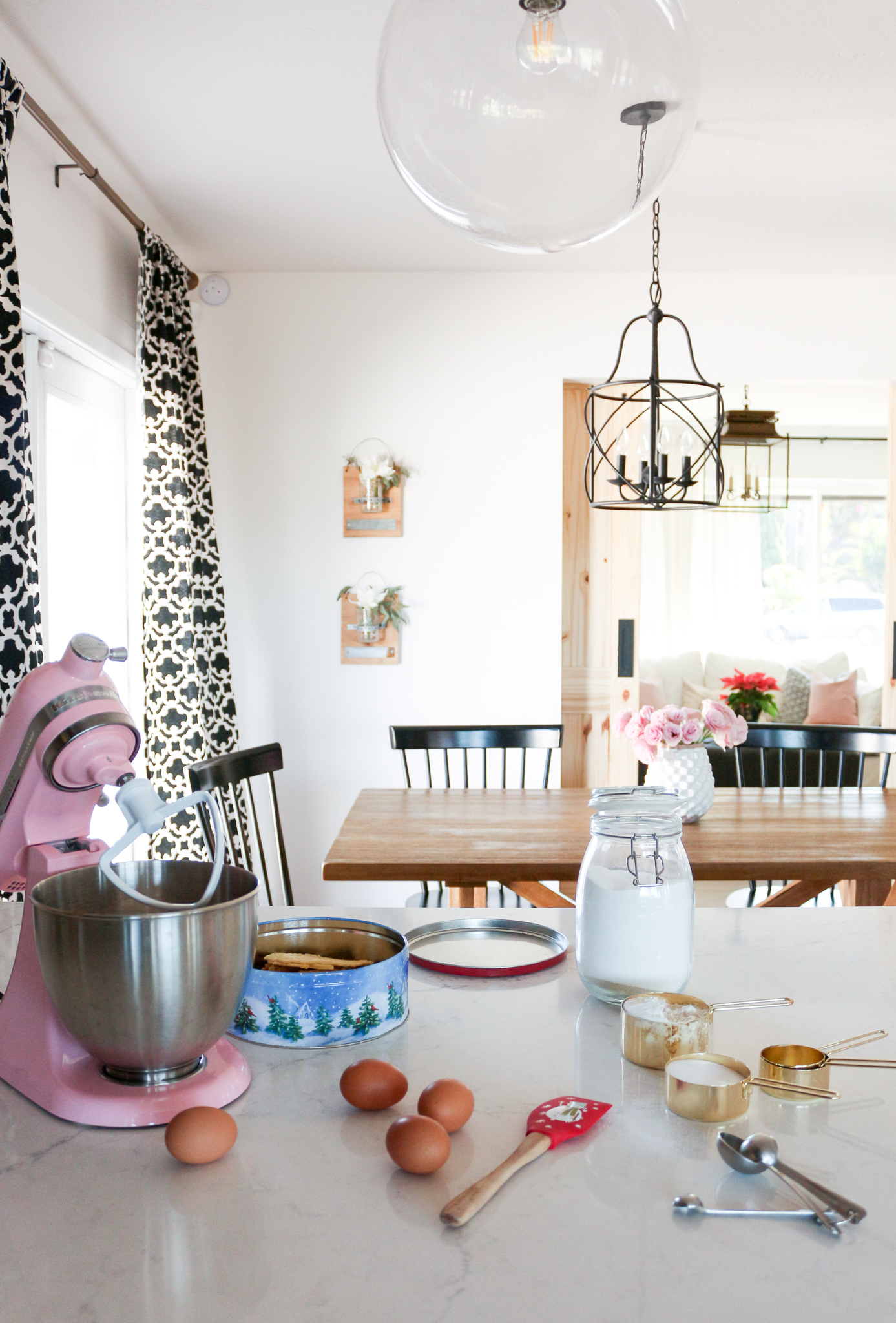 Last year I invested in this pretty pink mixer – it's been a game changer and makes whipping up a batch of pizzelles so easy! I just throw everything in the mixer and it does the job! I purchased the compact size because I like leaving it on my counter area in the kitchen and it doesn't take up a lot of space. Even though it's compact it gets the job done!
I also love my snowman spatula for holiday baking – makes it extra fun with the kiddos. My metal cookie tins keep the pizzelles super fresh!
Extra Delicious Pizzelle Tip: Use fine baking sugar  – it's the best – you can see the one I used by heading here!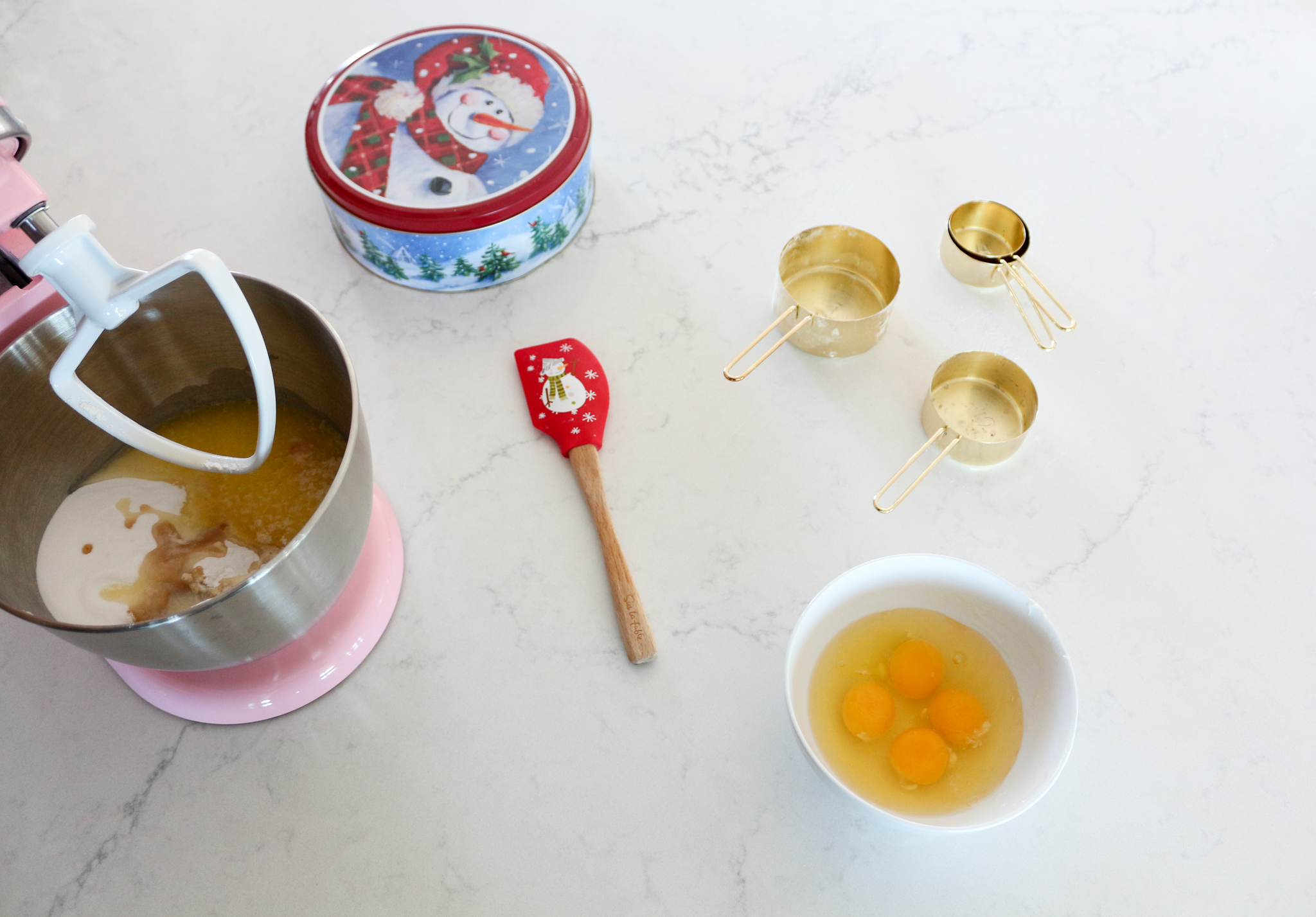 When making pizzelles or baking with my girls I always let them crack the eggs – it's one of their favorite things to do! I have them crack the eggs in a separate bowl just in case egg shells fall in – it's so much easier to "fish" out any shells in a small bowl rather than trying to find them in your batter!
While the mixer is working and blending I turn on my pizzelle maker so it's nice and warm and ready to go! I create an assembly line removing my bowl from the mixer and placing it closer to the pizzelle maker. I use a cookie scooper to get the perfect amount of batter. I scoop the batter, place on the pizzelle maker, close the top and wait about 20 seconds or so until they are cooked (I like mine cooked a light golden color – not too done!) Remove the very hot pizzelle with waffle tongs – they makes it so easy to grab the pizzelle. Place the pizzelle on a plate to cool. Repeat the process until you are finished. Scoop-dollop-cook-remove-plate-repeat…
*When making pizzelles with kiddos: If you have a little helper aka my pizzelle monster who eats all the pizzelles as I go along – you may end up with less than you hoped for! lol! Also remind them not to touch the pizzelle maker becuase it's super hot!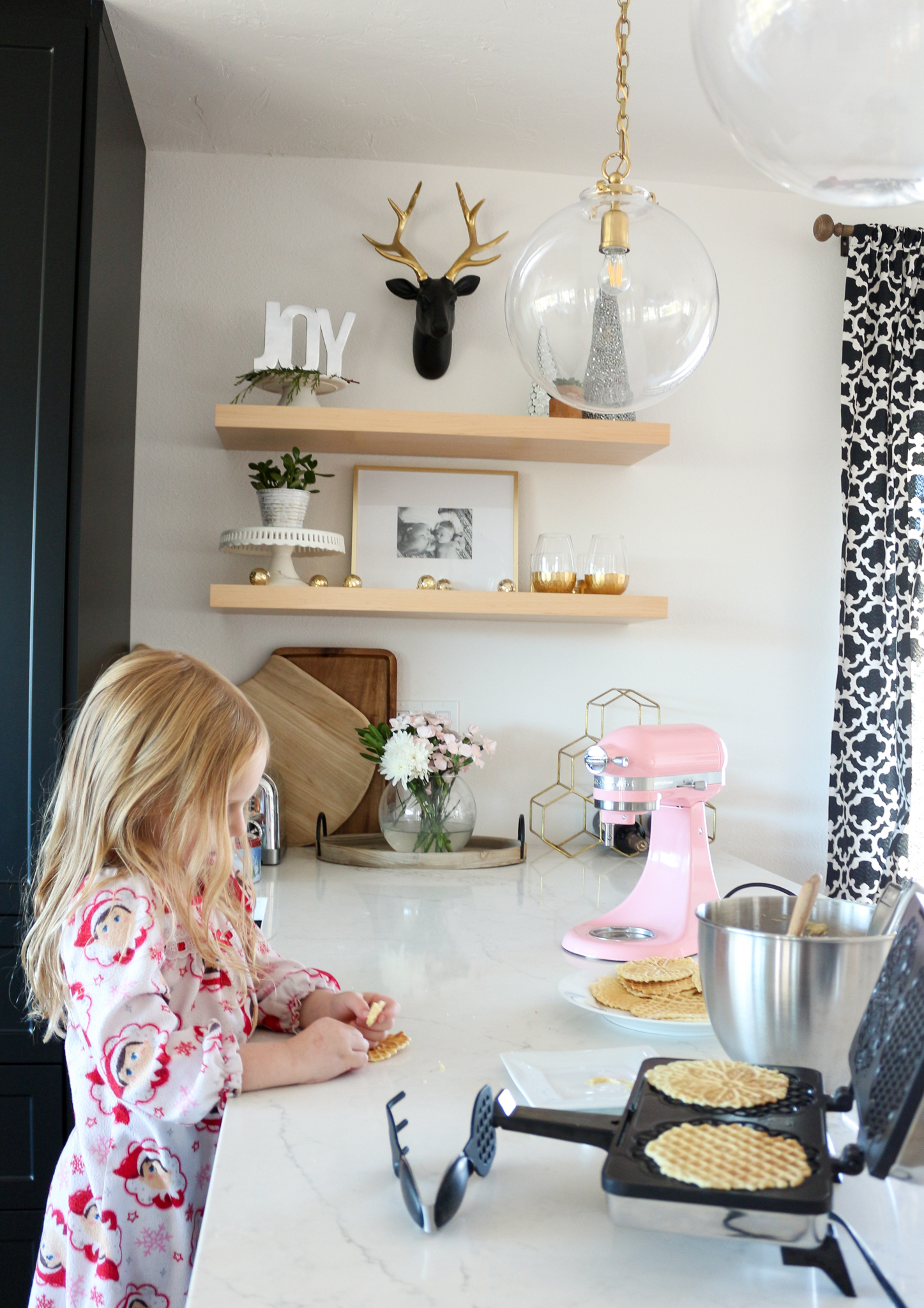 Making Your Pizzelles Pretty for the Holidays
Once the pizzelles are fully cooled you can now have fun making them pretty. Also don't stress if they aren't the perfect shape or all the same size – let go of perfection and embrace the uniqueness of each one! You can gift pizzelles to family, friends and neighbors for the holidays or display for a holiday party for your guests to nibble on.
*Tip: Make sure you fully cool your pizzelles and do not cover for several hours as they will get mushy and soft – you want them to stay crispy! That's why I love my metal tin or glass containers – they keep them nice and fresh! I never close the lid too tight – they need to breathe!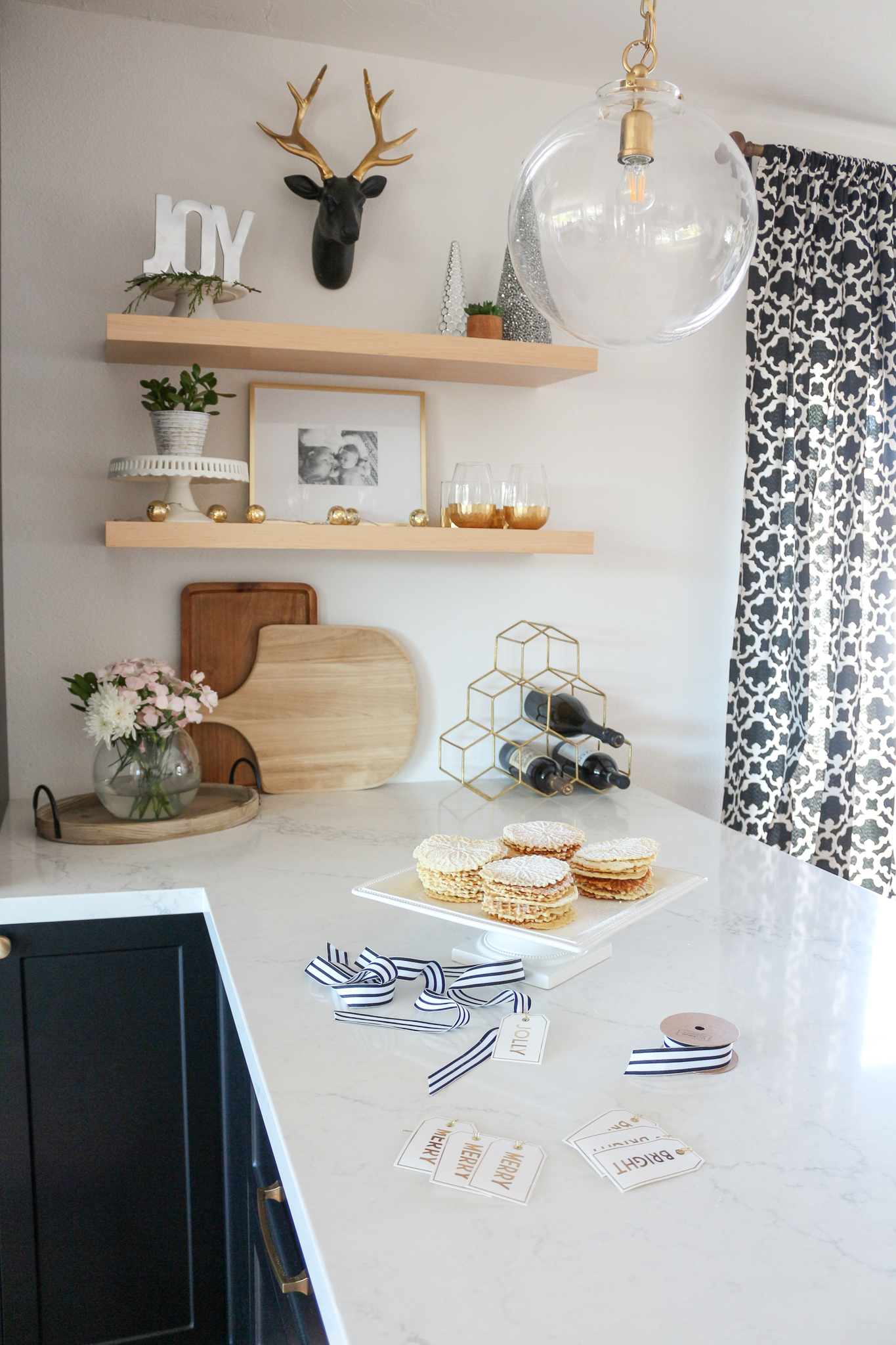 To make your pizzelles look extra pretty grab a cake stand or a nice plate or holiday platter, pretty ribbon and these festive gift tags. I'm loving my black and white ribbon and pretty gold gift tags.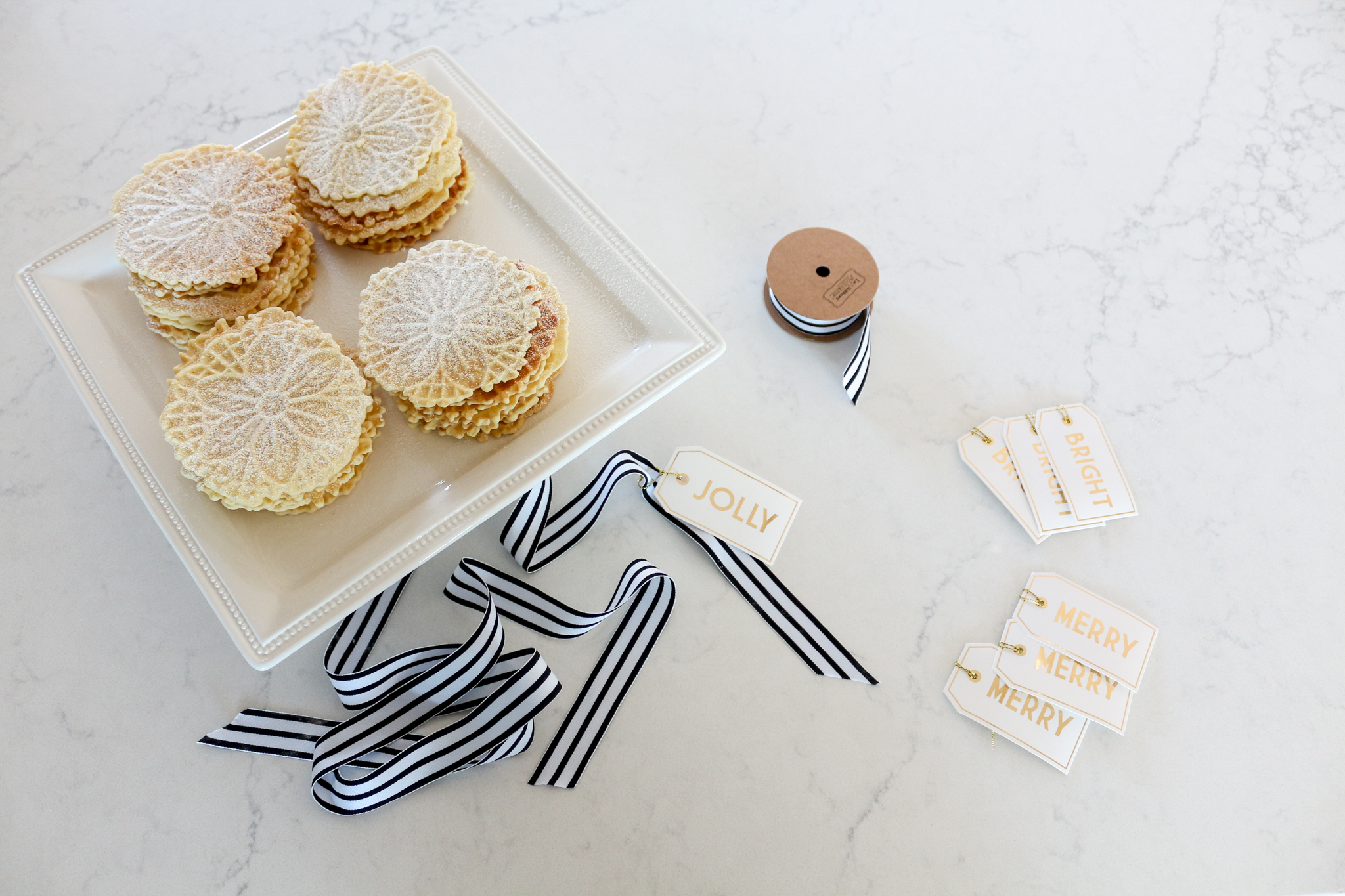 *Extra Pizzazz to your Pizzelle: You can add a dusting of powdered sugar to your pizzelles. They look so pretty with the powdered sugar – like a light dusting of snow!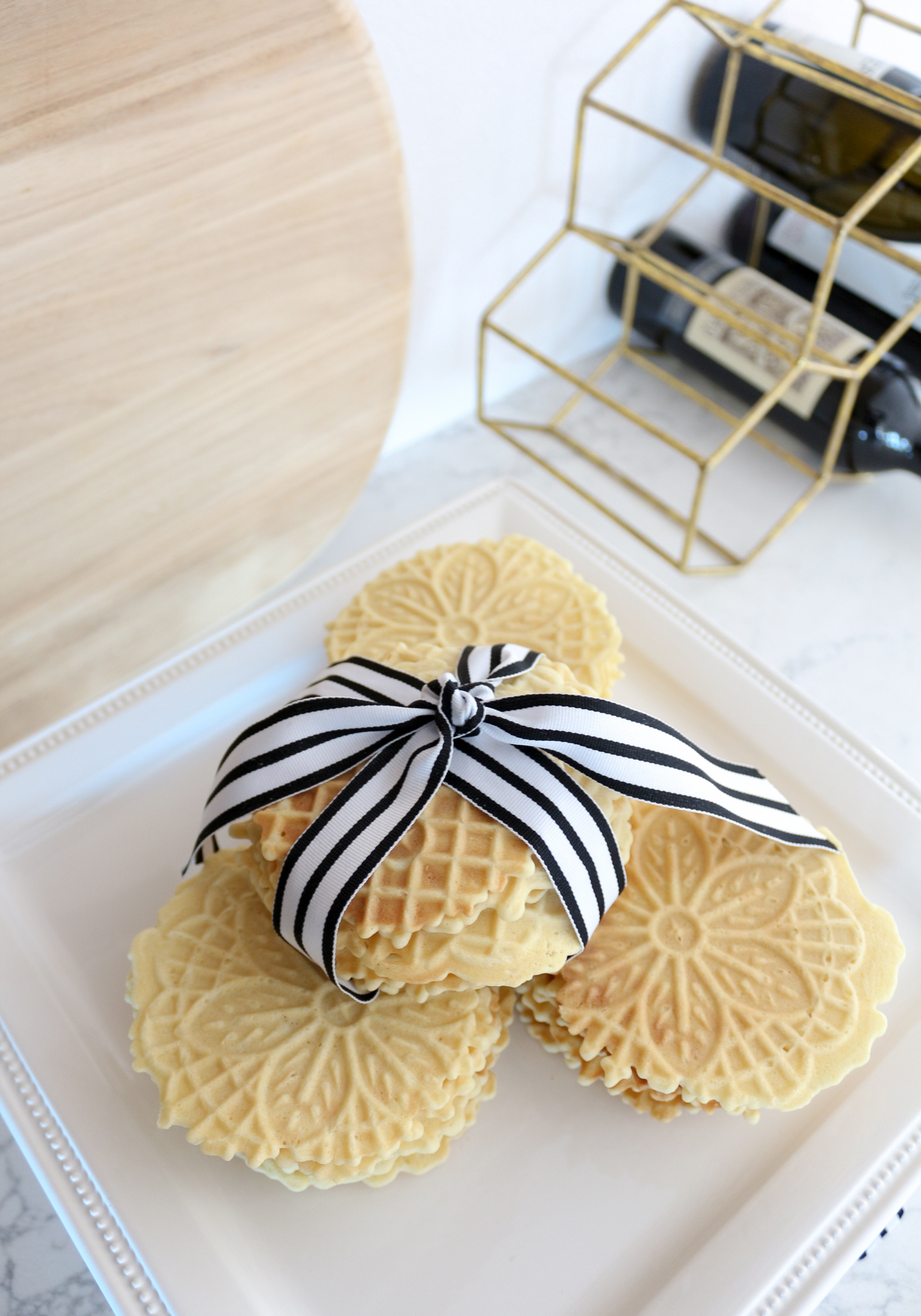 Style Your Pretty Pizzelles
I first stacked the pizzelles and then staggered bundles of pizzelles on the tray. I used my pretty black and white ribbon to wrap them and added a gold gift tag for a little holiday touch!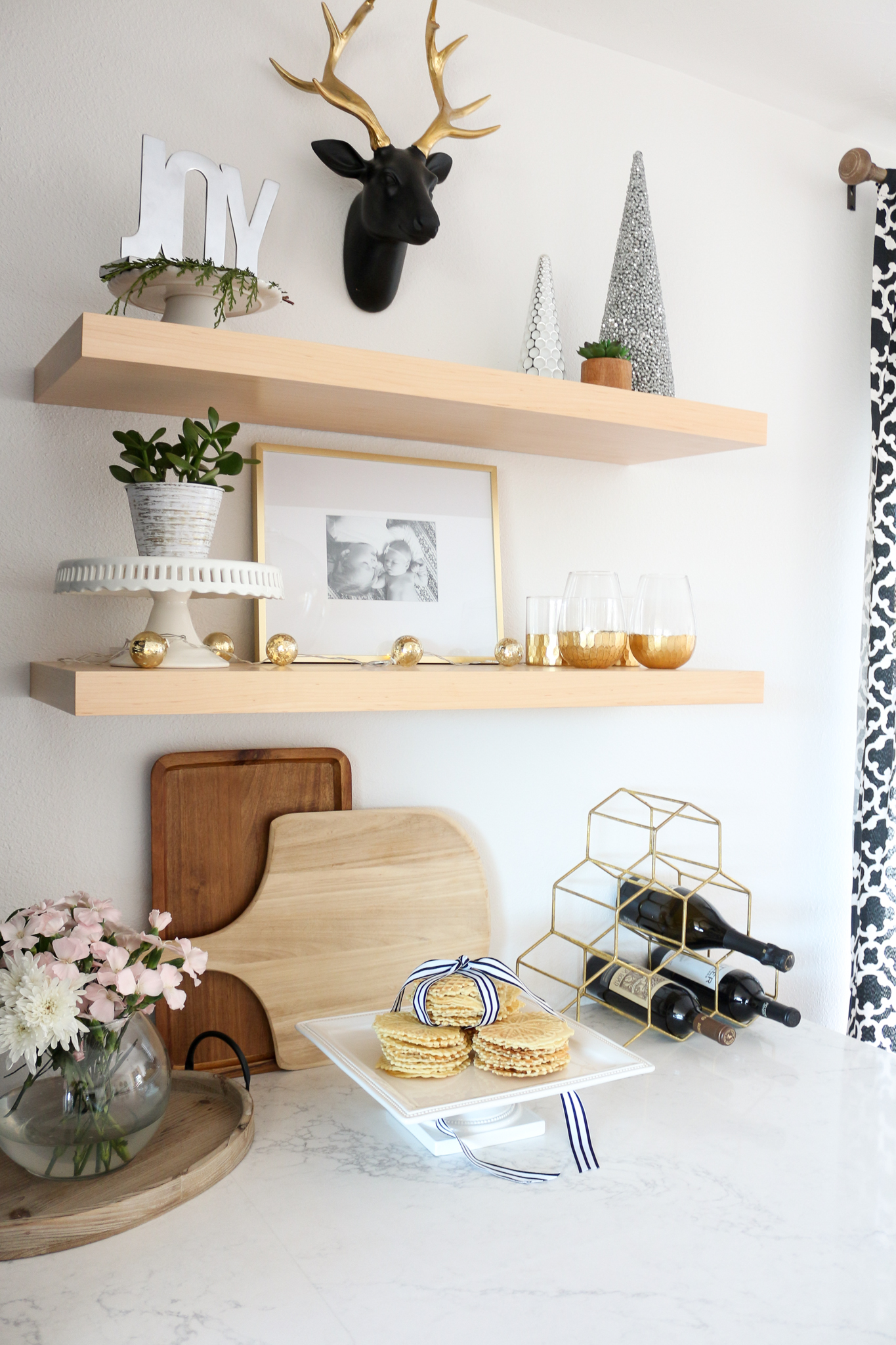 You can bundle or group several pizzelles together for guests to take home in small boxes – such a delicious treat they can enjoy for the holidays!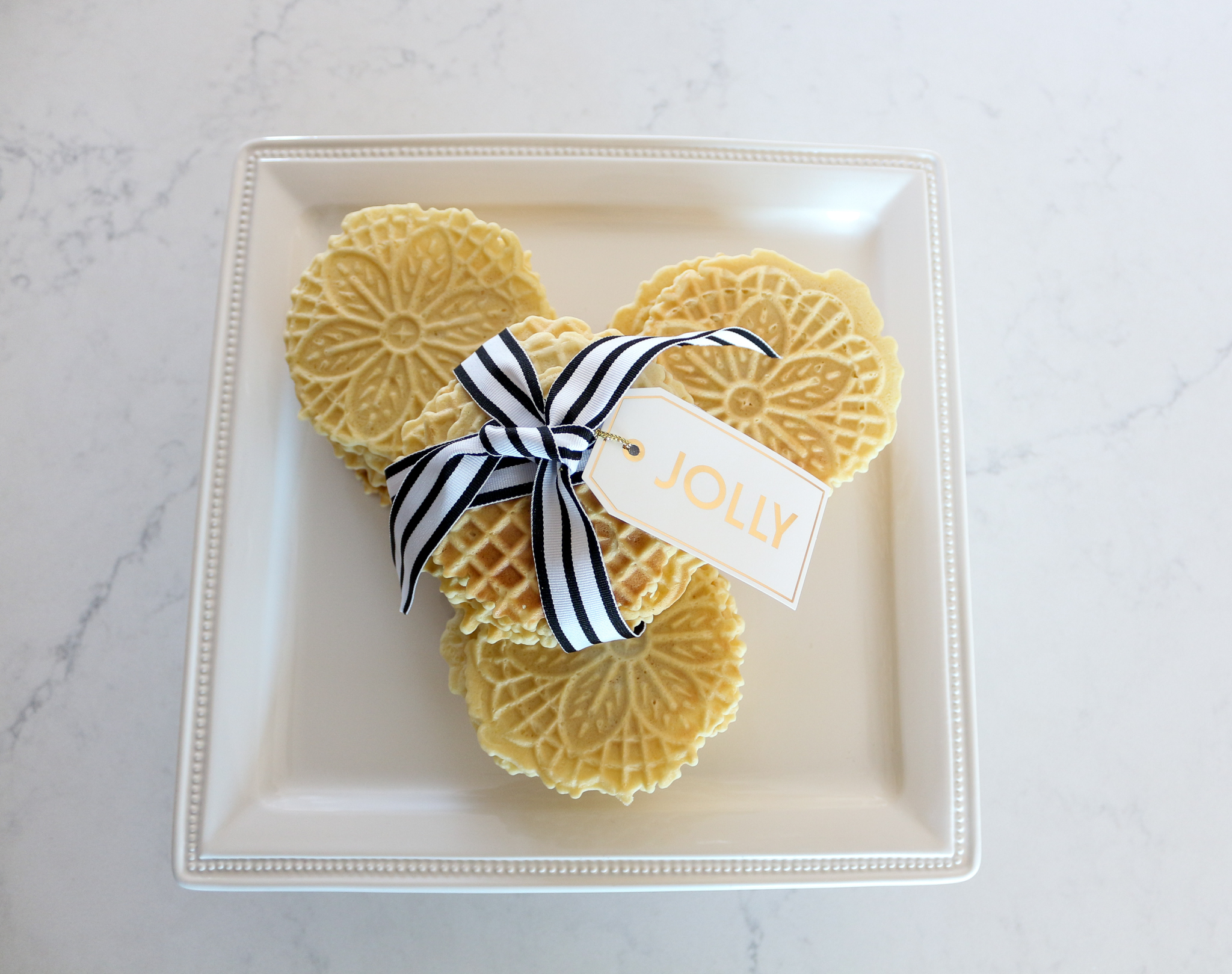 These pizzelles are for Santa – since he is so JOLLY – lol! You can also make mini pizzelles for your little shelf on the elf. Just use less batter on the pizzelle maker!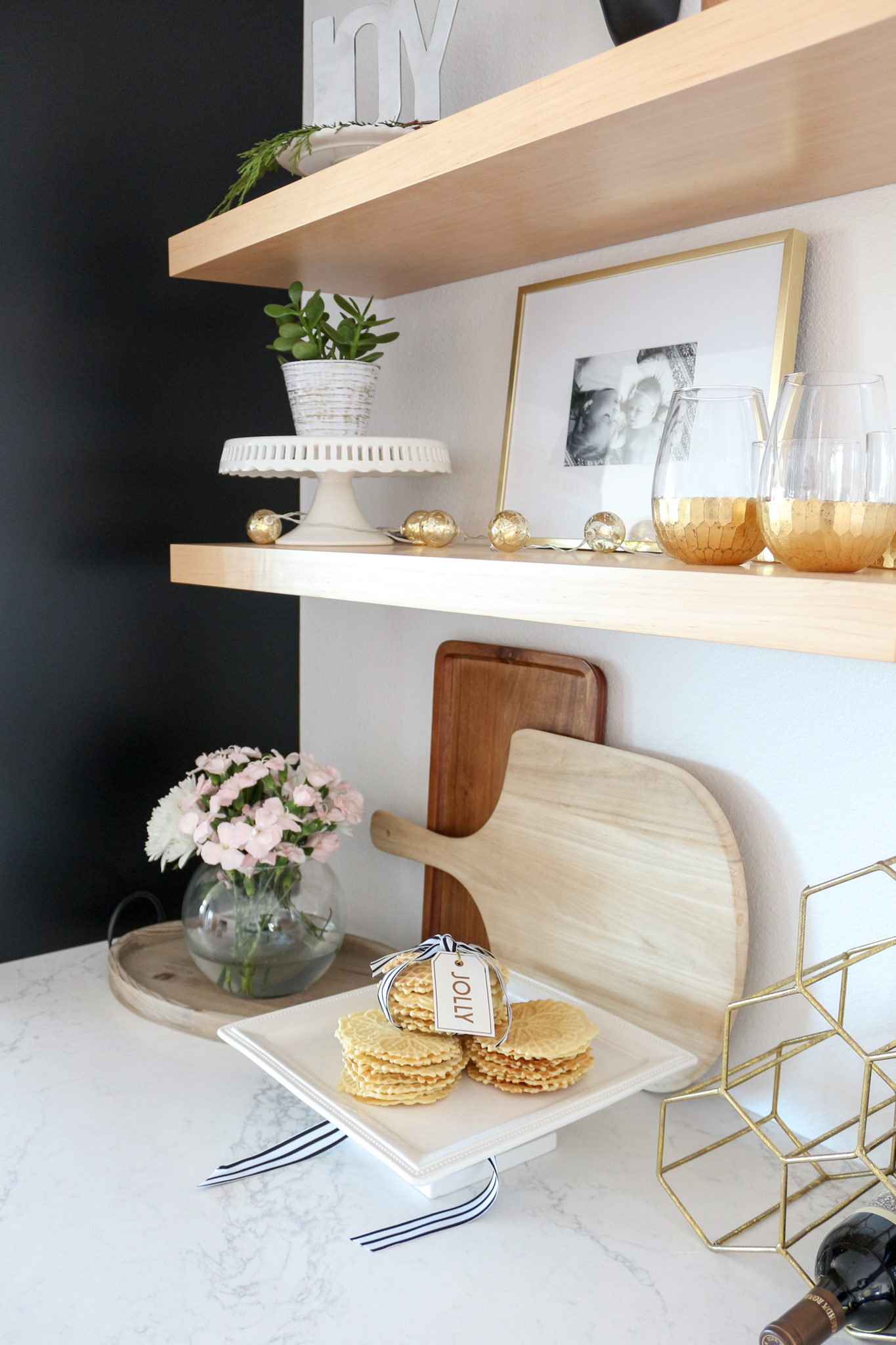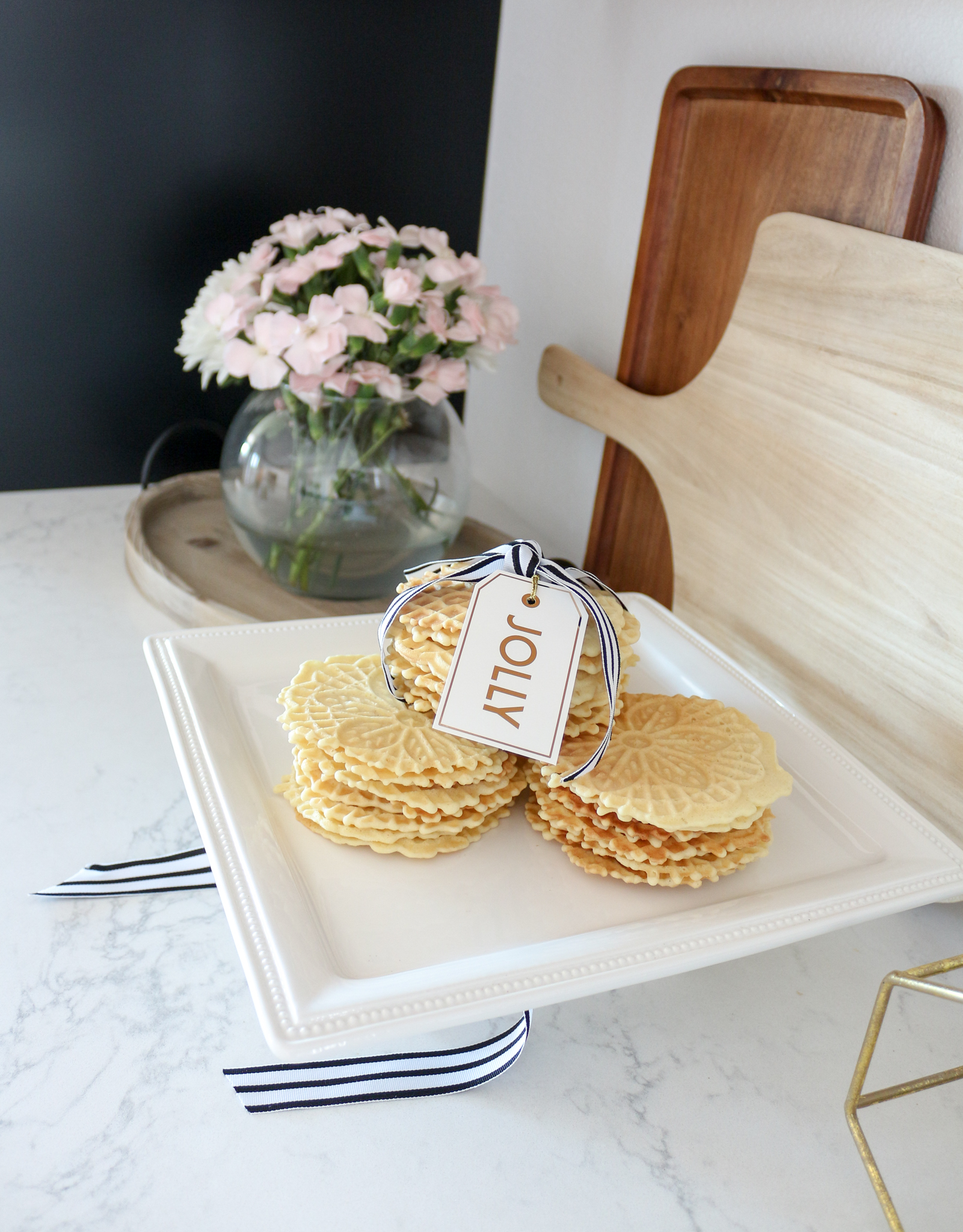 I hope you have enjoyed how to make delicious and pretty pizzelles for the holidays! Have you ever made pizzelles? What traditions are your favorite for the holidays? Would love to hear from you! See my recipe below to give mine a try!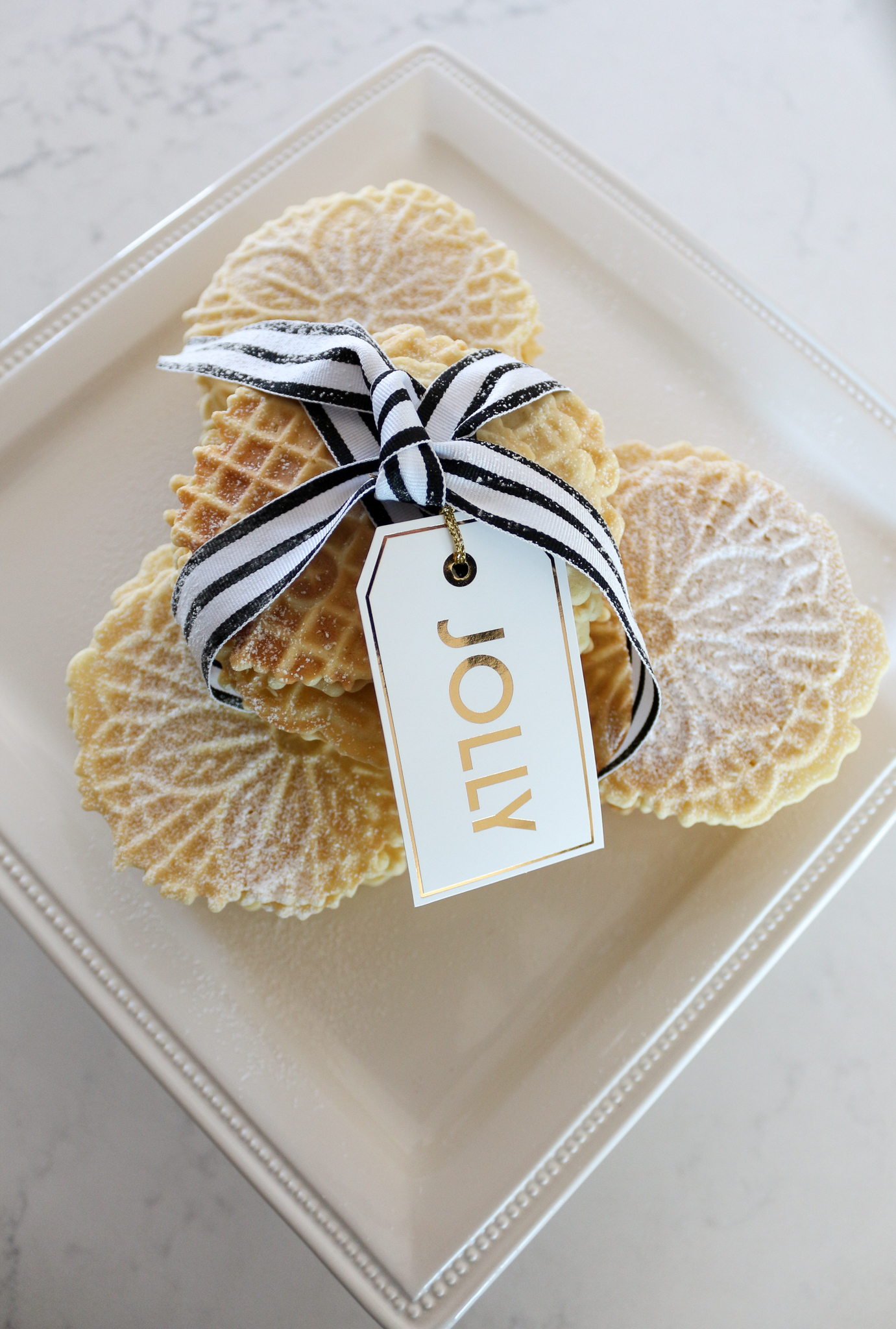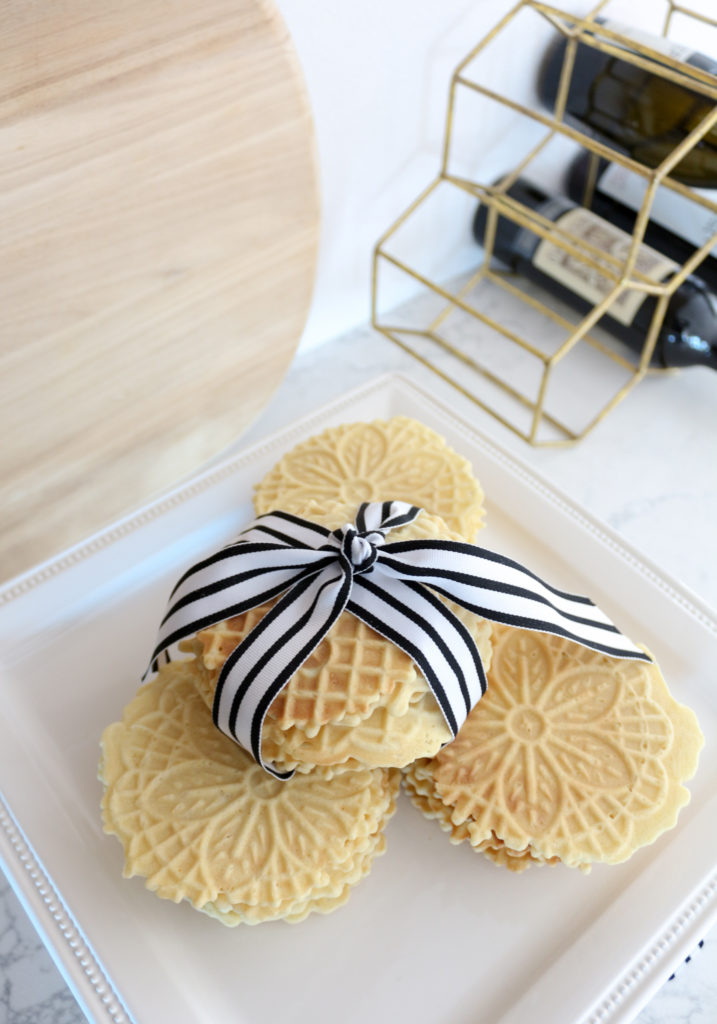 | | |
| --- | --- |
| | |
Combine flour, sugar, baking powder, vanilla extract in mixer.

Melt butter in microwave for 30 seconds then cool before adding to mixture.

Crack eggs in a separate bowl then add eggs to mixture.

Combine ingredients in mixer on low.

Using a cookie scooper, scoop a small amount of batter and dollop the batter onto the pizzelle maker.

After about 20-30 seconds open the pizzelle maker and remove cooked pizzelle with waffle tongs.

Place cooked pizzelles on a plate to cool.

Store in a metal or glass container after fully cooled.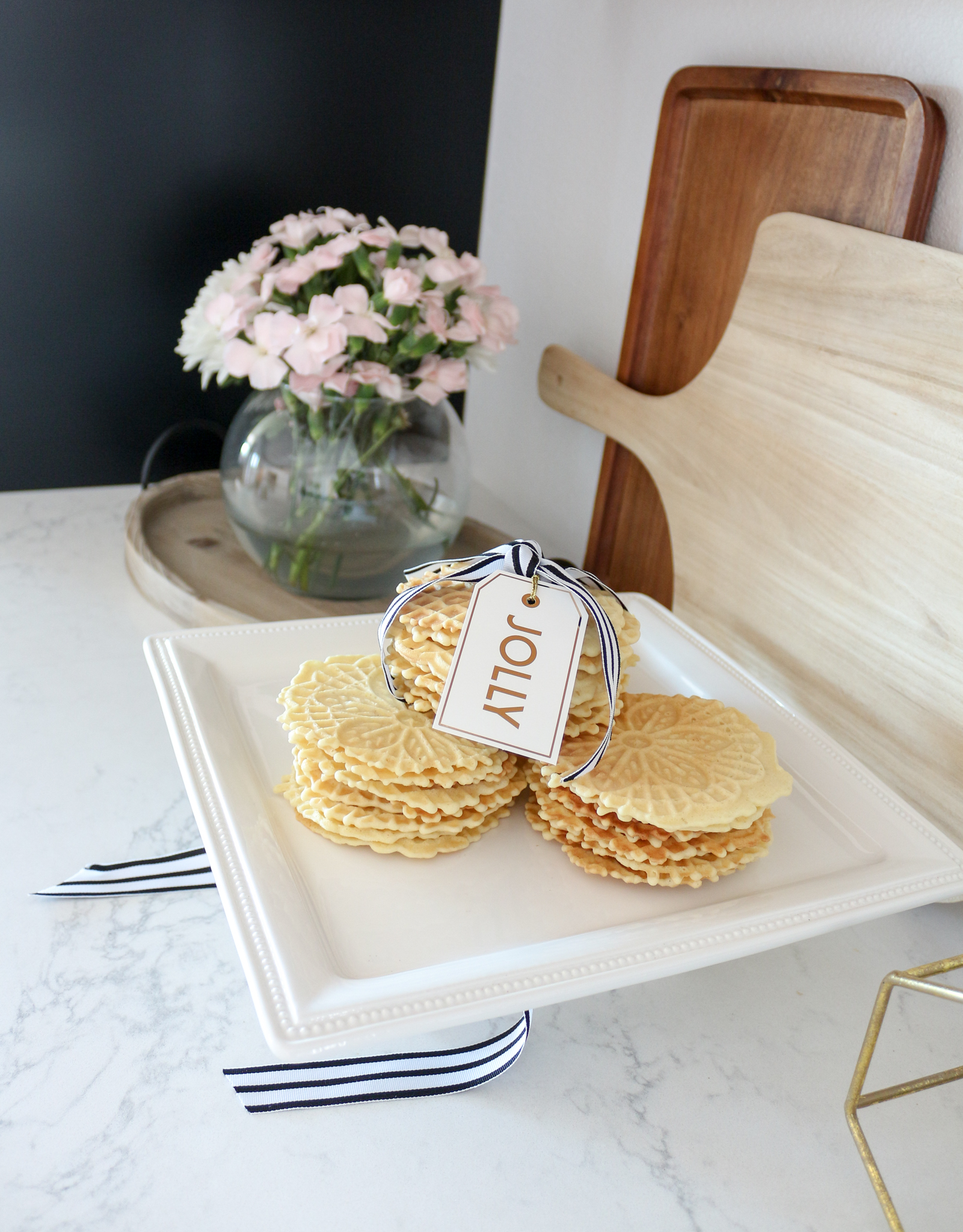 Add pretty ribbon and a festive gift tag to give to family and friends for the holidays.
You can see more of my holiday posts here, here, and here. Kitchen globe pendant lights can be found here.
Wishing you a merry, bright, joyful, and jolly holiday!

*Affiliate links used, all opinions my own.