Today I'm sharing our blush pink + rose gold Christmas tour with you! Typically in the blogging world there is an expectation to change your "theme" from year to year to keep you as the reader engaged and excited for something new and different.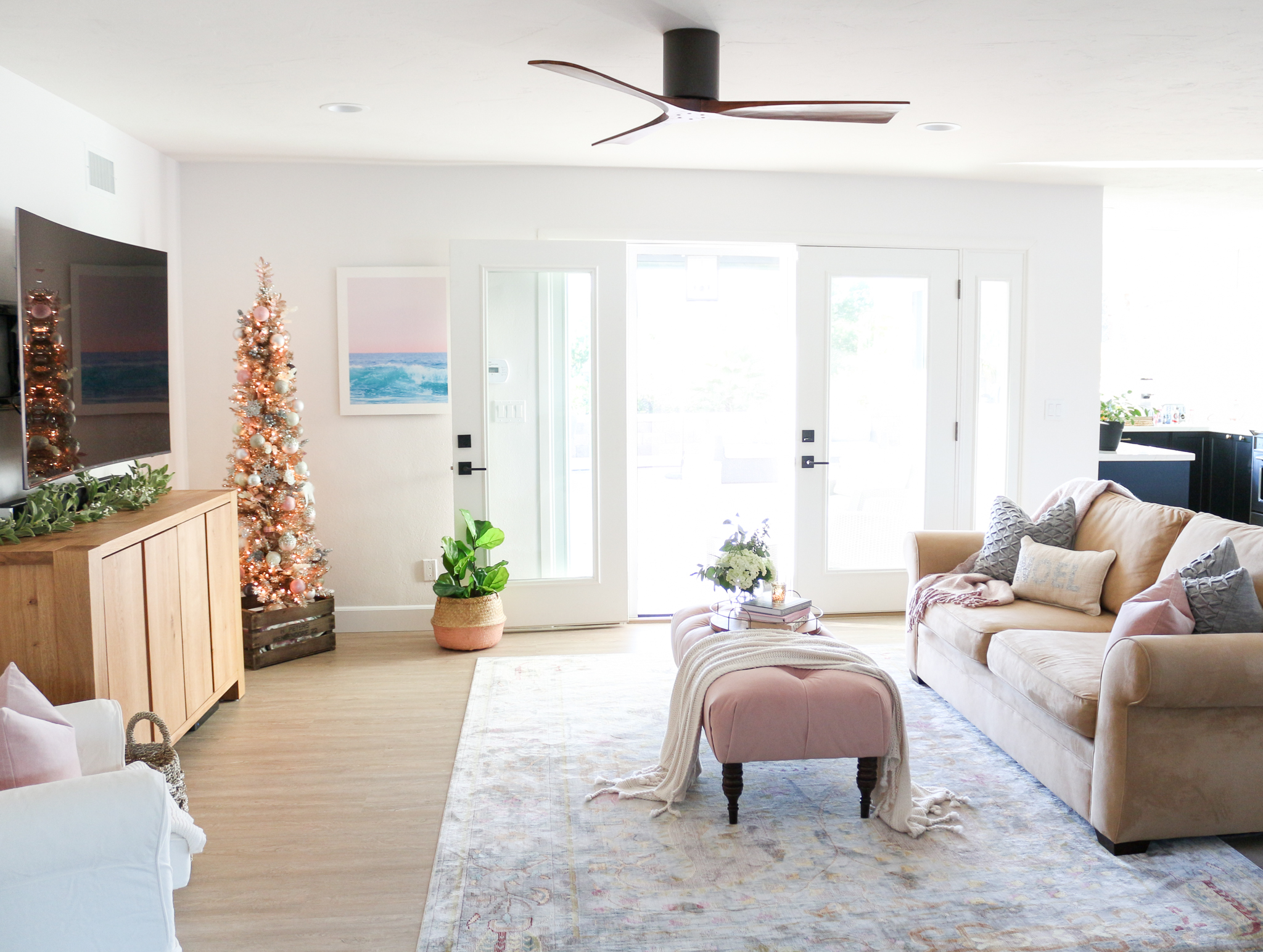 I understand this – I also read and follow many blogs and I always look forward to various tours throughout the year especially during the holidays. Yet the reality is most people aren't living in the blogging world and may find this concept unrealistic and unattainable. I mean how many people really change out their decor every single year?! That would get pretty expensive and is super time consuming. While it is perfectly ok if you do and those of us who blog it's sort of our "job" to do so…however what if I told you I wasn't going to do that this year?! Aww…Gasp!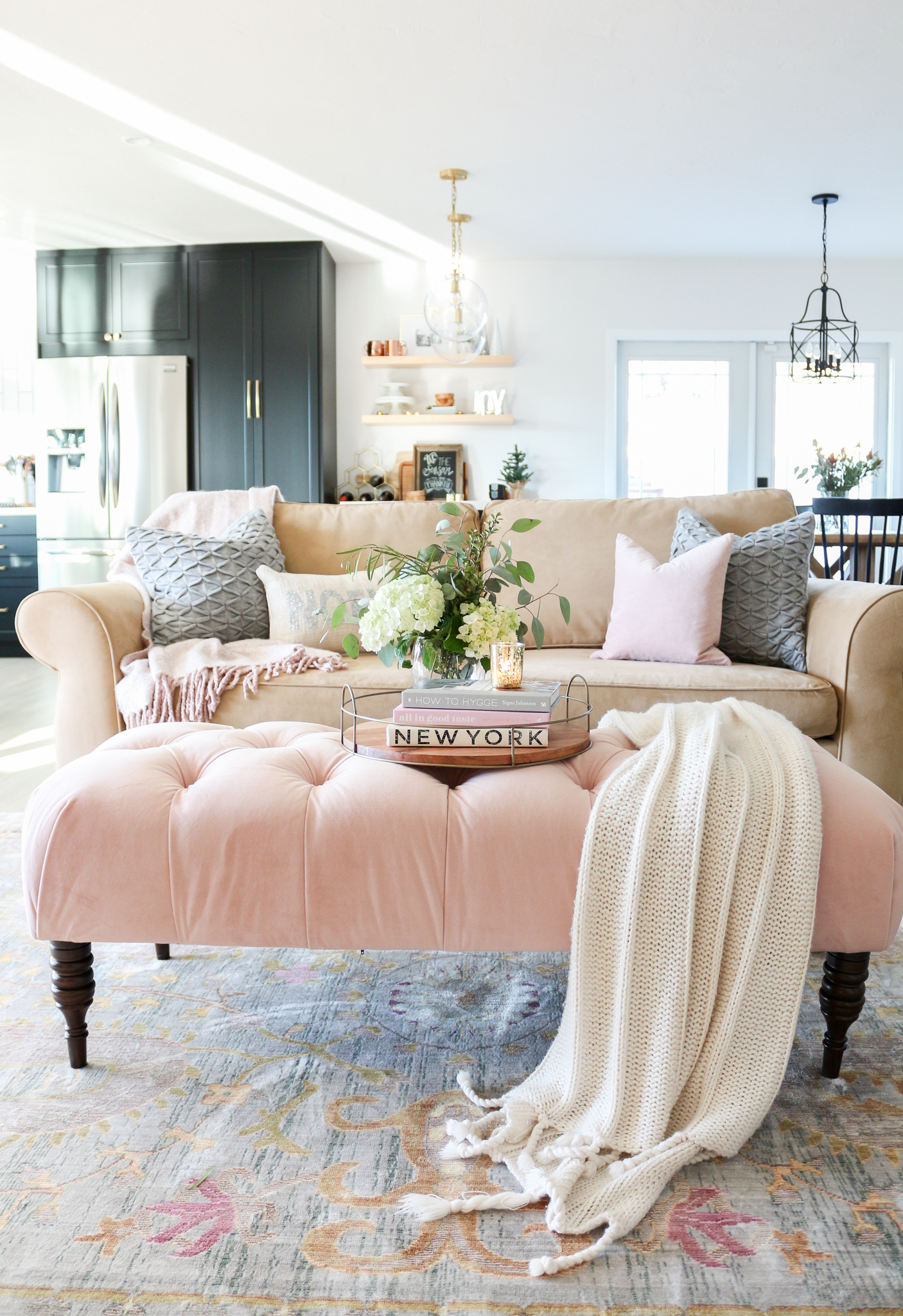 Before I began blogging I had no qualms about re-using my previously used holiday decor. I wasn't sharing it on social media or on a blog and I really didn't mind because I actually really liked the items I bought over the years.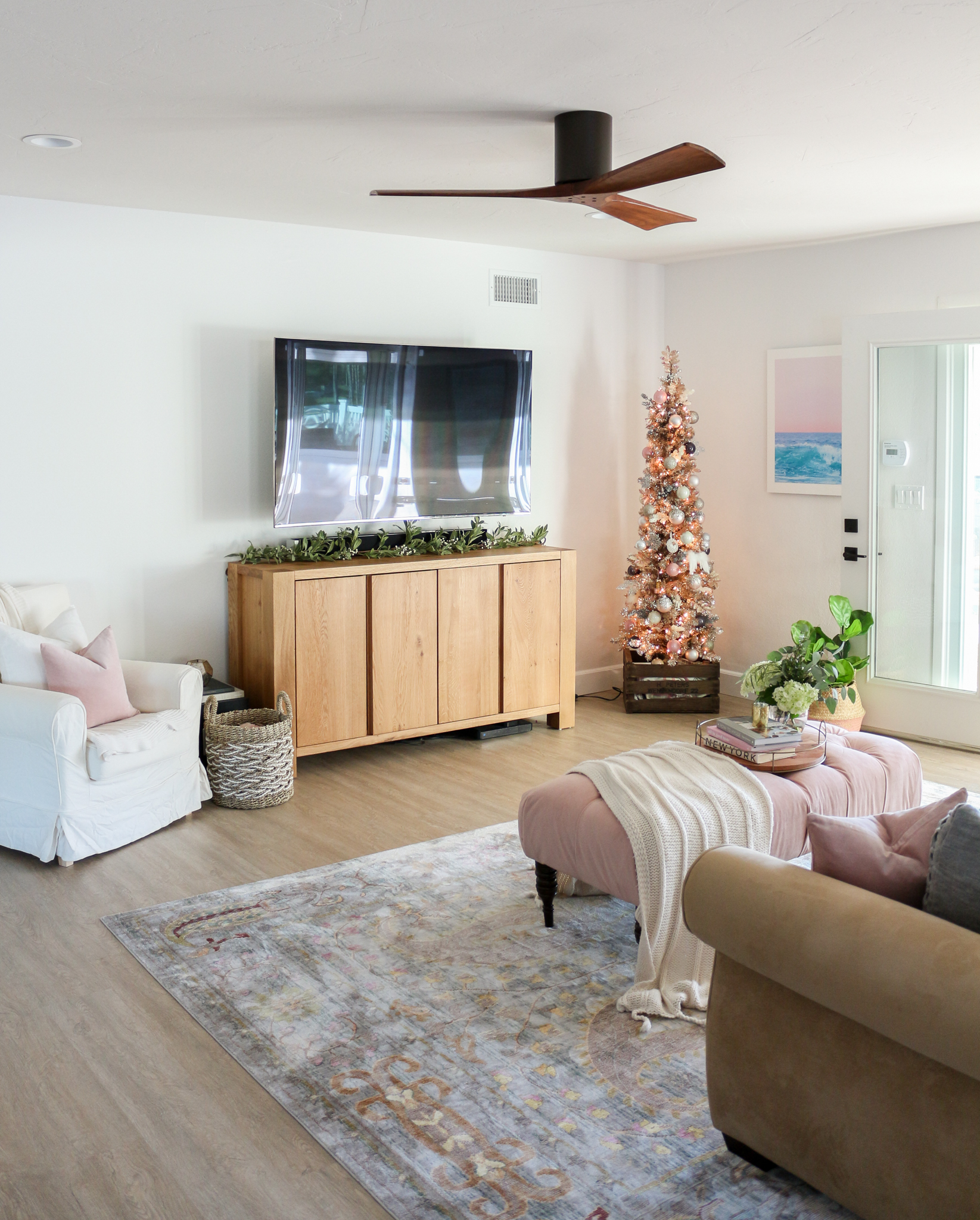 I would add new items here and there to give it a new twist and only if I really wanted to I would change my Christmas color theme depending on my mood that year. Since we recently moved I have been purging the leftover items that made it to our new house (and weren't purged before the move) and I realized that some of my Christmas decor I've had for years and since our very first home. Some of those pieces I used for last years Christmas tour and I will used them again this year because they are classic and beautiful.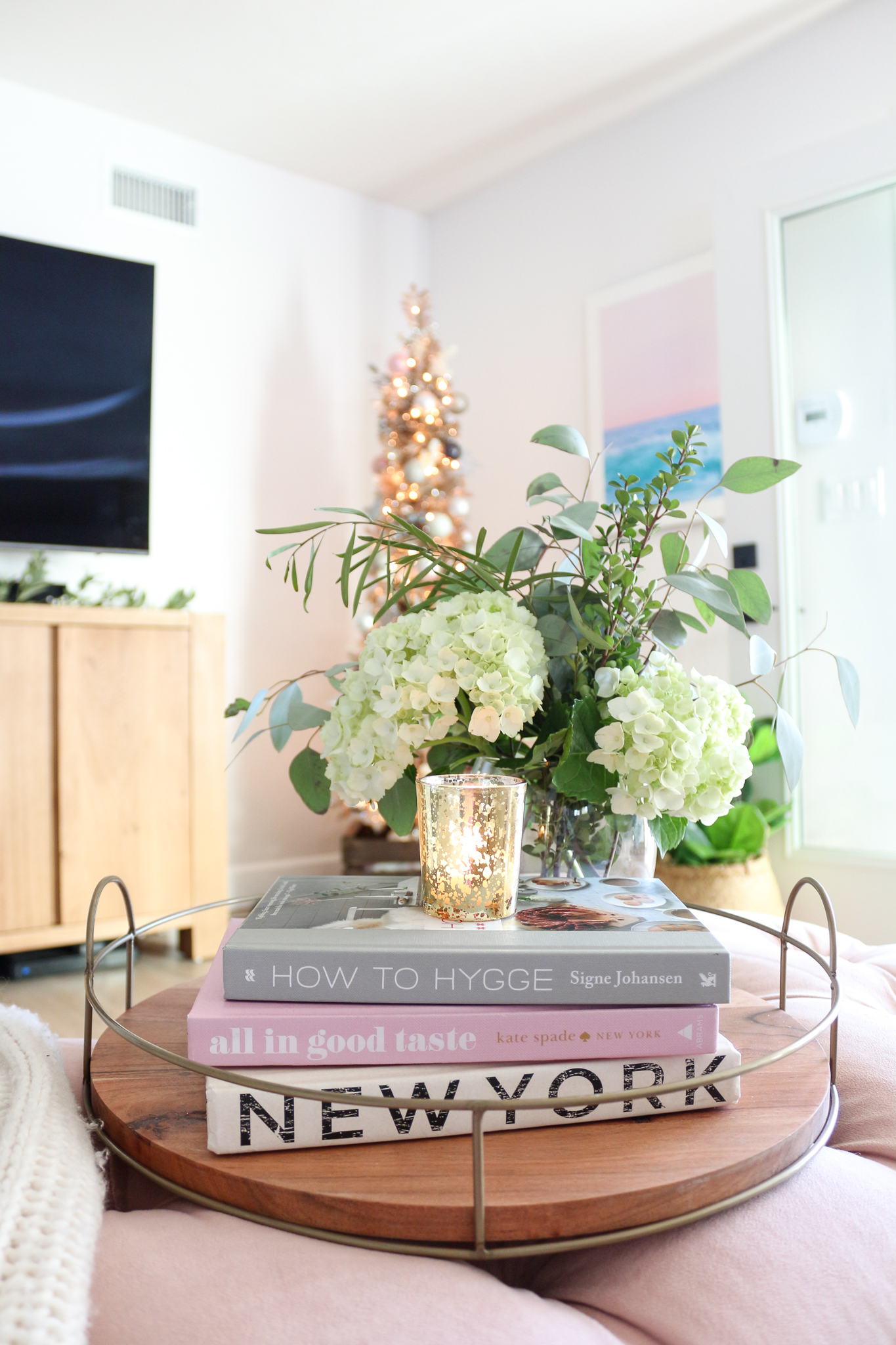 While I completely understand and love the opportunity for those of us in blogging land to bring you inspiration each year and showcase the latest trends I wanted to share something this year that hopefully is more relatable to everyone. This post is for you — for my readers with a limited budget, for my readers who want to re-use their decor but add a twist, for those who want to see how you can update your holiday decor without spending too much money, and for those looking for blush pink + rose gold Christmas decor inspiration! You can look back at last year's Christmas tour to see some of the same items I used this year by heading here.
Blush Pink + Rose Gold Christmas Tour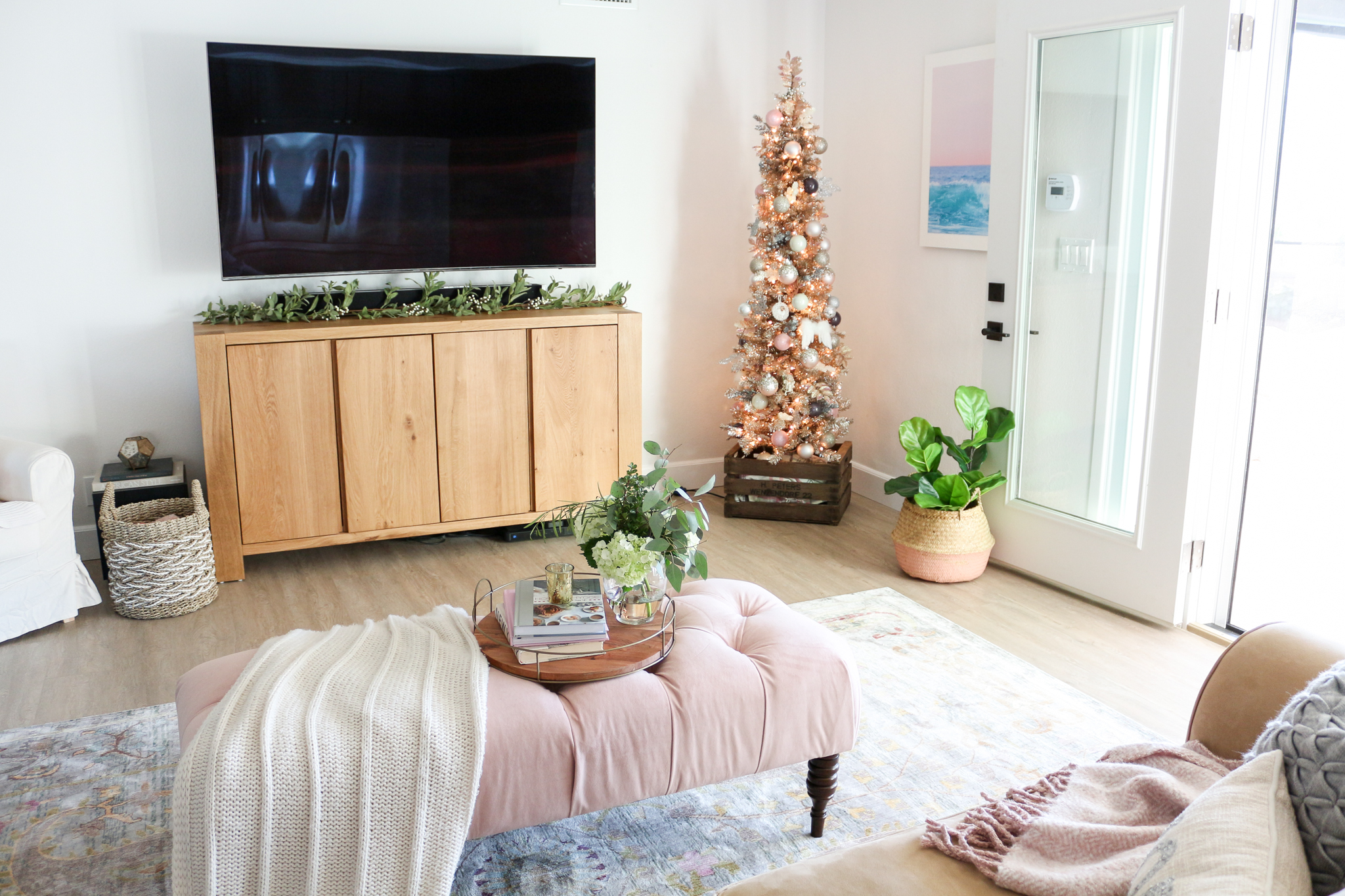 Rose Gold Christmas Tree on Repeat
I'm so glad that I invested in this pretty little rose gold Christmas tree. Last year rose gold and blush tones were becoming all the rage and they have only continued to become more popular. While I love the flocked tree look that is very popular I really love this rose gold tree so much more! Don't be afraid to try something different with your tree, you may love it even more the following year!
Ornament Trends & Neutral Blends
Invest in a blend of neutral colored ornaments that you can re-use for many years. Keep the neutral ornaments each year and add a different color blend to compliment your theme.  Or keep your color theme the same and add a few new ones or some cute filler decor like I did in ours. Incorporate ornaments that have special meaning. I've had this beaded reindeer ornament since I was a little girl and it is one of my absolute favorite ornaments that I look forward to decorating with each year. I also re-used my wooden crate instead of a tree skirt for a more rustic look – I still love this trend!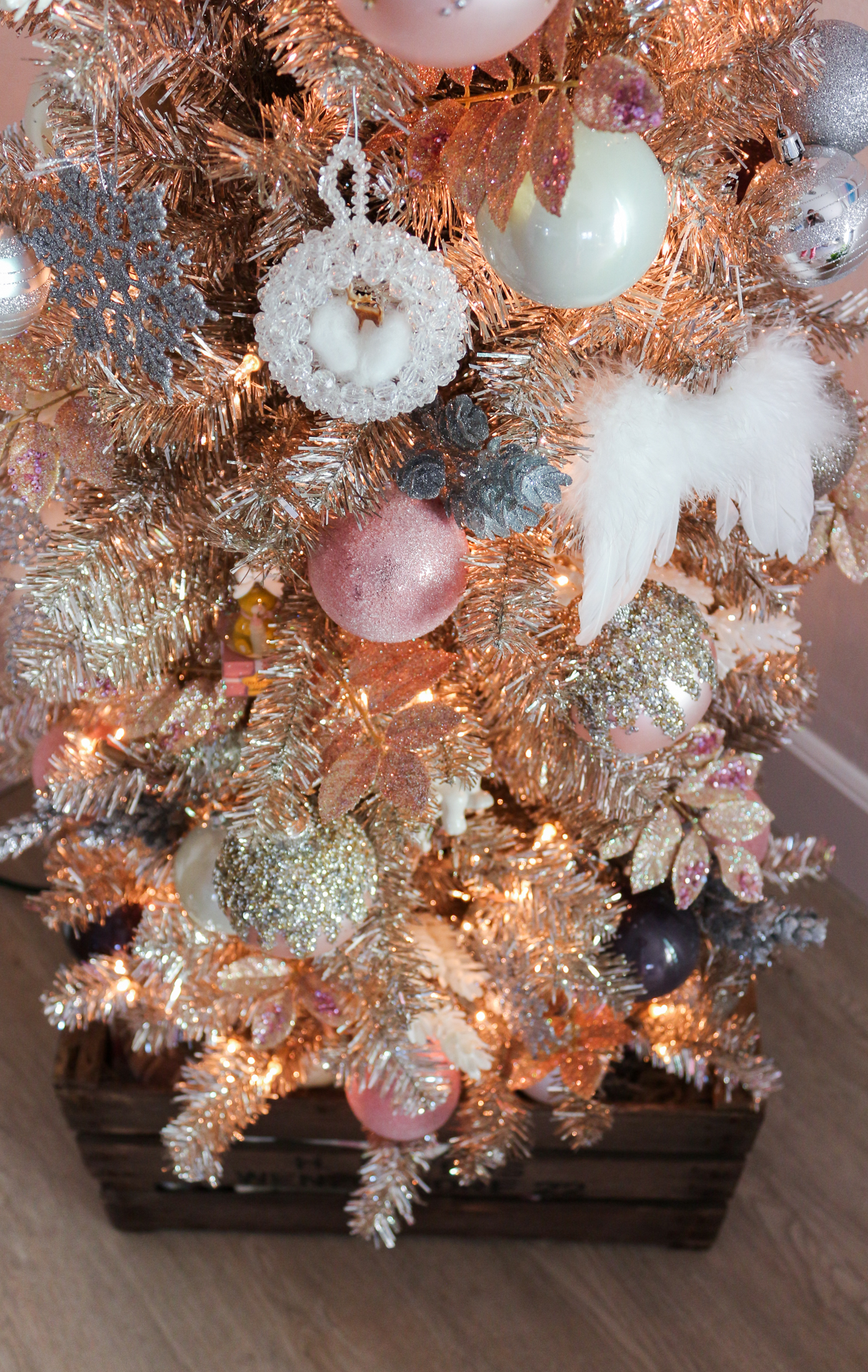 Holiday Pillows
While I did recently add this pretty blush pink bench/ottoman I re-used several items from last year's tour. I love my noel pillow and these pretty grey pillow covers (I've had them for years). Keep your pillows & pillow covers in a sealed bag in storage to keep them looking great each year! A couple of new additions are these blush pink pillow covers and blush pink throw.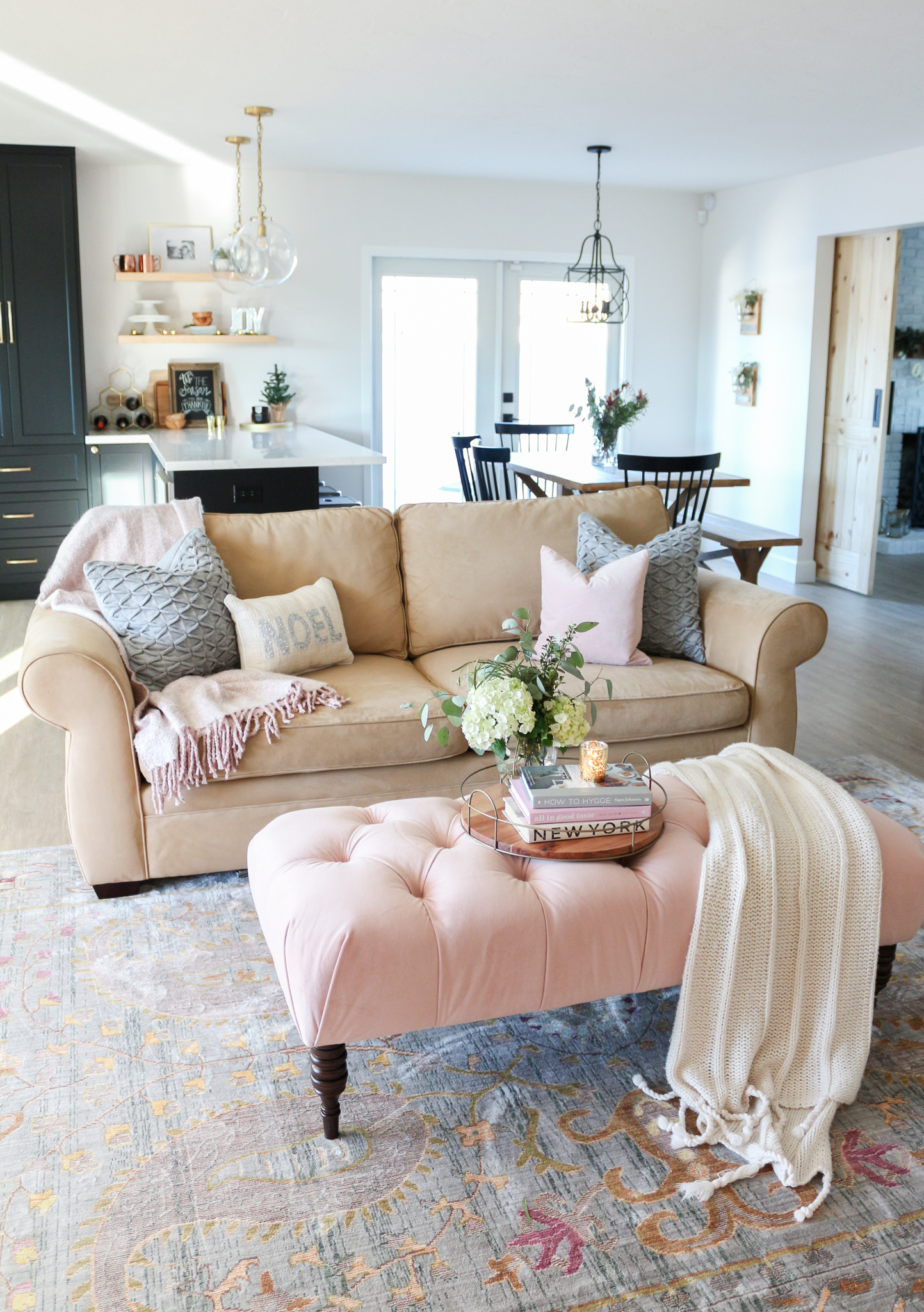 Invest in Holiday Decor that is Timeless
I added this awesome tray and a pretty faux lambs ear garland. You can see a close-up and my review of these items here. This ivory knit throw is so amazing and I have used it throughout our home for numerous occasions but it is extra cozy for the holidays. When you are determining what holiday items to invest in think about items that will last you for a long time and can extend through the winter months. Think neutrals and pretty metallics – gold, copper, silver, and rose gold are always great options that accompany different holiday decor and add much needed warmth to any space. I also love my mini faux trees and use them throughout my home for a festive look.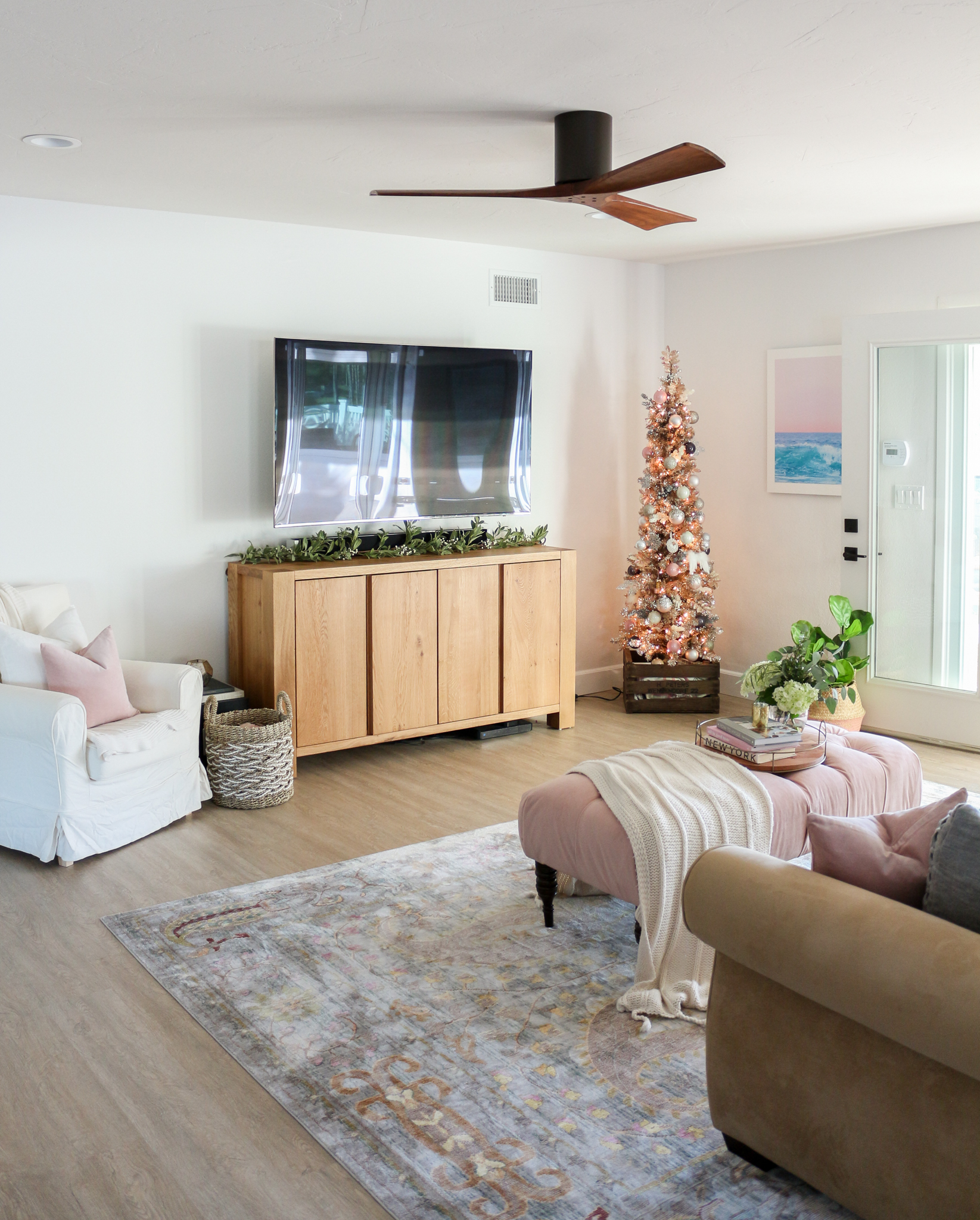 Keep Your Current Decor in the Mix
Instead of removing my beautiful photography/artwork and faux fiddle leaf fig from our family room and replacing with something more Christmas like – I incorporated them into my decor. If your current decor blends with your holiday items why not keep them out?! This saves you time and money!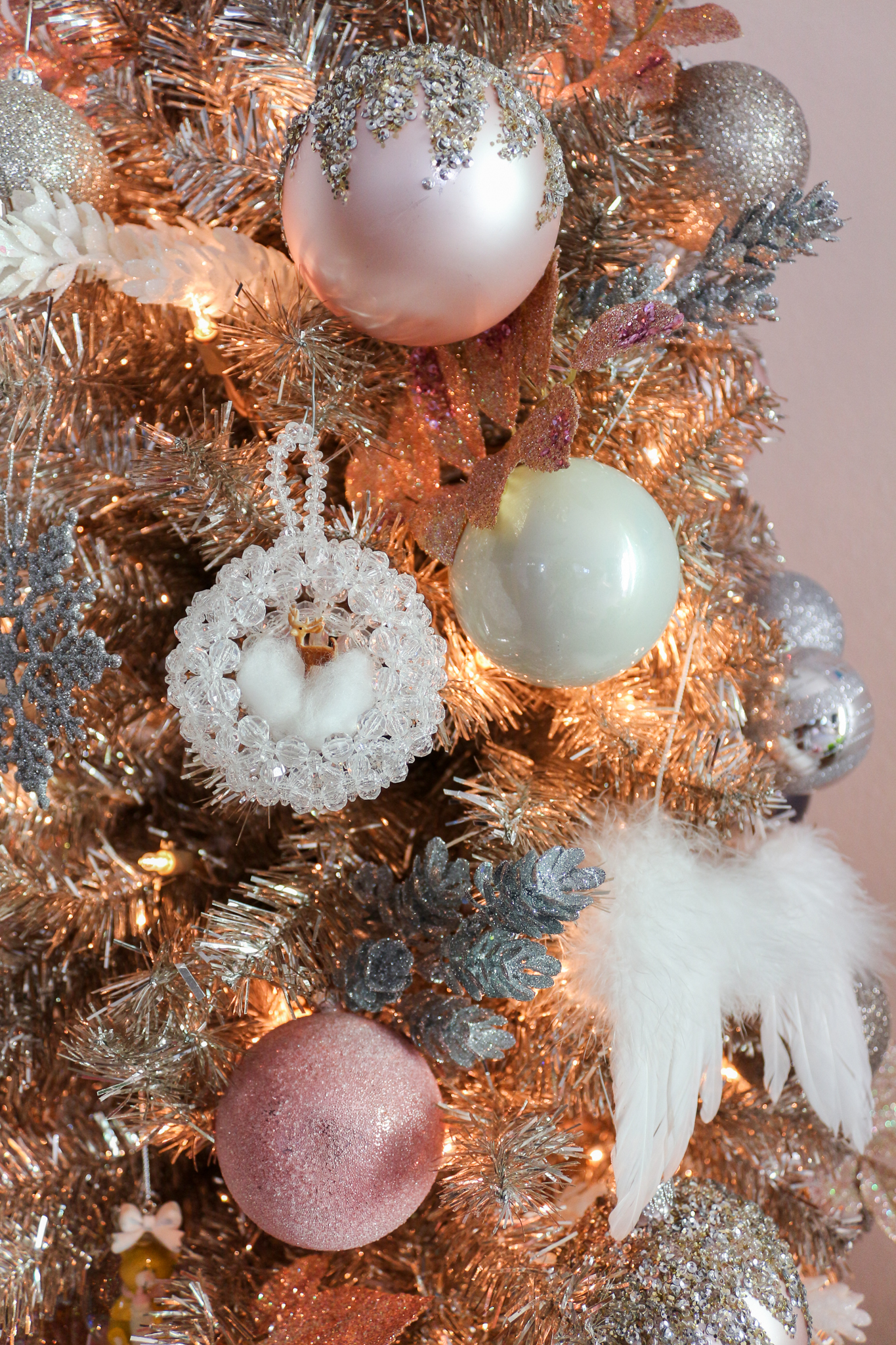 That wraps up our blush pink + rose gold Christmas tour. I hope I shared a realistic way to update your holiday decor each year while also realizing that it's ok to have the same decor each year! Blush pink + rose gold continues to be one of my favorite color combinations. Even though I have a new home to share my Christmas decor I chose to keep it the same and I hope I've inspired you to invest in items you can re-use again and will love for years to come!
Make sure to subscribe so you can see the continuation of my Christmas tour in our living room! You will also see where I am using some of the decor from last year in a new room of our home (another way to change up your holiday deocor – switch rooms!). Find sources to items in our home by heading here and shop the tour below. Follow me on Instagram for my latest holiday grams by heading here.
Pin this image for later!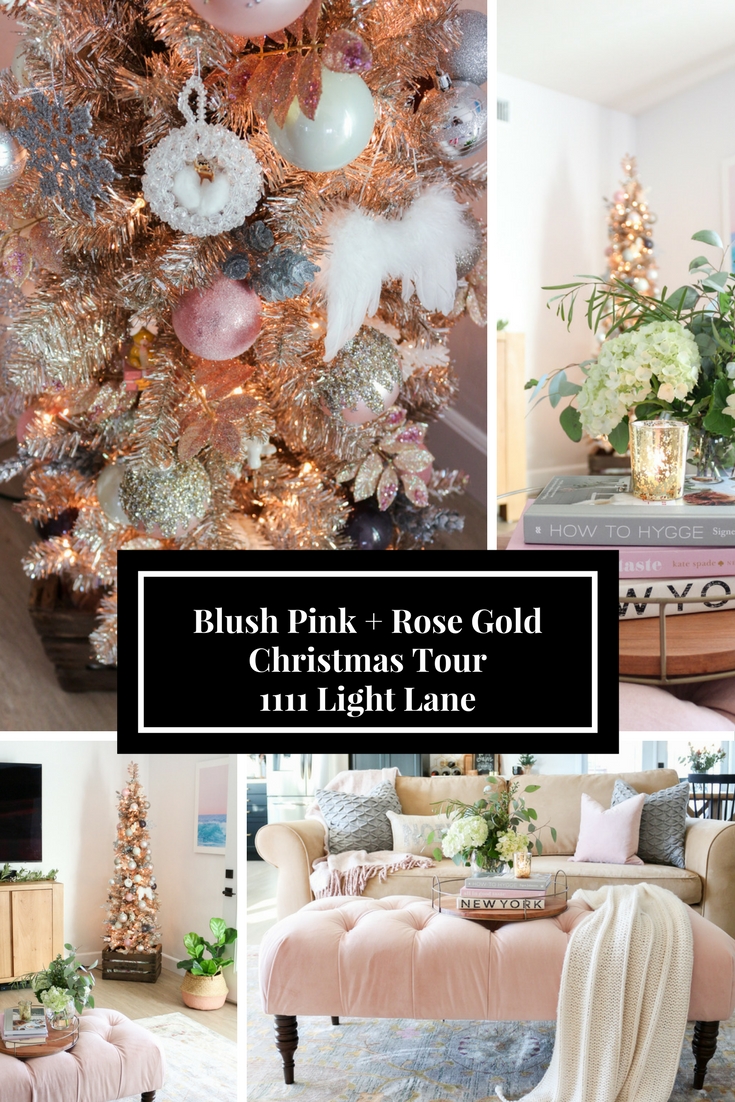 Shop My Favorites & The Tour Here:

Happy Holidays to you and thank you as always for stopping by!

*Affiliate links used, all opinions my own.