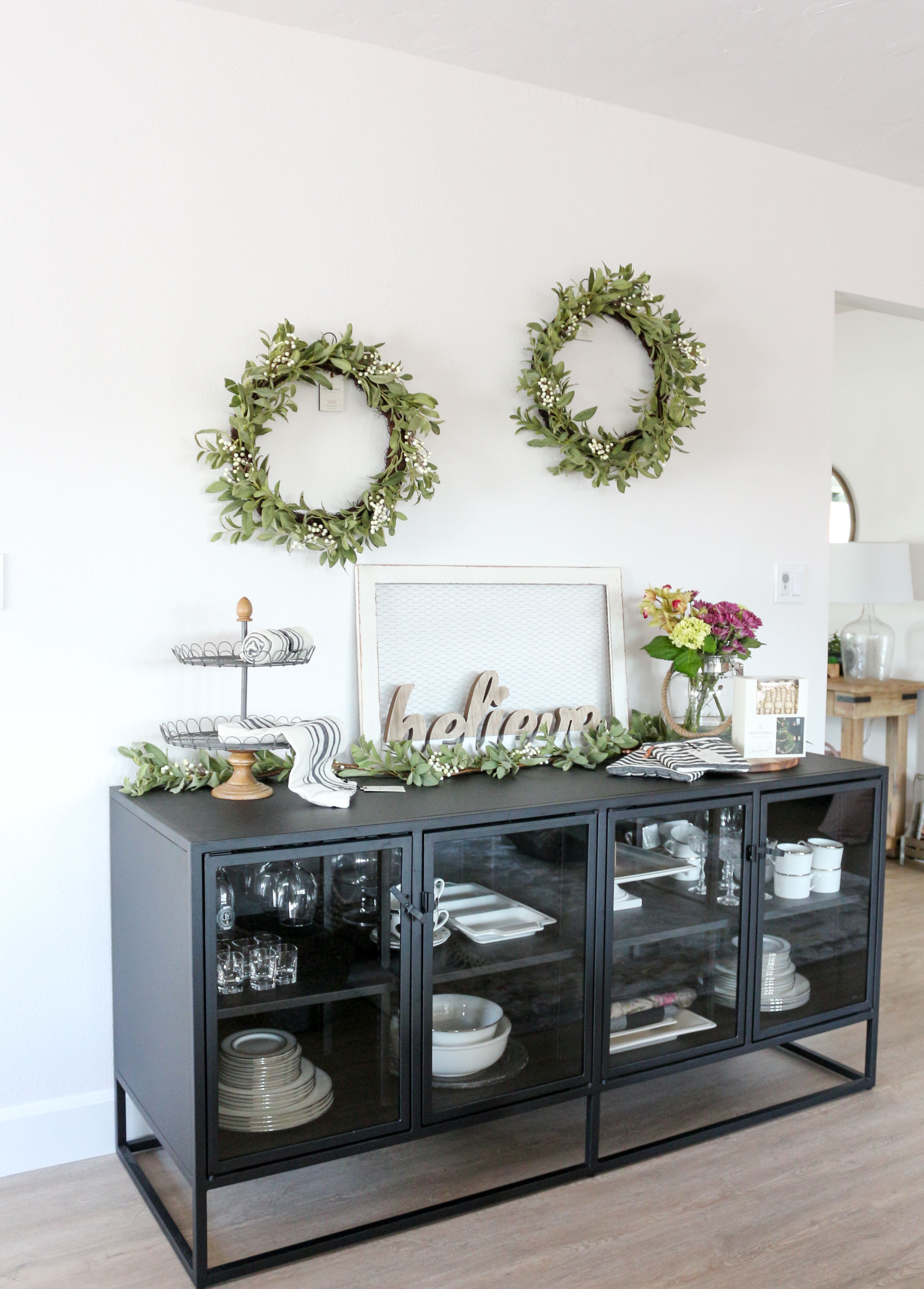 Everyone is going crazy for Magnolia's new line with Target – Hearth & Hand. I love seeing everyone share what items they are adding to their homes. I ordered my favs early on November 5th when the items went live on Target's website. I carefully selected and kept my purchases to a specific budget and today I'm sharing my review and tips on how to pick the best home decor items from Hearth & Hand for under $200.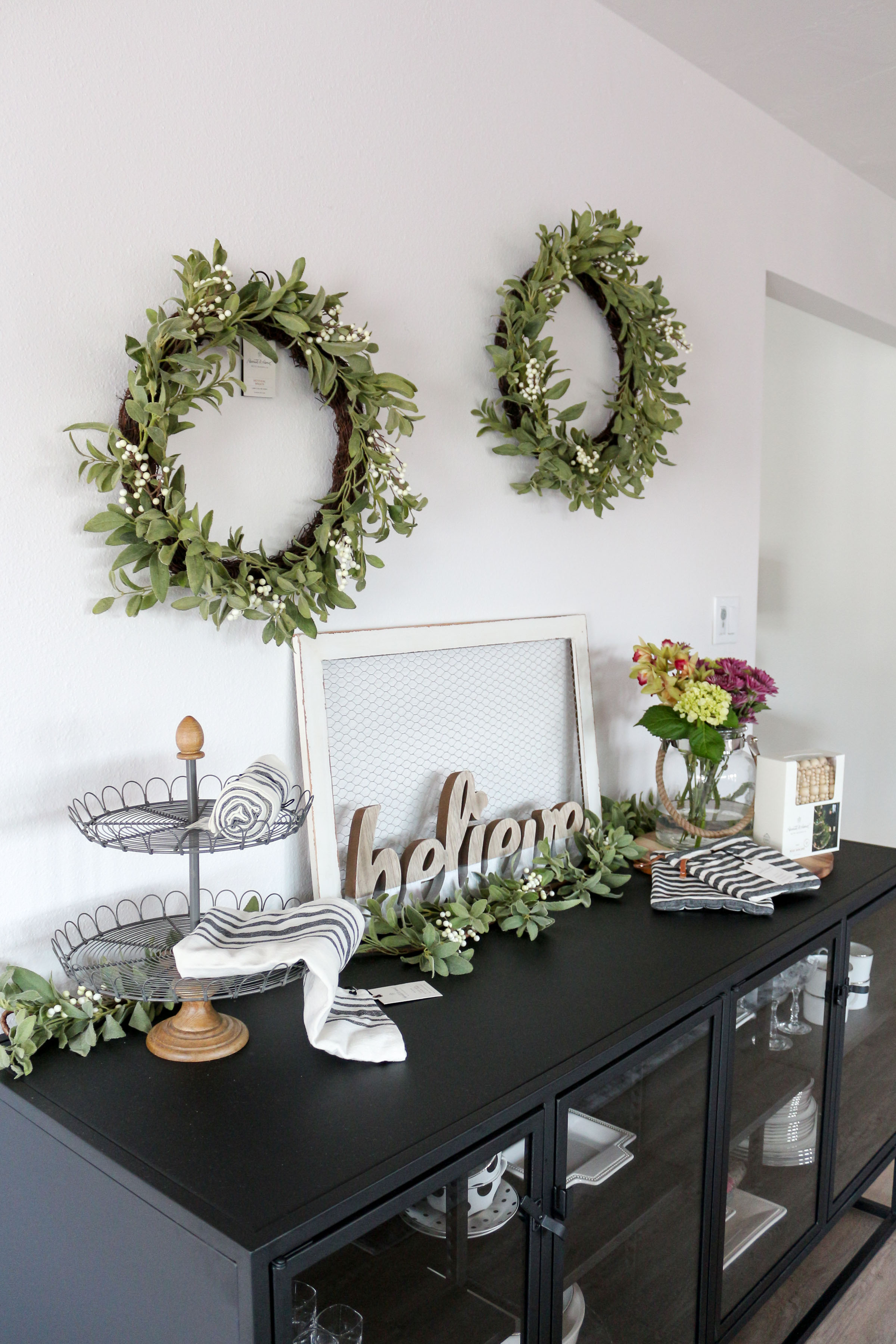 First let's take a look at what I bought and my review of the items! I was so proud of myself for keeping to a budget – under $200 ($192.32 to be exact) and not picking items I don't need because I'm all about keeping the extra stuff to a minimum – it always overflows to the garage! Make sure to read the entire post for my tips below:
*Oh and please excuse the fuzzies on my sideboard – I promise you I dust now and then – lol! You can shop my sideboard by heading here and my vase here.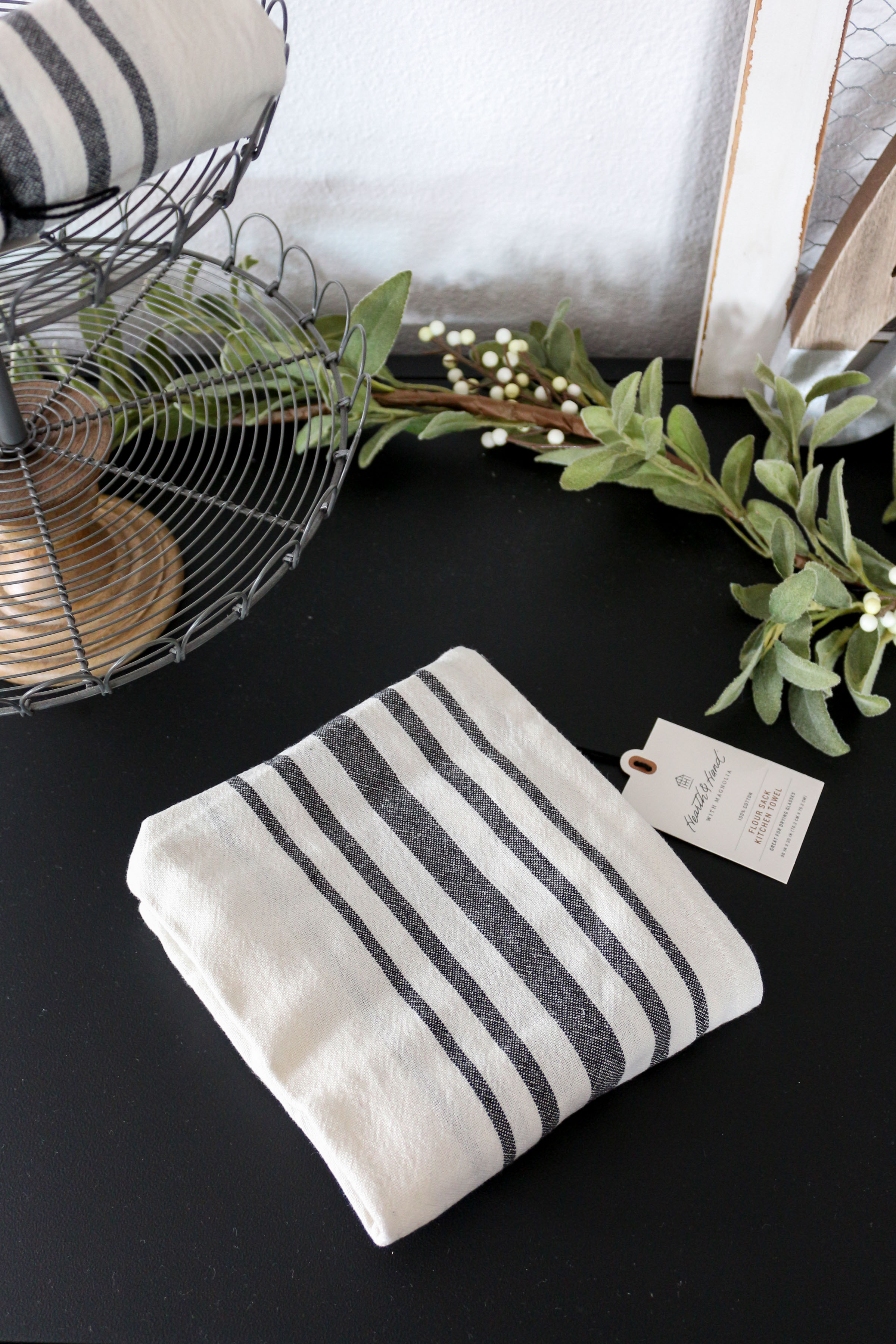 Kitchen Towel Review:
I couldn't resist these awesome kitchen towels. They are large, fabric is quality and I love them! For $3.99 you can easily add this to your kitchen. I can't wait to drape it over my farmhouse sink and lay it out to dry dishes on! Lots of options and you can never go wrong with black and white! Am I right?!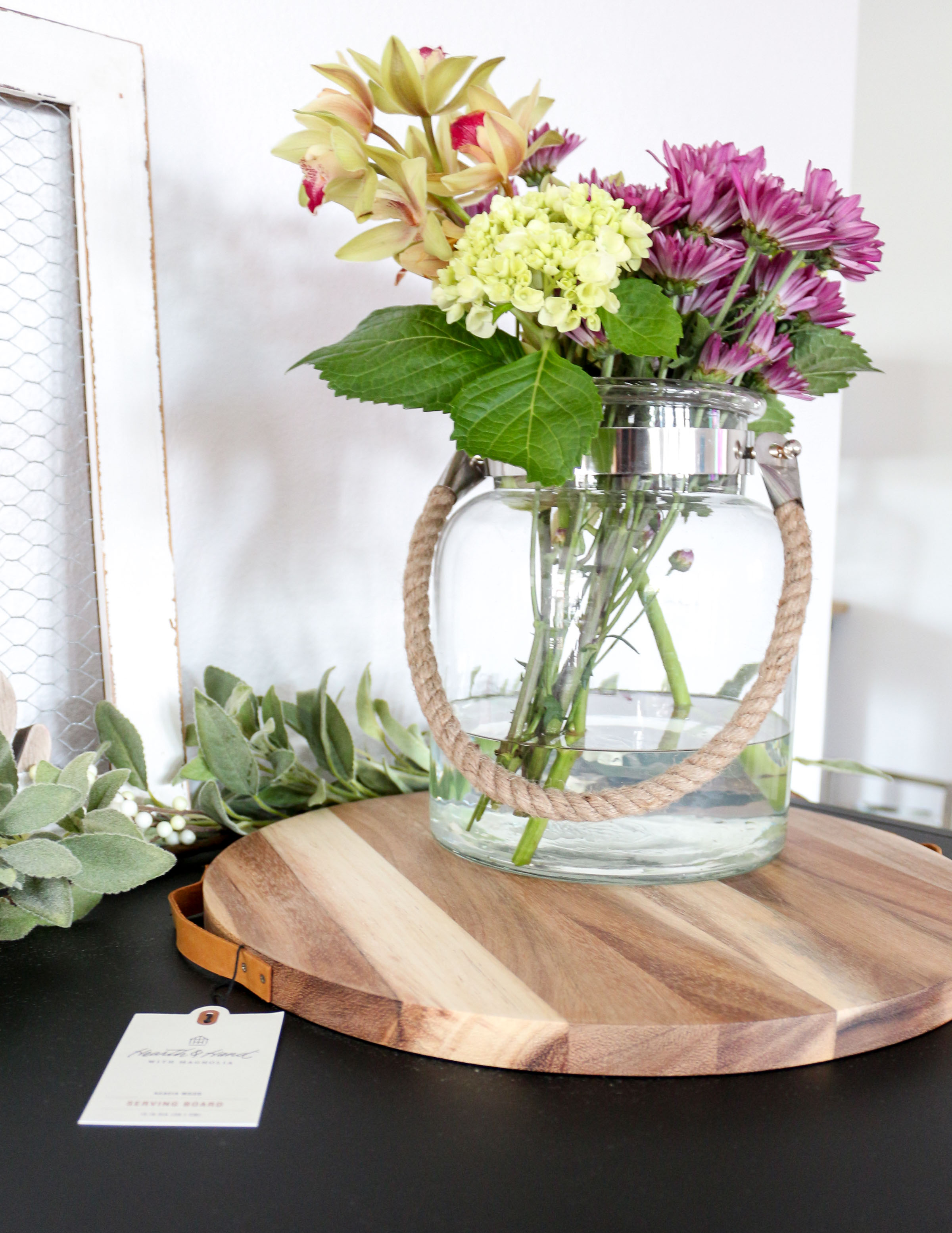 Cutting Board Review:
I don't have a round wooden cutting board and I've always wanted one – I had my fingers crossed the wood wouldn't be too orange. I am so pleased with the wood tones in this board! Can't wait to style it in the kitchen but how good does it look under this vase of flowers? Or you can hang it on the wall. Again lots of options and I always need options!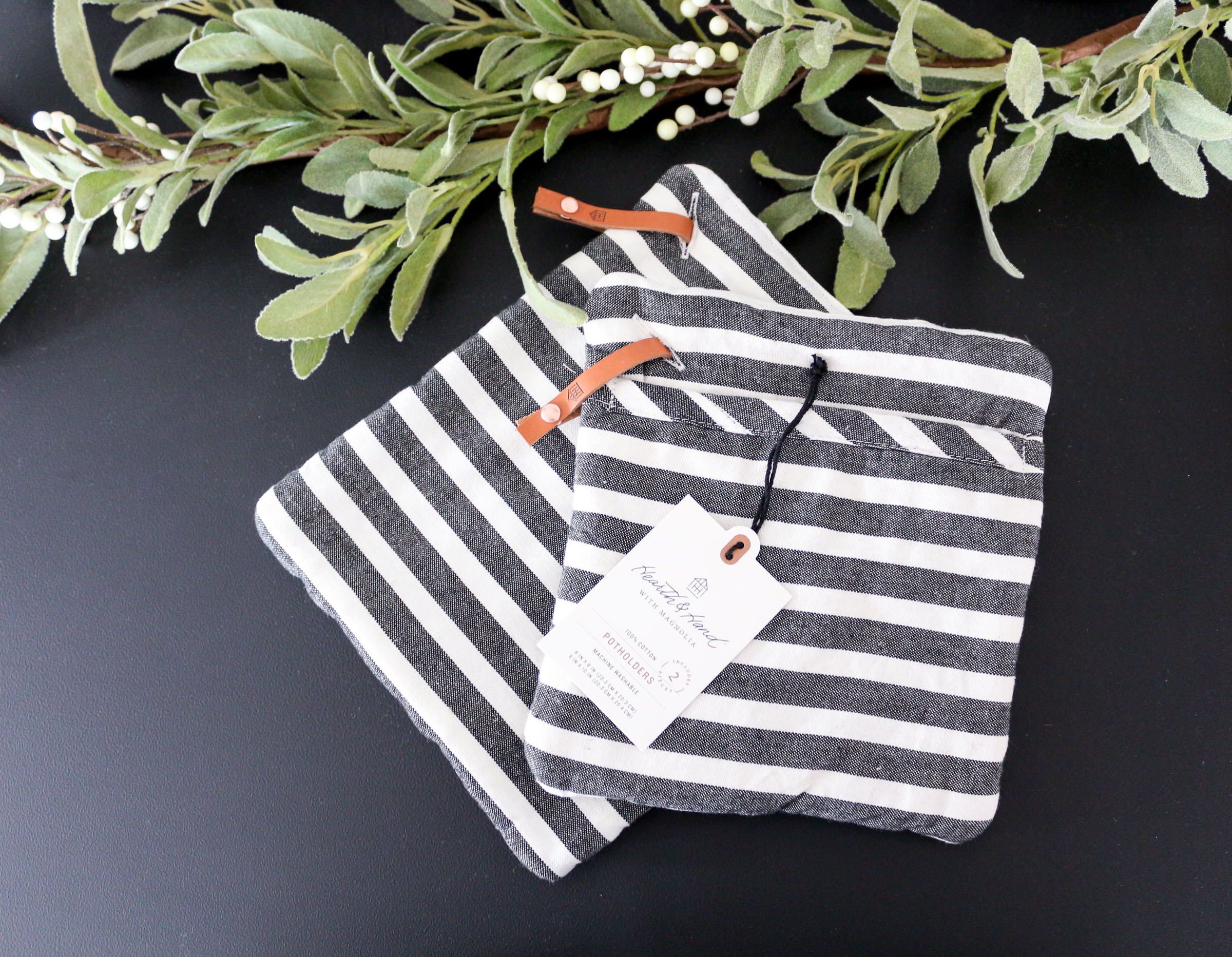 Pot Holder Review:
I may never want to get these pot holders dirty because  they are just too cute! Look at the leather strap detail!! I'm obsessed!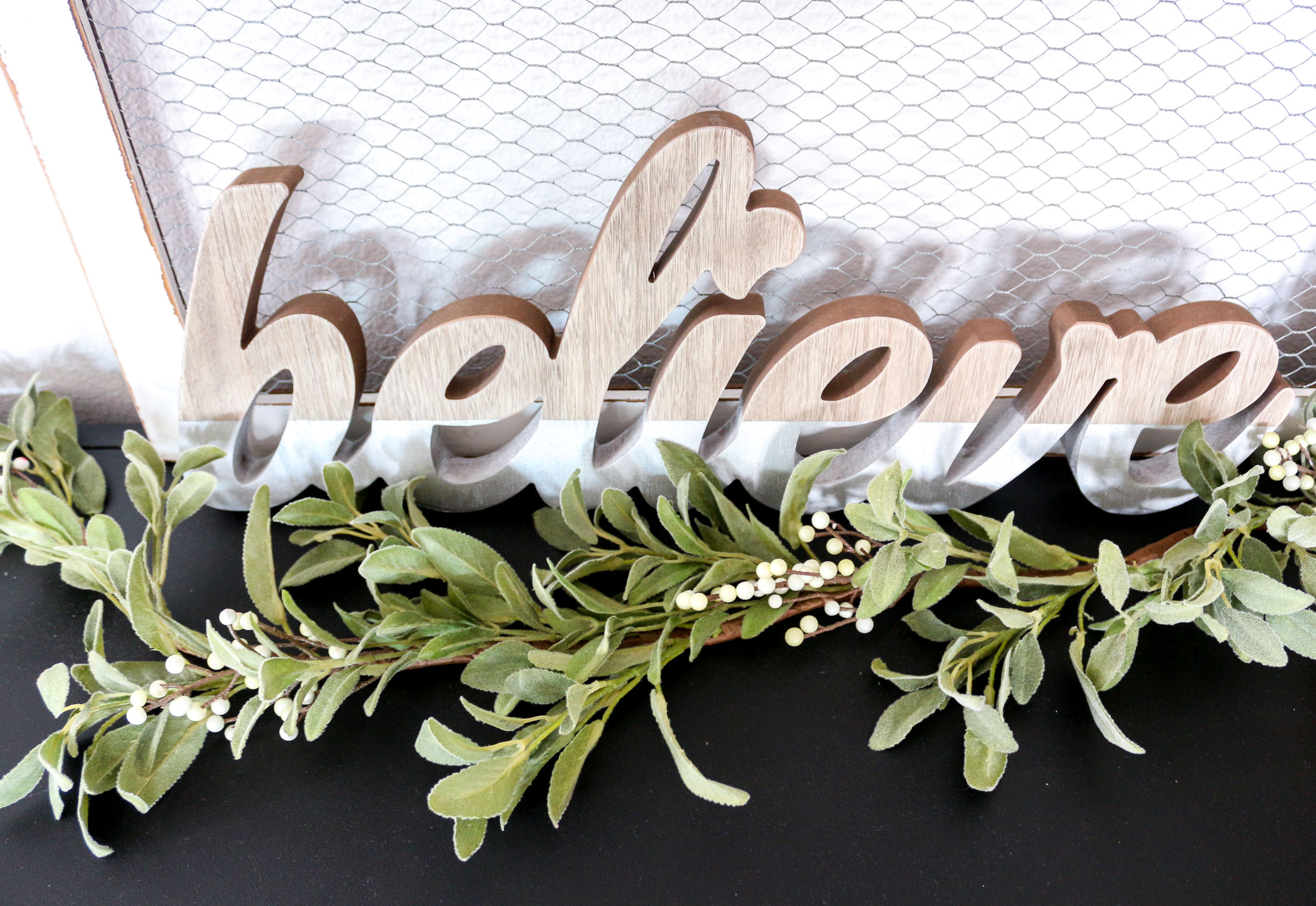 Faux Garland Review:
My prediction is that you will see this faux garland in every home decor blogger's home this holiday season! lol! The quality is amazing – it looks so real. The green color isn't fake looking or cheap. Huge bonus!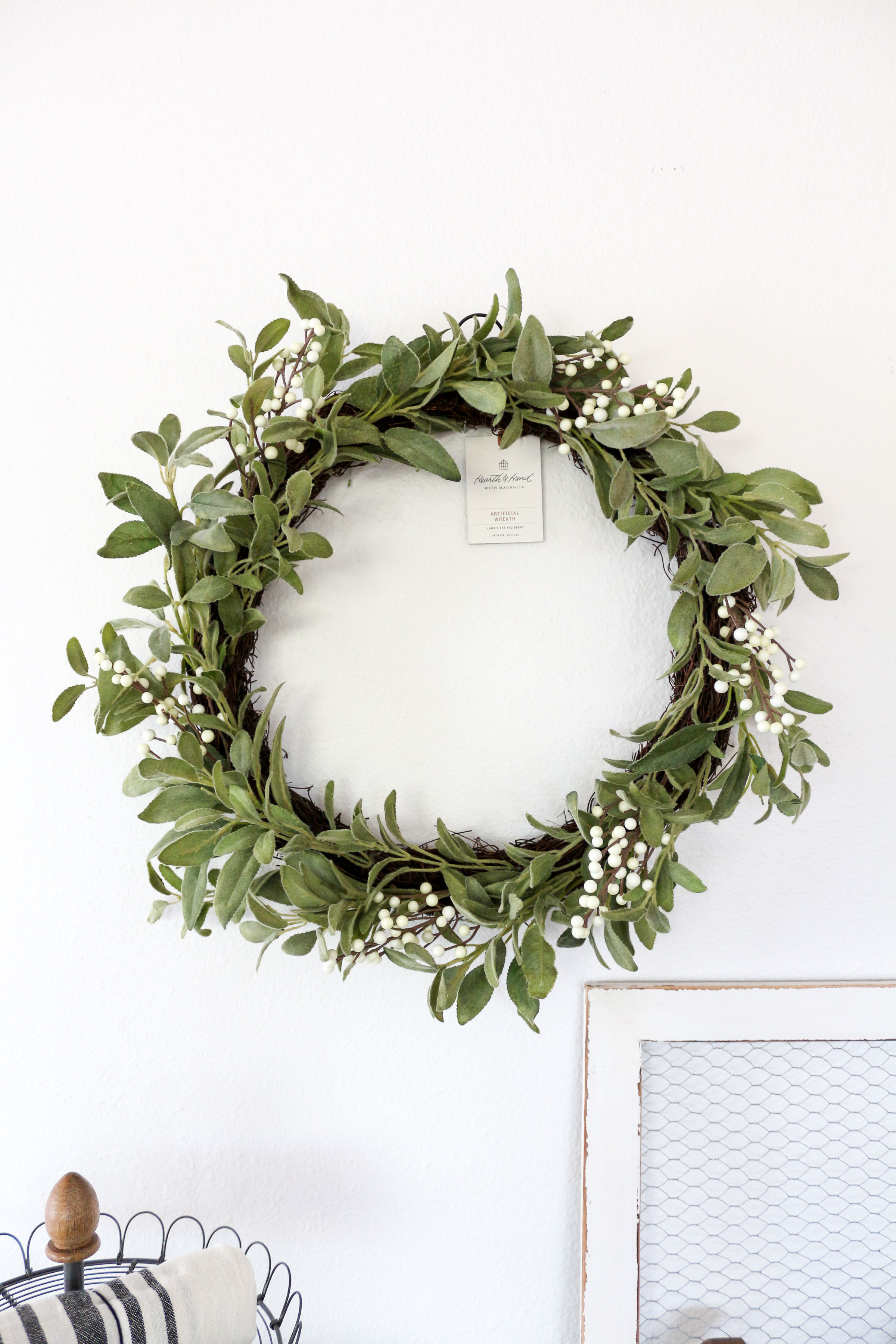 Faux Wreath Review:
This wreath is the perfect size and I can think of a million places to hang it. I really had to control myself and only purchased 2! I couldn't have used another one and made a cool vignette above our sideboard for this post – maybe I should keep it and add another one?!
Other Items I purchased:

My Overall Review:
The line came out just in time for the holidays and knowing what holiday items I needed and wanted I chose wisely. I'm super impressed with the quality (yes I've used the word numerous times in this post) for the price point. If you don't have a visit to the Silos planned in your future or don't want to break the bank on Magnolia's items than Hearth and Hand is for you! It's the next best thing. Head to my tips below for choosing items that will stand the test of time and you can use many different ways throughout your home.
My Tips for Selecting the Best Home Decor Items Under $200
Take inventory of what you currently own. This always helps to make sure the choices you make aren't duplicates in any way. Example – if you own 4 rectangular wooden cutting boards – do you really need another one just because it's from Joanna? Lol! I would say – no! Add items that you don't have and will give you extra joy because it's something you always wanted.
Give yourself a budget. I gave myself $200. Did I add more to my online cart initially – well yes! I then went through it all and re-evaluated reminding myself of #1. Everyone's budget may be different – yours may be $50 or maybe you don't have a budget – that's ok! If you are on a tight budget than start thinking of a simple gift list for your family and friends for the holidays that way you get something you really want versus something you may never use. I realized when I made my budget that I was surprisingly able to buy quite a few things for $200 because Hearth & Hand is really affordable.
Get a Target Red Card. You can save an extra 5% and get free shipping. I've had mine for years and I don't know what I would do without it. If you aren't into the credit card option because you don't want the temptation of a line of credit you can get the debit option as well.
Stick with classic and neutral colors. While the dark green decor items are pretty the black and white choices will stand the test of time. Classic colors will also blend with other decor in your home.
Steer away from spending too much money on anything too trendy – think about how you will use these items beyond the latest trends.
If you purchased your items online (like I did – because I hate crowds) make sure to look over everything and ensure it isn't damaged, appears as you thought it would online and can be added to your home. If it doesn't you can return it!
Feel good about your purchase. I noticed on Target's site that Magnolia is donating a portion of their profits from Hearth & Hand to help families and communities in need. Now that's something to feel good about!

Did you buy anything from Hearth & Hand? Would love to hear what you are adding to your home!
Thank you as always for stopping by,

*Affiliate links used, all opinions my own.
Save
Save
Save
Save
Save
Save
Save
Save
Save
Save
Save
Save
Save