I can't believe in a couple of weeks Thanksgiving will be here! In preparation for turkey day and Christmas I decided to stock up on a few new tablescape essentials. I love creating a beautiful tablescape especially around the holidays. This time I incorporated a few new elements and went for a unique approach. I'm sharing all the details and my tablescape tips below. Links to all of my sources are at the end of the post.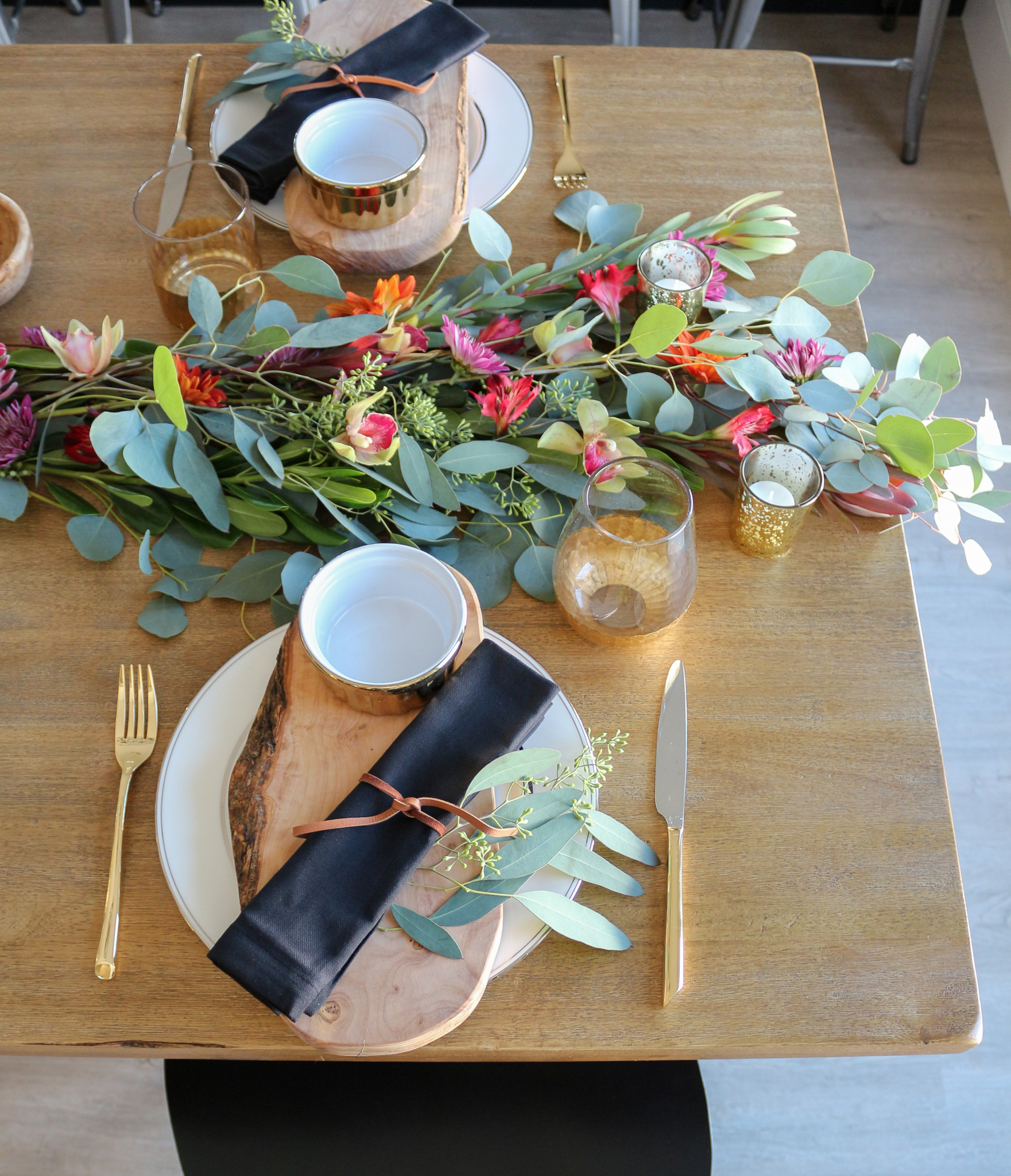 Tablescape Tip #1: White Dishes Rule
Choose the type of dish or china you will be using. I always stick with my white china we received for our wedding – it goes with everything. You can never go wrong with white dishes! In my opinion white is the best investment and can be used any time of the year.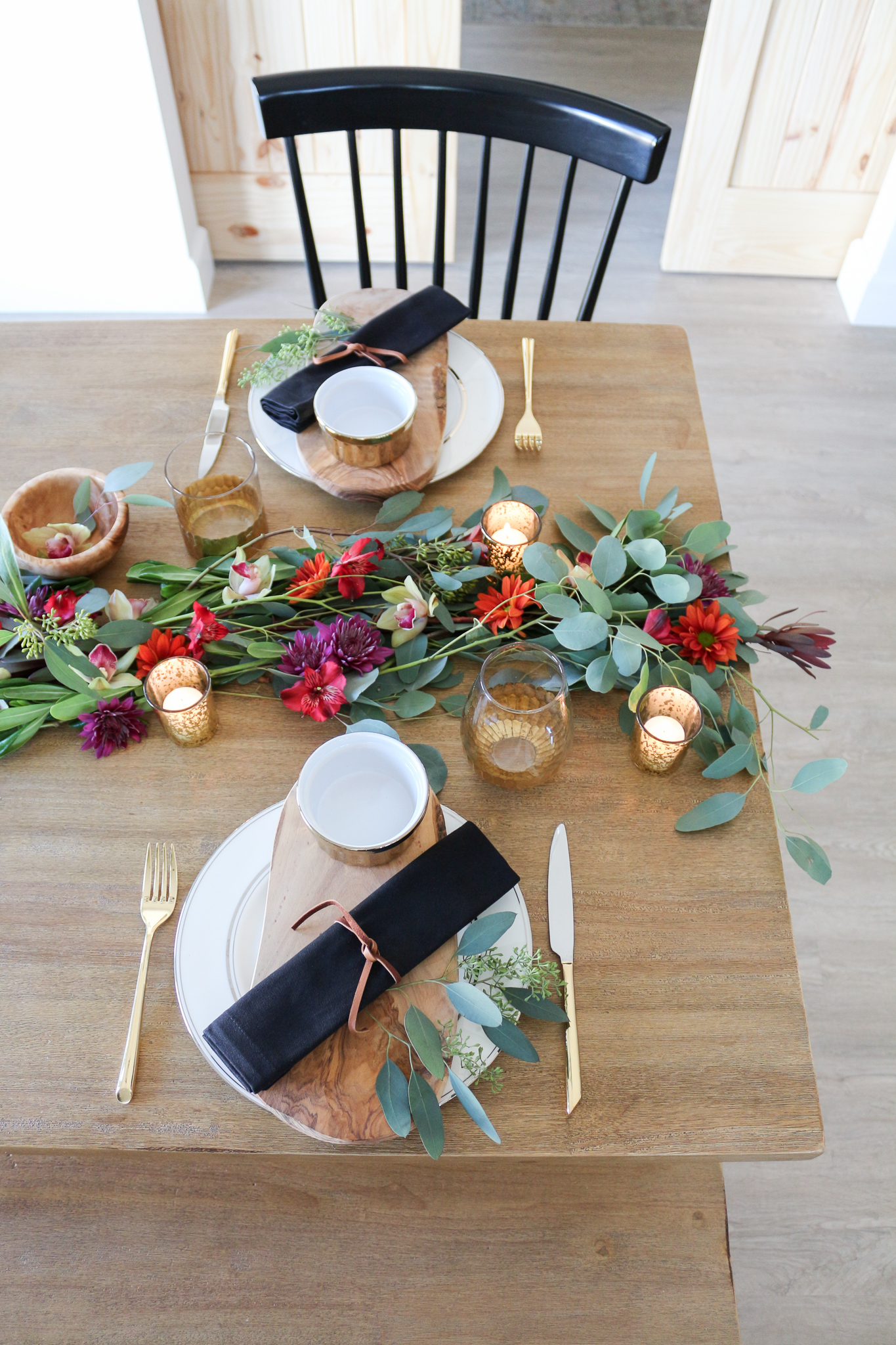 Tablescape Tip #2: Pick a Theme & Take Inventory
Based on your plate color and other accessories you may have on hand pick a color scheme for your tablescape. I bought the black napkins and gold flatware on sale a couple of months ago and our gold stemware we currently use on the daily. These items were the perfect choice for what I had in mind for this tablescape.
Always take inventory and see what you currently have before buying something new  – it will save you time and money! I decided to add in color with flowers and greenery. This look is great for Thanksgiving but can also be used for Christmas or New Years. It is very versatile. While I did use seasonal flowers (mums) I also added a few unexpected touches like green cymbidium orchids to add interest and to give it a unique look.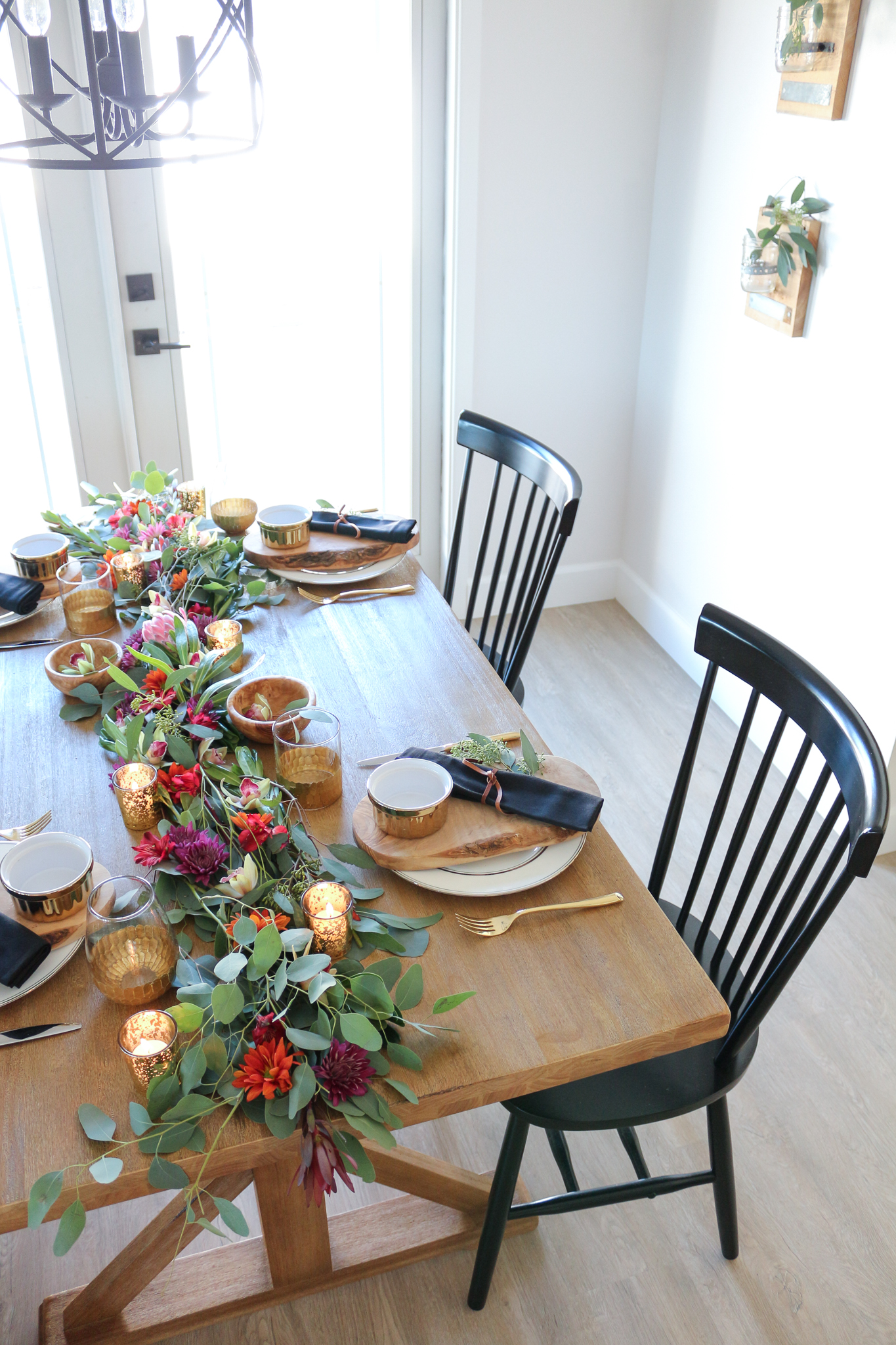 Tablescape Tip #3: Coordinate Your Elements
Once you choose your color scheme and color palette begin placing your items together and determine if everything coordinates. This step is important. Sometimes as you add elements it might feel too heavy or it may need more depth. You can adjust and layer as needed. For example, initially I added gold napkin rings but it felt like too much brass/gold so I decided to add the leather strap detail to the napkins for an unexpected but more natural touch.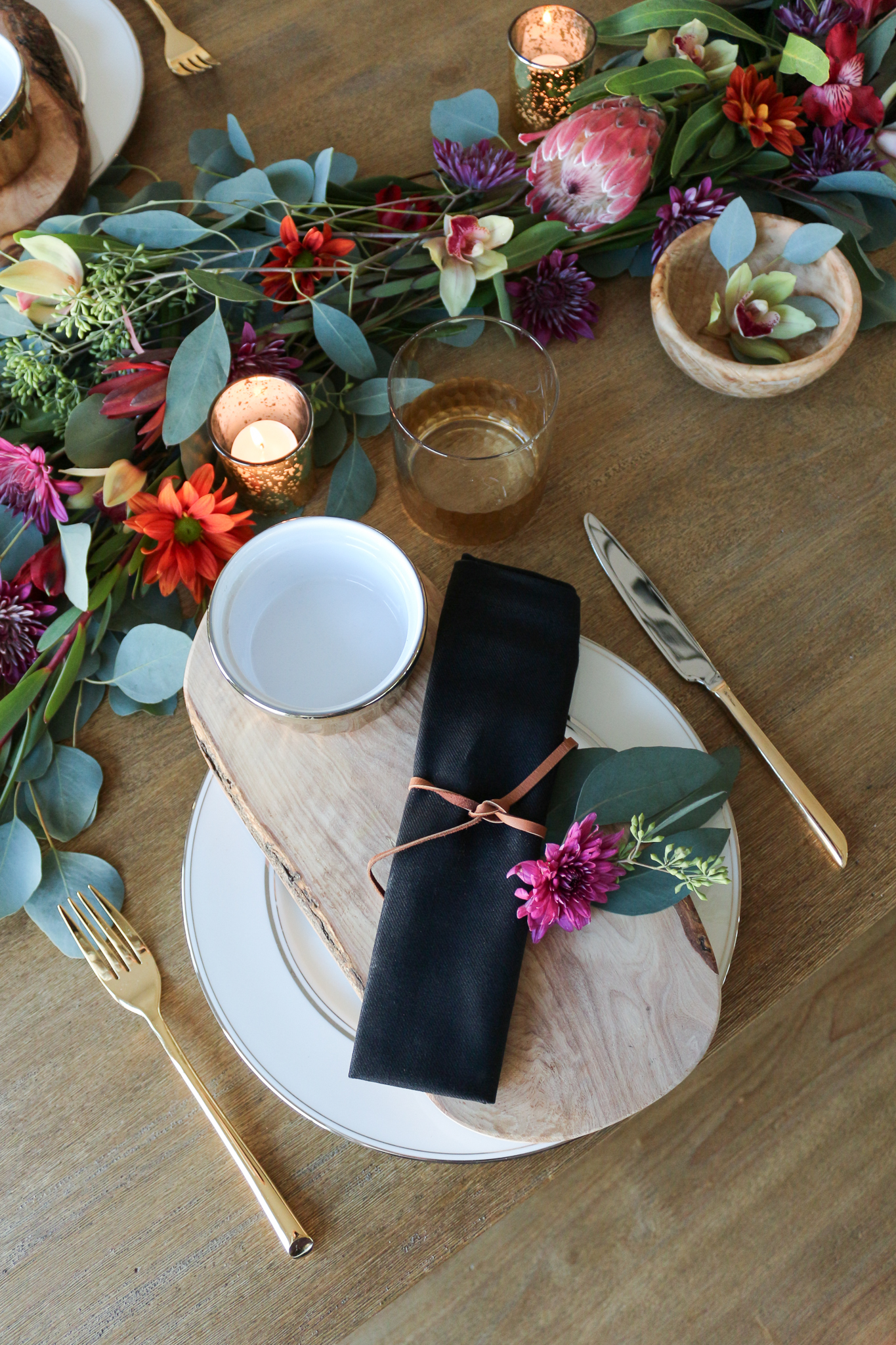 Tablescape Tip #4: Unique Touches Make for Great Convo
Add a fun element that is a talking point for guests. I found these amazing olivewood boards and bowls from Trader Joes of all places – total score! I layered them over the white plate to bring in a natural and more rustic element. It also gives the tablescape texture. Placing a gold ramiken on top added a layer of metallic to keep the look cohesive. You can serve a variety of things on the olivewood board and add extras to the ramiken then remove when ready for the main dish!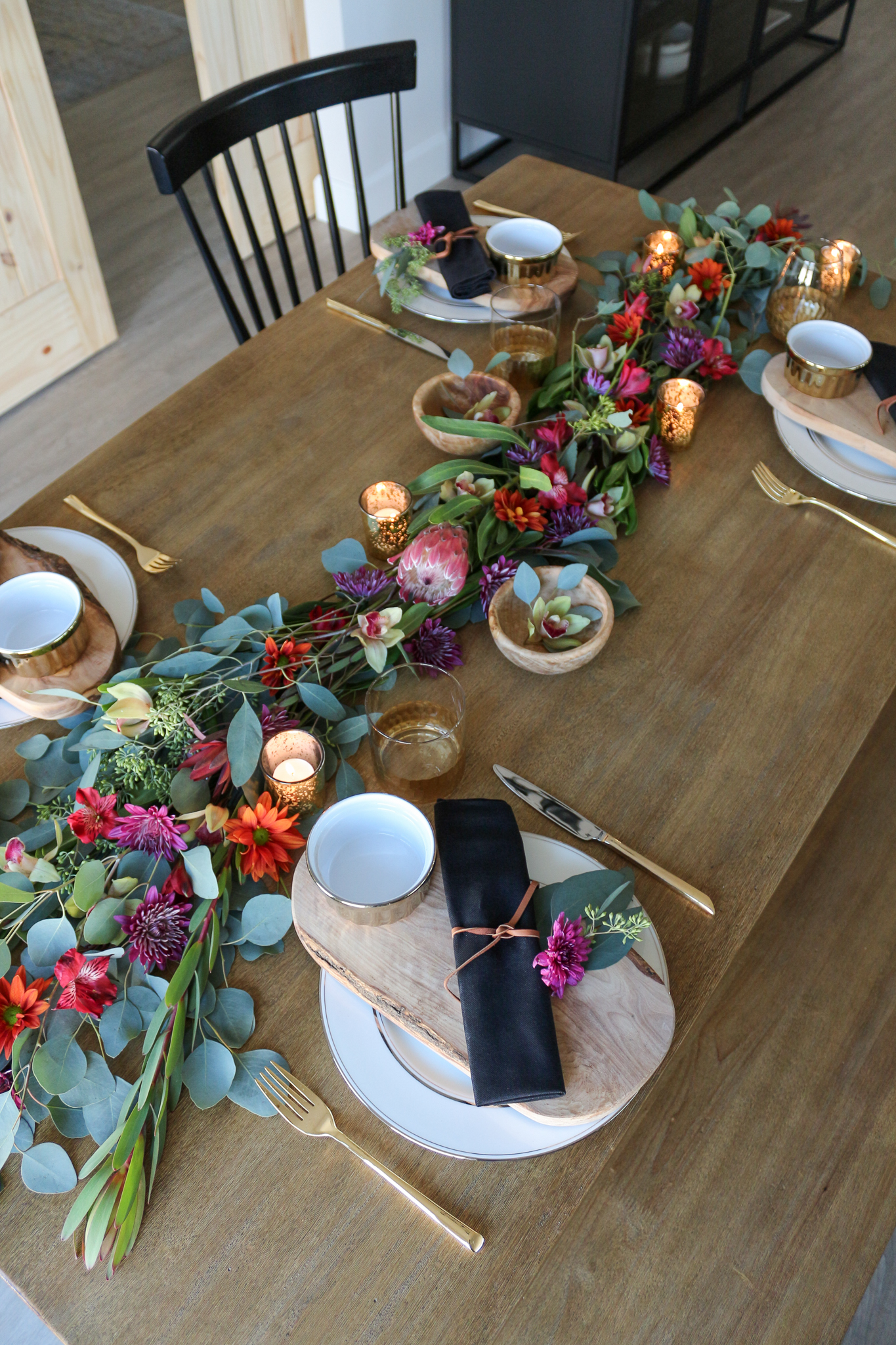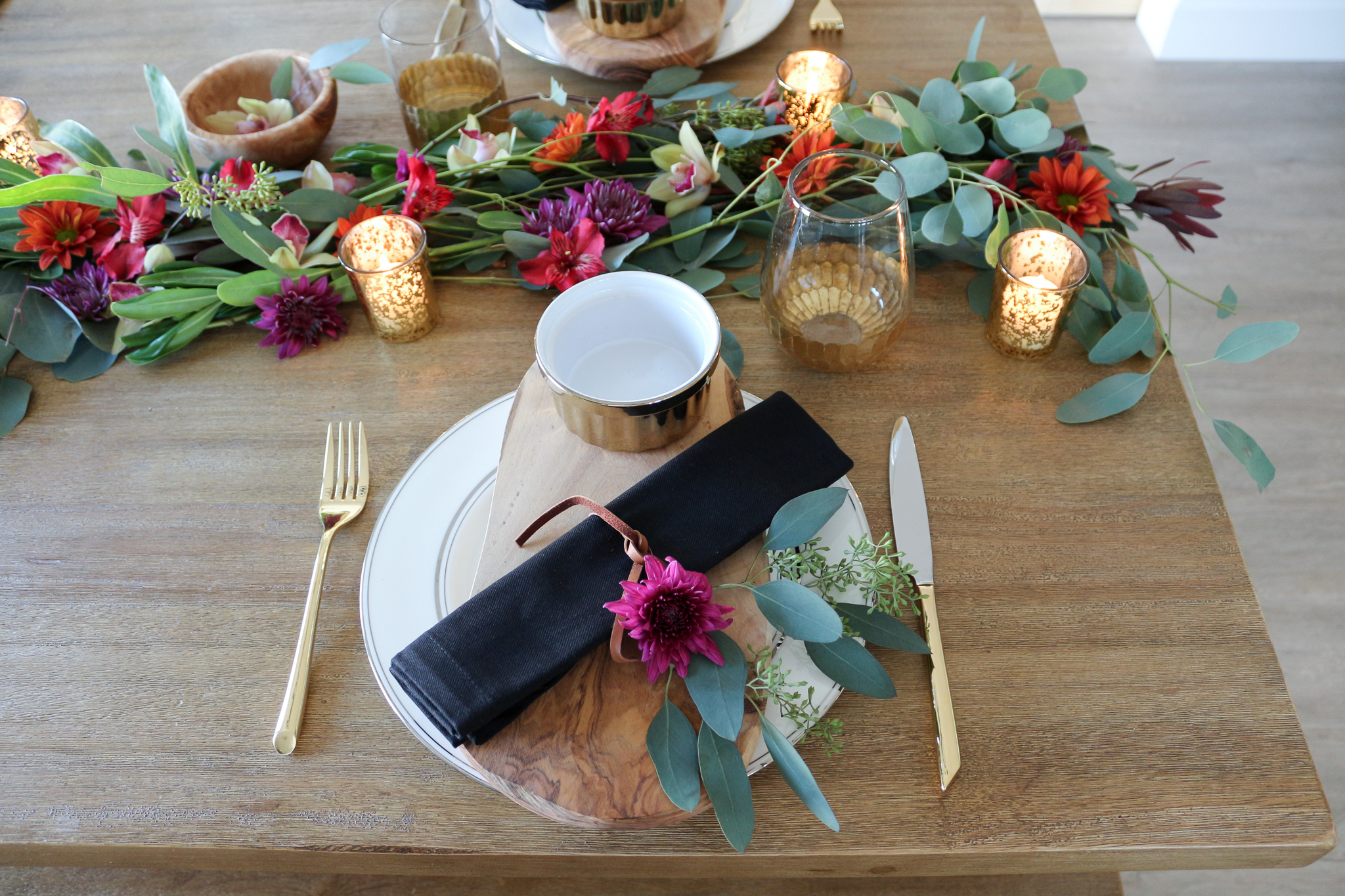 Tablescape Tip #5: Flowers, Greenery, Candles – Bring on the Ambiance
Add flowers, greenery and candles/votives for ambiance. I made my own eucalyptus and flower garland and I can't wait to share in my next post how I did it – it's really so easy – (so don't forget to subscribe so you receive my posts). It makes the entire table feel more special and beautiful. The candles add that extra element of warmth. I'm showing you pictures with the candles lit but you can see in the first couple of pictures the candle is not lit and you might notice the difference in the warmth of the tablescape.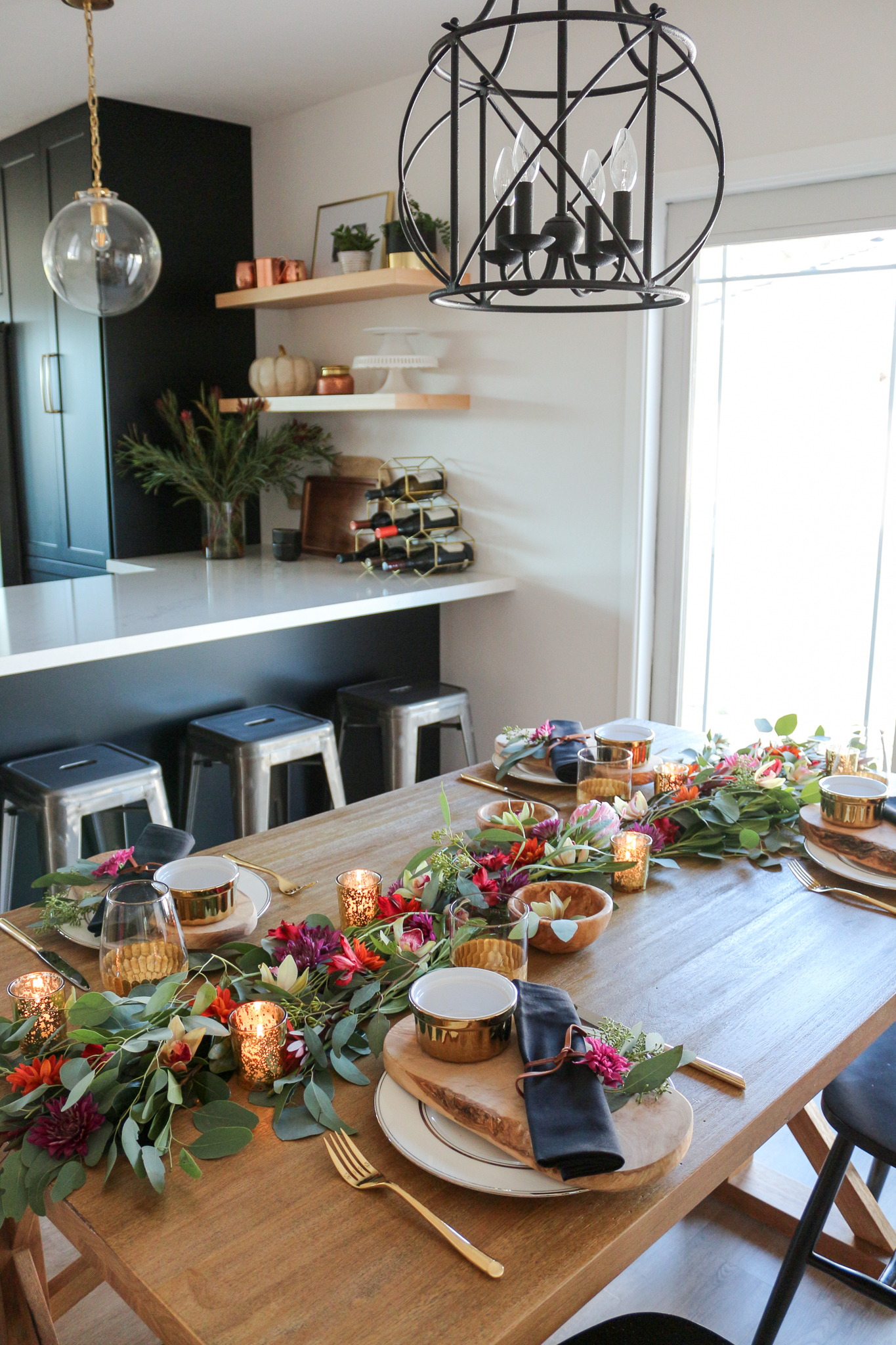 I hope you enjoyed my eucalyptus flower garland holiday tablescape and some of my tips! I'll be sharing a full tour on my You Tube channel soon – so stay tuned! Head back for my tips for creating a eucalyptus flower garland and to see our fall tablescape for under $50 from last year head here.
Shop the post below:

Thank you as always for stopping by!

*Affiliate links used, all opinions my own.
Save
Save
Save
Save
Save
Save
Save
Save
Save
Save
Save
Save
Save
Save
Save
Save