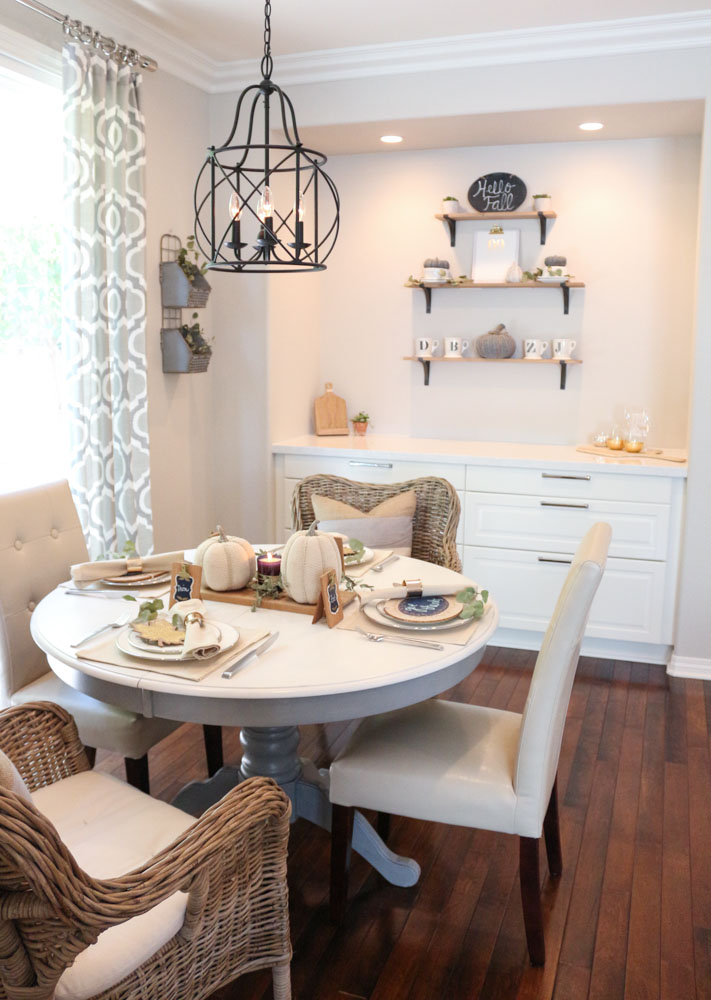 Today I am sharing how you can create a gorgeous fall tablescape for under $50. Sometimes the process of creating a tablescape can be overwhelming and intimidating. Where to put the décor around the table and how to evoke a welcoming feel while pulling together a cohesive look can be tricky. Another challenge is how pricey tablescapes can quickly become after factoring in décor items and flowers. This fall I decided I would give myself the challenge of creating a gorgeous fall tablescape for under $50. I accomplished this challenge using items from the Target Dollar Spot section. If you aren't able to find these items at your local Target – don't worry! I've linked similar options at the end of this post. I will share my tips on how I created this simple, gorgeous, yet affordable fall tablescape and how you can create one too! Shop our lantern chandelier here.

Create a Centerpiece for Your Tablescape

I created a centerpiece using just a few items. I started with a wooden rectangular cheese board. I placed burlap pumpkins in various sizes and heights on the board. Then I placed eucalyptus that I had dried by hand (super easy to do) and a pretty navy blue candle that I wrapped in gold twine to give it a pretty, polished look. The centerpiece should anchor your tablescape and ground the décor around it. Using the same colors and elements from your centerpiece around each place settings will give a cohesive look to the entire tablescape.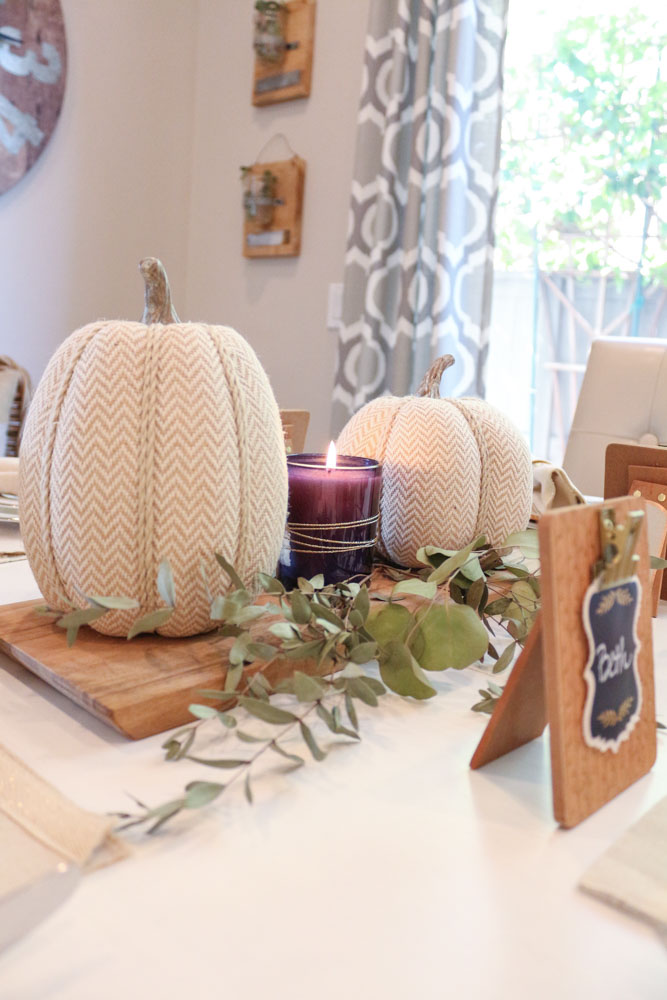 Be creative and Think Outside of the Box
I didn't want to buy placements and fabric napkins so I used burlap runners and cut them to make napkins and placements. Make sure you use a fabric sheers for smooth, even cutting and iron out any wrinkles. You can keep the edges raw for a more rustic farmhouse look, iron on a ribbon or use hemming tape to hide the raw edges. I also used wooden signs and golden wooden leaves to adorn the plates. I went with a mix and match look around each place setting to avoid a "matchy-matchy" look 🙂 I also found adorable mini easels that make the perfect place card holder for your guests. I used gift tags for my place cards by removing the string from the gift tag and writing the name on each one using a chalkboard marker.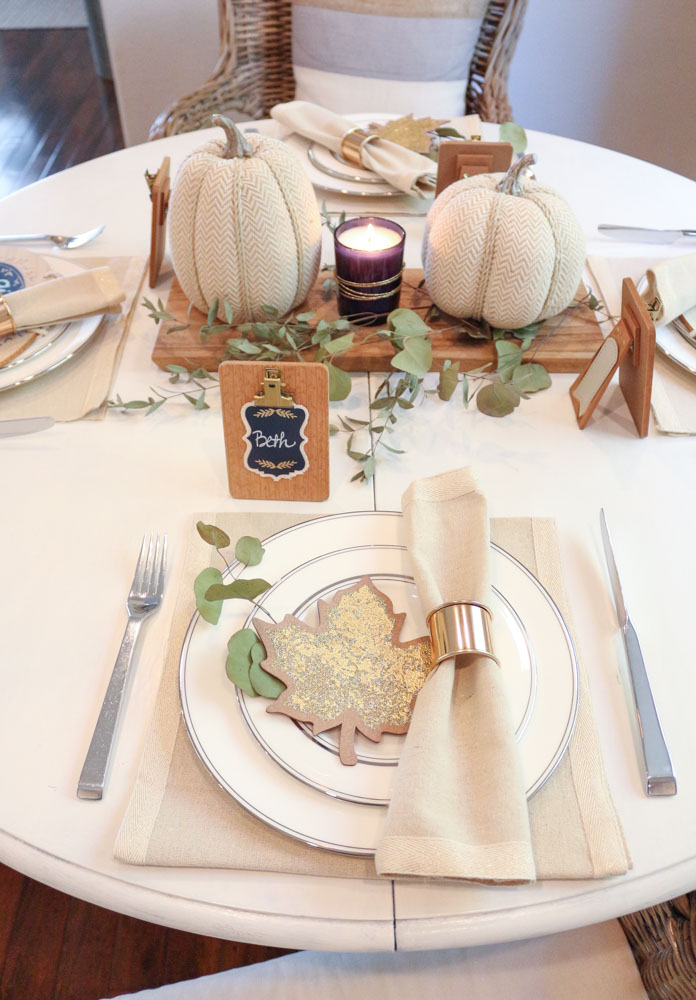 Mix Metallic Elements for a Gorgeous Look

I didn't keep a uniform metallic look rather I varied the look by mixing metallic elements – this gives more interest and variety. There is gold in the décor throughout but the silverware and plates have silver accents and are white.  Don't be afraid to mix metals – it's on trend and it will look beautiful.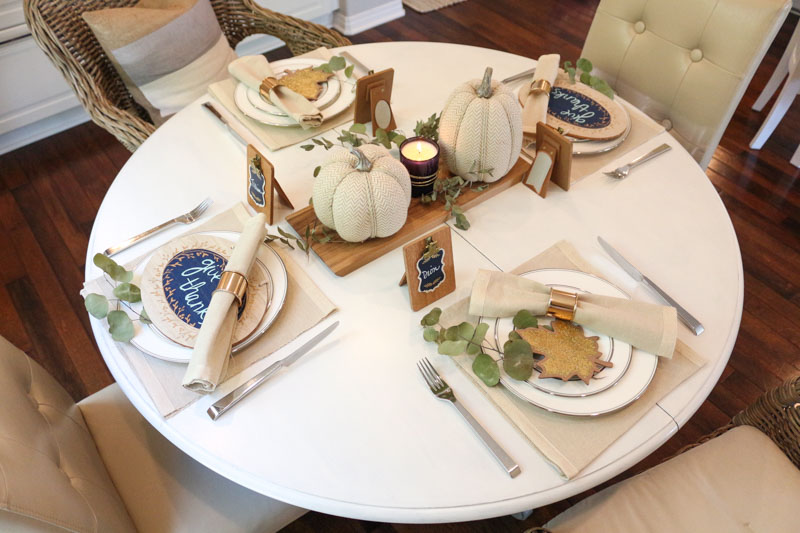 Pick a Color Palette that Compliments and Doesn't Compete
You can never go wrong with white plates because they go with everything but if you are a fan of color choose a color palette for your tablescape that compliments your current dining room décor.  You don't want your tablescape to compete for attention with the rest of the décor. Your tablescape should complement the space. I love the look of navy but didn't want it to overwhelm the space.  Using small touches throughout gives a pop of color without competing with the rest of my neutral dining room color scheme.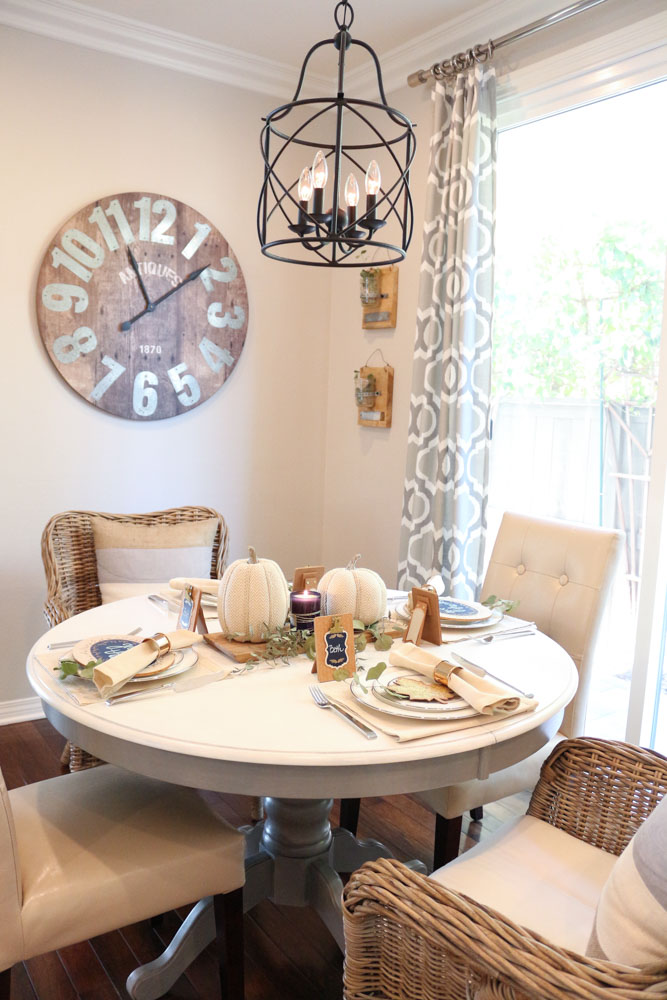 Spark Conversation
Elements that add interest to your tablescape always add a fun touch and are sure way to spark conversation among your guests.  The wooden signs and cute name tags I turned into place cards using mini easels are an example of how you can spark conversation among your guests.  Hopefully your guests (even if they are your kiddos) notice these unique touches that are special and show you have put forth the effort in creating a beautiful tablescape they can enjoy.  These special touches make for memorable conversations and moments while enjoying everyone's company around the table.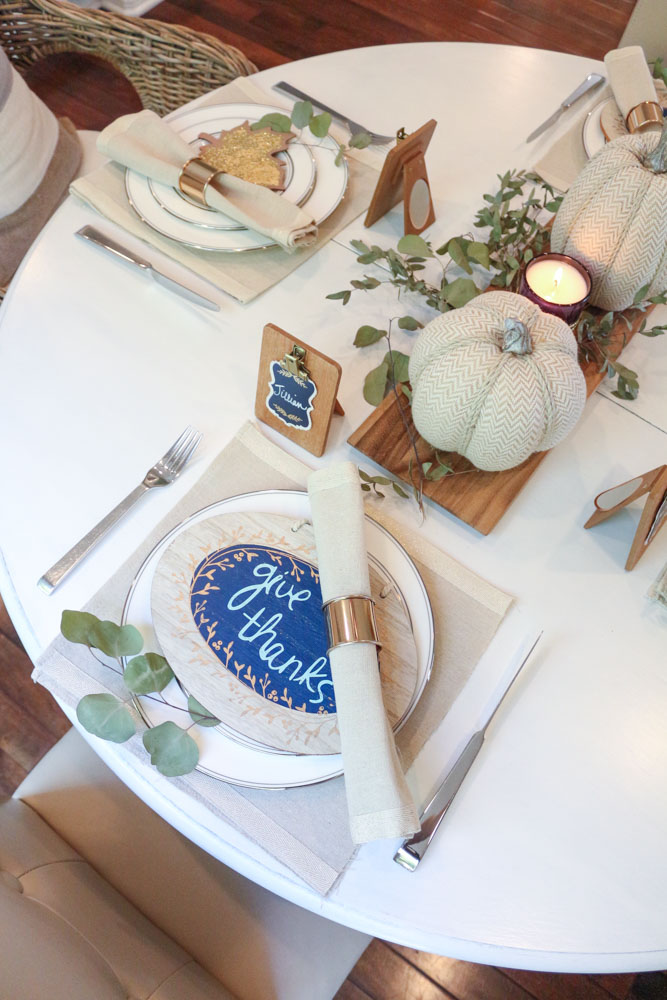 A Few More Tips…

Lastly, when you are struggling for ideas, my sure fail tip is to keep it simple. Shop your home, don't spend a fortune, and try a practice round. Get everything out and put it together ahead of time to see what works and what doesn't. When in doubt don't overlook that dollar spot section at Target. There are true gems that can be found and with a little creative energy you can pull together a beautiful look without spending a fortune. I hope you have enjoyed learning how to put together a gorgeous fall tablescape for under $50. See my cost break-down below.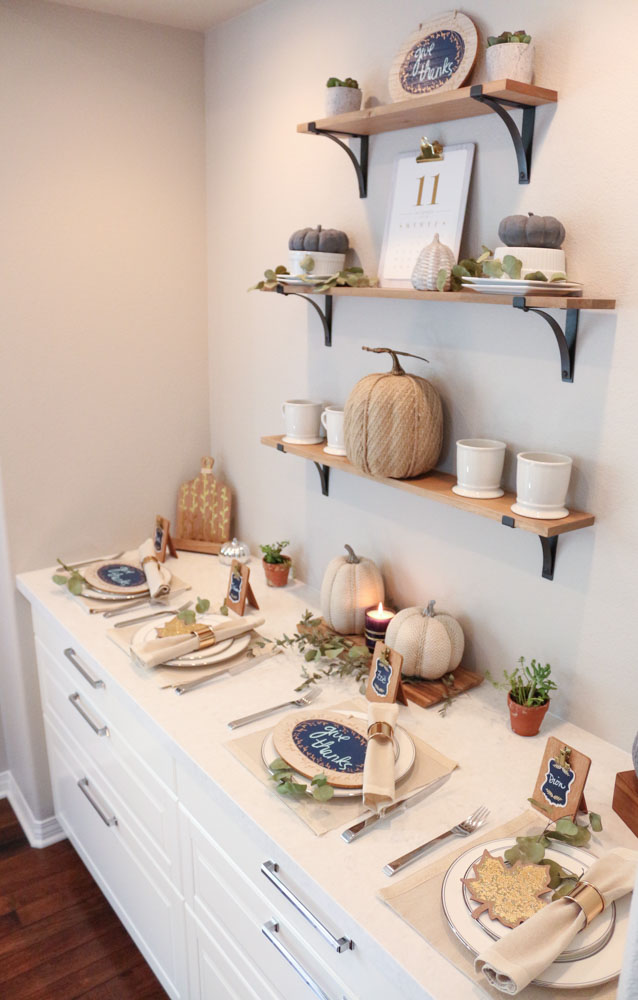 Here is how I saved money & the cost breakdown (based on 4 guests):
Burlap pumpkins $3.00 (x2)
Burlap runner $3.00 (x3) cut to make placements and napkins
Give Thanks signs $3.00 (x2)
Gift Tags $1.00
Wooden Gold Leaves $3.00
Mini Easel $1.00
Large Easel $3.00
Dried eucalyptus (free)
Gold napkin rings $3.00
Candle $7.00
Gold twine $1.00
Items I already owned:
Wooden Cheese Board (Target)
Dishes & Silverware (Kate Spade New York)
Links to Similar Items:
If you can't find these items at Target or don't have a Target nearby don't worry! I have linked similar items below – like those fabric sheers I mentioned! Just click on the picture for more info & price. Also see how I transformed my dining room table with a little bit of chalk paint in this post.
Shop this post:
Save
Save
Save
Save
Save

Save
As always thank you for stopping by!

Disclosure: {This post contains affiliate links, if you purchase something through these links, I receive a small percentage of the profits, with no additional cost to you!  All opinions and recommendations expressed are my own.  My opinions and recommendations are honest, genuine, and based on use in my home!}
Save
Save
Save
Save
Save
Save
Save
Save
Save
Save
Save
Save
Save
Save
Save
Save
Save
Save
Save
Save
Save
Save
Save
Save
Save
Save
Save
Save
Save
Save
Save
Save
Save
Save
Save
Save