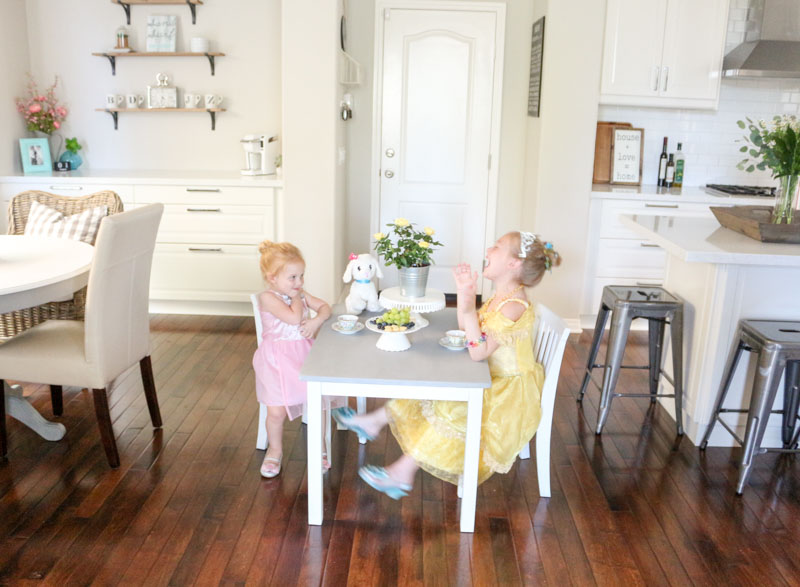 If you are joining me from Instagram you may have seen my latest post (below). My little ones love a good tea party. It's such a simple and fun thing to do in a any month but great to beat those winter blues when the kids screan "I'm bored" insert eye roll here! We like to substitute hot chocolate for tea during the winter months with lots of marshmallows.
I love to serve them at their cute little kids table which was an easy diy project that I completed over this past summer. It takes away the wear and tear and can make it look brand new. Can we say goodbye scratches and marker! Yes! I'll be sharing how I did this in an upcoming post but used the same steps as my dining room table diy that you can find here. It looks so much better with the white and grey and coordinates with our dining room table. I wanted to share my tips on hosting a fun kids tea party at home – so here they are!
Here are my Tips for Throwing a Fun Kids Tea Party at Home
Invest in a tiered tray, tea cups, saucers and cloth napkins. We used my grandma's china and they love how special it is and take great care with it.
Tell the kiddos they can dress in their fancy clothes (aka costumes or whatever they want to be – superhero, princess, cowboy) – anything goes!
Tell them they can invite their favorite doll, stuffed animal, sibling, or a friend!
Make cute sandwhiches with a cookie cutter. Or serve cute cheese or peanut butter crackers. It really doesn't matter what you serve as long as you cut it small and present it on a cute tray – they will love it!
Serve hot chocolate, milk, or their beverage of choice in a cute tea pot.
Pretend to serve them as if they were at a restaurant (I even add a British accent – but this is optional, I always get a ton of giggles with this one :). This time I asked them to rate my "tea service" – they actually gave me a "10" out of 10 rating and were too funny about it!
Let them spill and tell them they are practicing their tea skills and while good manners are appreciated, accidents will happen!
Enjoy their laughter, smiles, and cherish the moment – because as we all know they grow way too fast!

These photos are from our tea party last summer. I added fresh flowers to their table to make them feel like they were in a restaurant and make it more fancy. It was so much fun and I will never say no to a tea party! Flower crowns, tiaras, and anything that makes them feel extra fancy is also so much fun.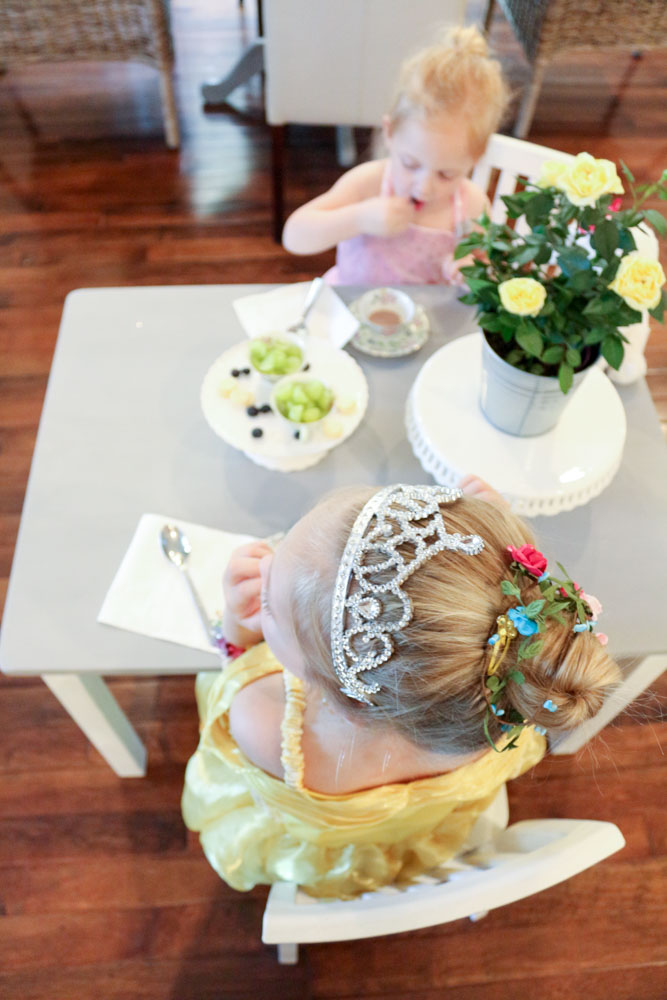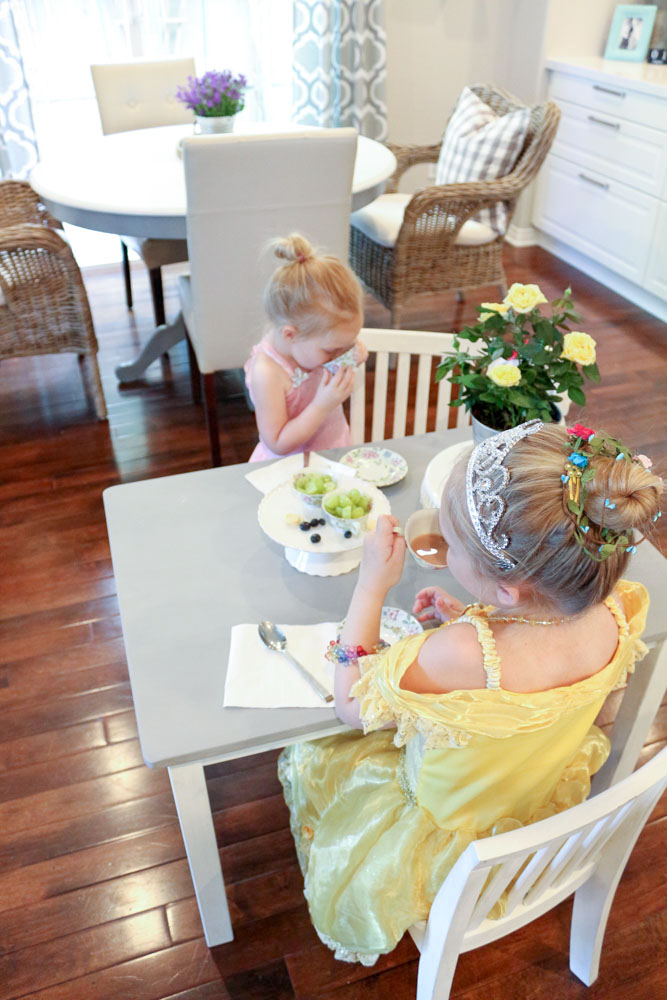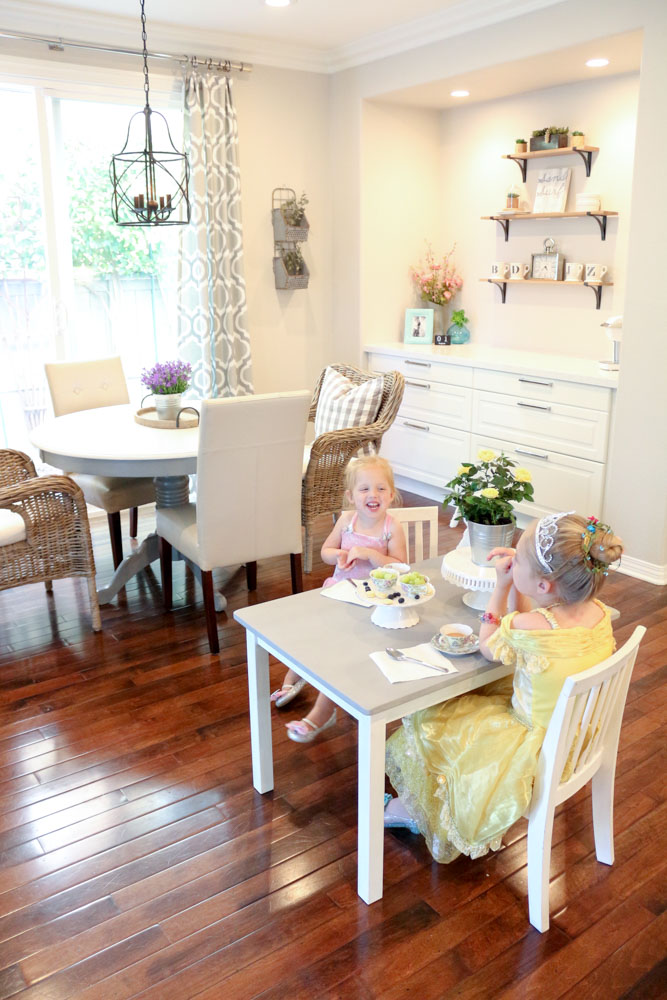 I hope you find these tips helpful and that one day you will try them out!
Shop The Post:

Thanks as always for stopping by!

*Affiliate links used, all opinions are my own.
Save
Save
Save
Save
Save
Save
Save
Save
Save
Save
Save
Save
Save
Save
Save
Save
Save
Save
Save
Save
Save
Save