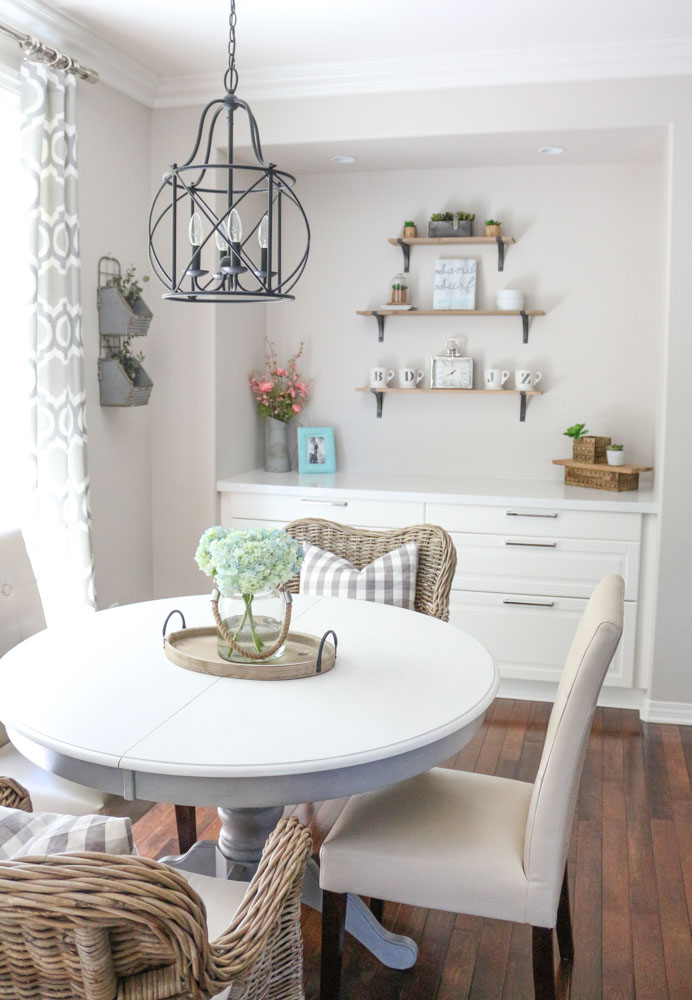 I have joined a group of talented bloggers to share how we refreshed our homes this summer. I'm sharing our modern farmhouse dining room table DIY.
Last summer we remodeled our kitchen and added a built-in cabinet to our dining room. We transformed our builder grade kitchen to give our home a more modern farmhouse look that was light and bright. I had purchased our dining room table prior to the remodel and the darker color wasn't meshing as well as I would have hoped.
Here is the before: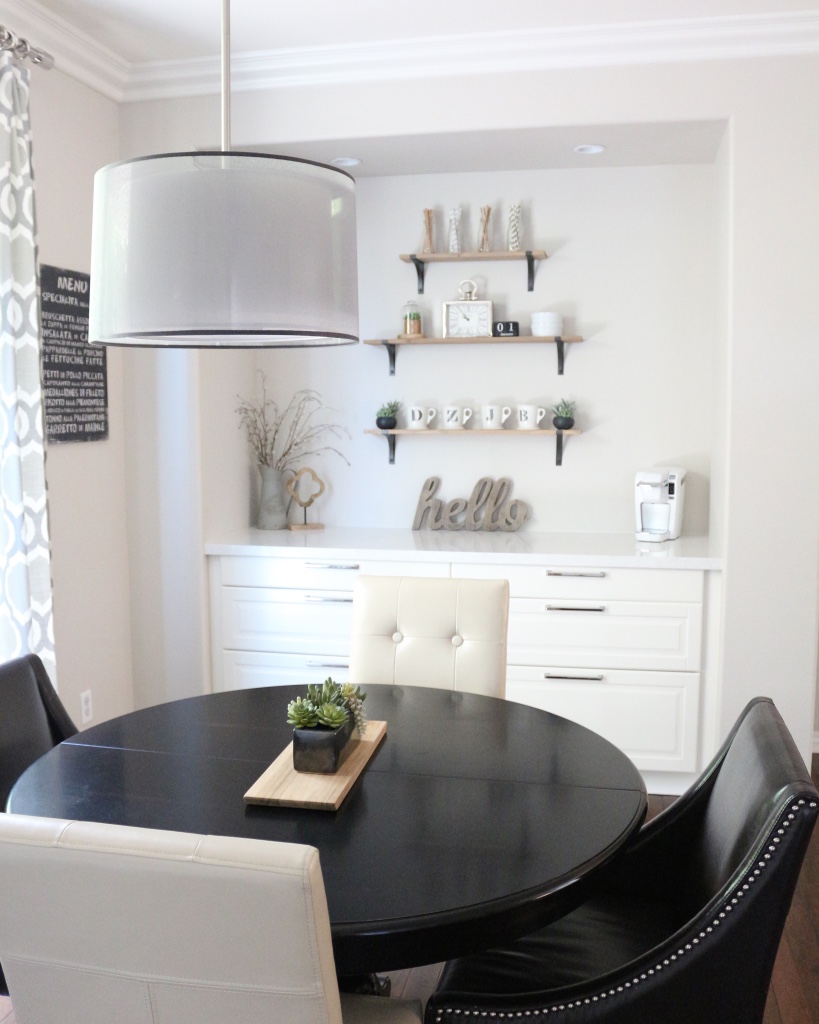 Not bad by any means but it needed a refresh. I contemplated purchasing a new table or sticking to a budget and the budget won. I figure the money I save can go towards other projects 🙂 I think it was worth the time and effort. Here is a picture with the before and after so you can see a side by side comparison.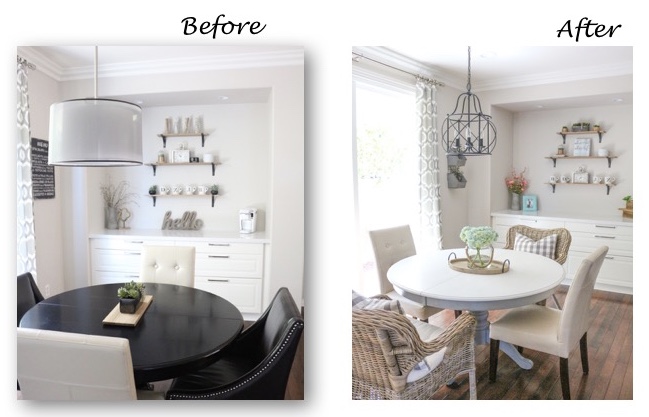 DIY Details: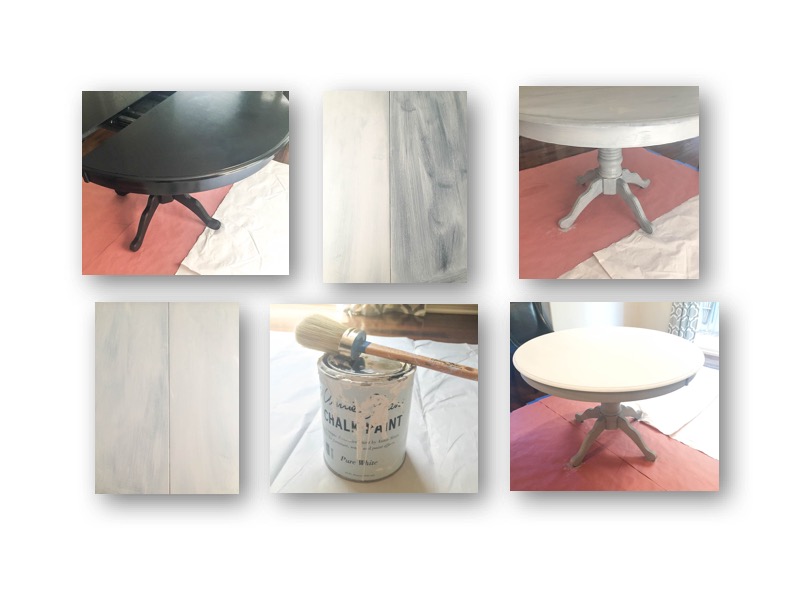 I went through my paint supply and found leftover paint from a few previous projects – I had on hand Annie Sloan Chalk Paint® in Pure White and Amy Howard One Step Paint in Atelier (link below). I absolutely love both of these products and used both brands for the pink dresser transformation project that you can find here and for my white entryway table project that you can find here.
It was way too hot to paint outside or in the garage. So I decided I would tackle this project in my dining room!  I've found that chalk paint dries super quick in the air conditioning. Chalk paint also has no odor which is super helpful if you decide to take your chalk painting projects indoors.
Here are my tips & recommendations for taking on this DIY:
Invest in a quality paint brush! I have used the Annie Sloan brand pictured above but also Purdy paint brushes. My hubby who has a ton of experience painting and always uses Purdy for his "go to" painting projects.
This is one that I highly recommend (click on photo for more details):
Use Red Rosin paper to protect your floors if painting inside or anywhere you need to prevent paint spills from ruining your space.
Here is what I used (click photo for more details):

Use a polyurethane sealer (water based) if you are painting a dining room table to help repel liquids and stains. This is essential with little kiddos.
I used this one (click photo for more details):
If you like the shape and functionality of your table – why not save it with a little paint? If you want to skip priming then chalk painting is definitely the way to go!
This is one of my favorites (click photo for more details):
Adding chairs to complete the look
After the painting was done I realized our current dining room chair situation was also in need of an update. I went to my Pinterest boards for inspiration and found a beautiful dining room designed by Carla Aston who you can find here – she is super duper talented. I fell in love with the look and knew I could recreate my own version using Carla's design as my inspiration.
So I headed to IKEA and picked out 2 grey-washed rattan chairs and fell absolutely in love with them.   Because when you love decorating you fall in love with chairs :). I already had purchased the grey check pillows this past spring so they were the perfect addition and added comfy support to the chairs. Ultimately the chairs completed the look. Here is a link to a similar grey-washed wicker/rattan chair at a great price ~ Safavieh Home Collection Pembrooke Wicker Side Chairs, Antique Grey, Set of 2
Shop our dining room here.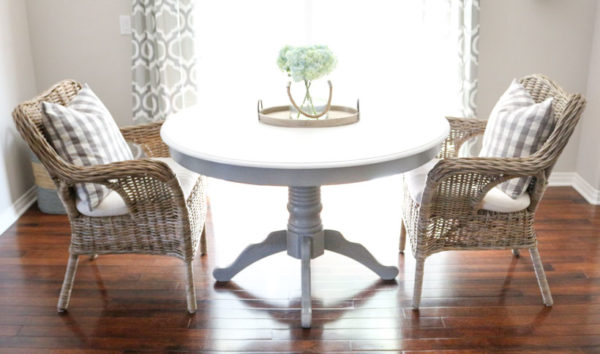 This simple dining room table DIY took my dining room from basic to a brighter, fresher, more modern farmhouse feel. Painting the table saved money and gave the entire space a refresh. If you are curious about lantern chandeliers and why I made the change from the drum pendant a few months ago you can find that post here.
Be sure to take a look at the following links – so much inspiration being shared this weekend. My fellow blogging friends are so talented and I know you will love their posts linked below. You can also find us on Instagram with the hashtag #summerhomerefresh and you can find me on Instagram @1111LightLane
Thanks for stopping by!  And don't forget to subscribe – I have of lot of fun things planned for the next few months that you won't want to miss!

Disclosure: {This post contains affiliate links, if you purchase something through these links, I receive a small percentage of the profits, with no additional cost to you!  All opinions and recommendations expressed are my own.  My opinions and recommendations are honest, genuine, and based on use in my home! This website 1111LightLane.com will not be held responsible for any injury due to the misuse or misunderstanding of any DIY project.}
Save
Save
Save
Save
Save
Save
Save
Save
Save
Save
Save
Save
Save
Save
Save
Save
Save
Save
Save
Save
Save
Save
Save
Save