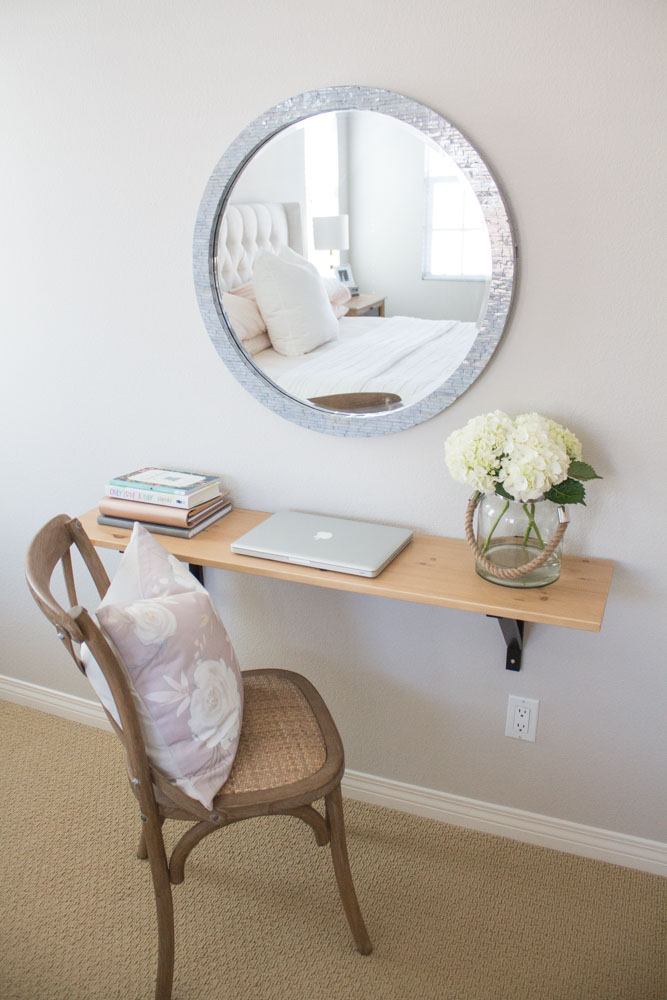 Today I'm sharing my latest project – an IKEA shelf hack! Did you know it is possible to create a stylish work space with an IKEA shelf?! I love IKEA hacks and I was perusing Pinterest the other day looking for inspiration for a stylish work space. I recently sold my large desk because I had it for several years and was looking for a different look. I wanted something that wasn't big and bulky and had rustic charm. I also didn't want to spend a fortune on a new desk so I decided I would make my own using an IKEA shelf. I am so happy with how it turned out! I couldn't wait to share it with all of you to hopefully inspire you to think outside the box when creating a work space in your home. Our master bedroom is a fairly large space but I didn't want more furniture cluttering the room. I love open, airy spaces and this was the perfect solution. I've included my tips for creating this look below!
Choose a Designated Work Space
I chose to mount my shelf on a blank wall. You can find any wall that will accommodate the shelf, just make sure you have enough room around it! Another helpful tip is to find a wall with nearby plug – this is great for charging a laptop, cell phone and other electronic devices you own 🙂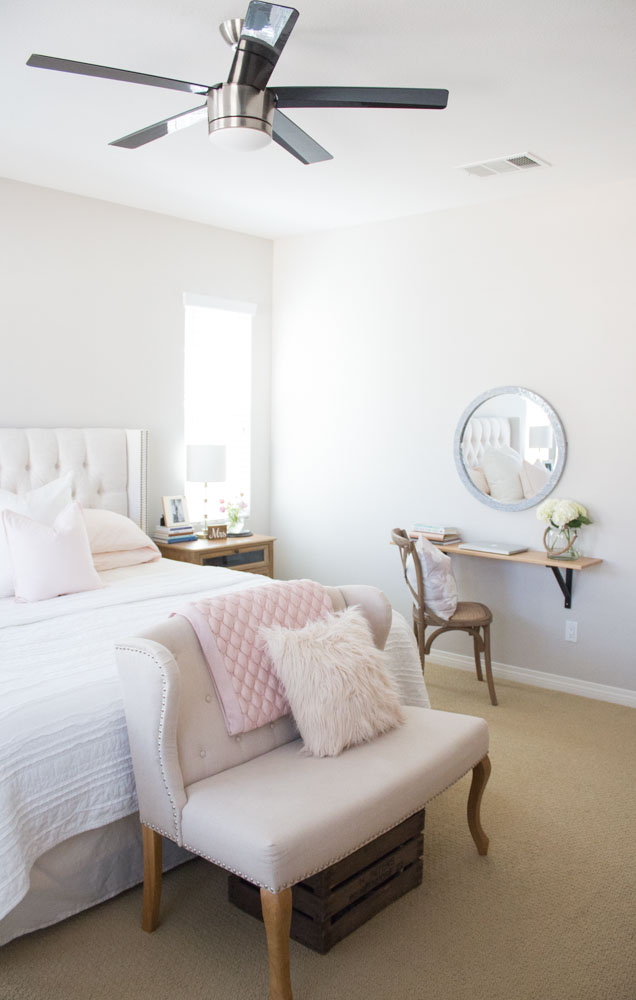 Choose a Color & Style for Your Work Space
I chose to go with a rustic shelf and black brackets because I wanted a rustic farmhouse feel. I paired a rustic chair and a pretty light blue mirror with bone tile inlay that adds texture and a soft pop of color (I've linked a similar one for you below). I added a pretty pillow that compliments the space perfectly!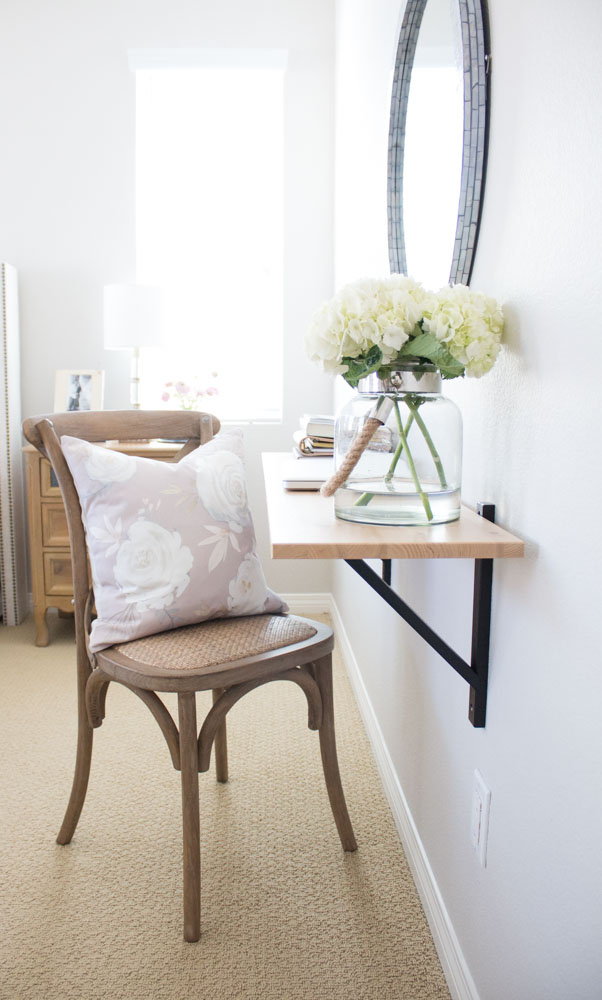 Choose a Height and Make Sure Your Shelf is Level
I sat down and held the shelf above my lap and marked on the wall where it felt appropriate for me to type on my computer – I wanted to make sure it was ergonomically correct! I also made sure I hung the mirror at an appropriate height to check and touch-up my make-up. It's helpful to have someone help during this step so you get it right! My hubby made sure the brackets were mounted in studs in the wall so the shelf can withstand weight and remain sturdy and stable. We made sure to measure the brackets so they were even on the shelf and also level.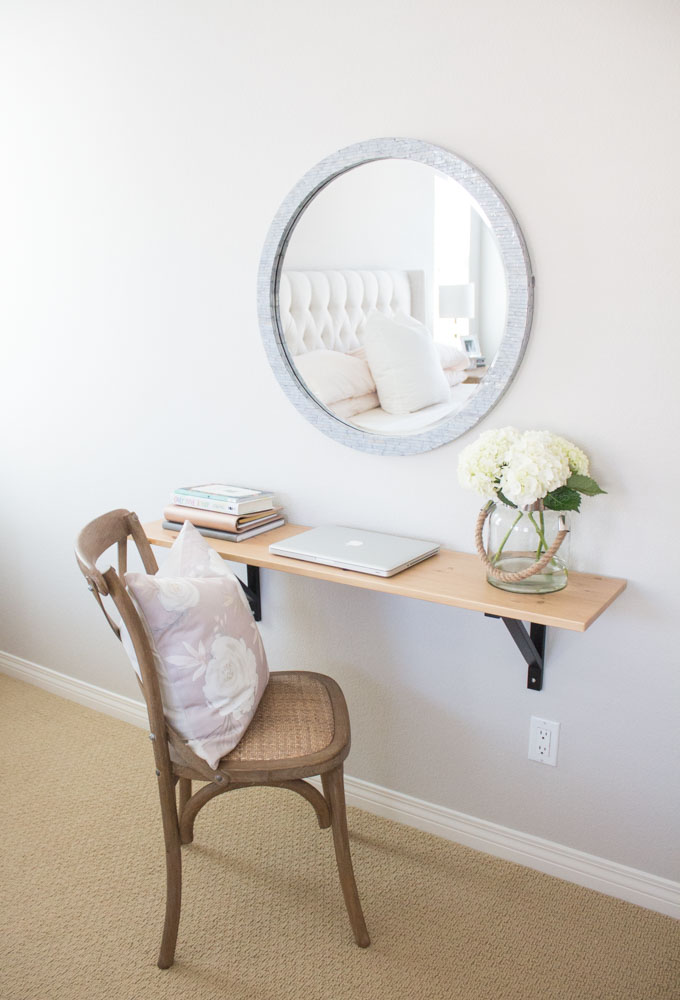 Take into Consideration the Width of Your Shelf
If you are using this shelf for a work space – make sure the width will work. I made sure it would fit my laptop and books (I've linked my current favorites below). I will also be sharing how you can also use this space as a vanity for your make-up and jewelry – so stay tuned! Don't skimp on this step – make sure you have enough width so your shelf/work space is substantial.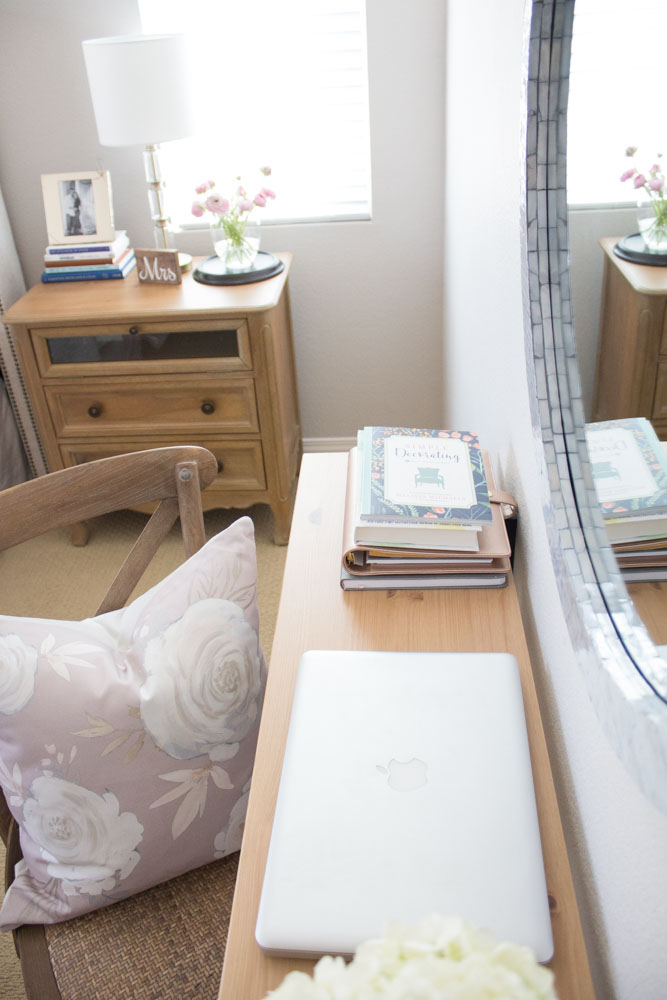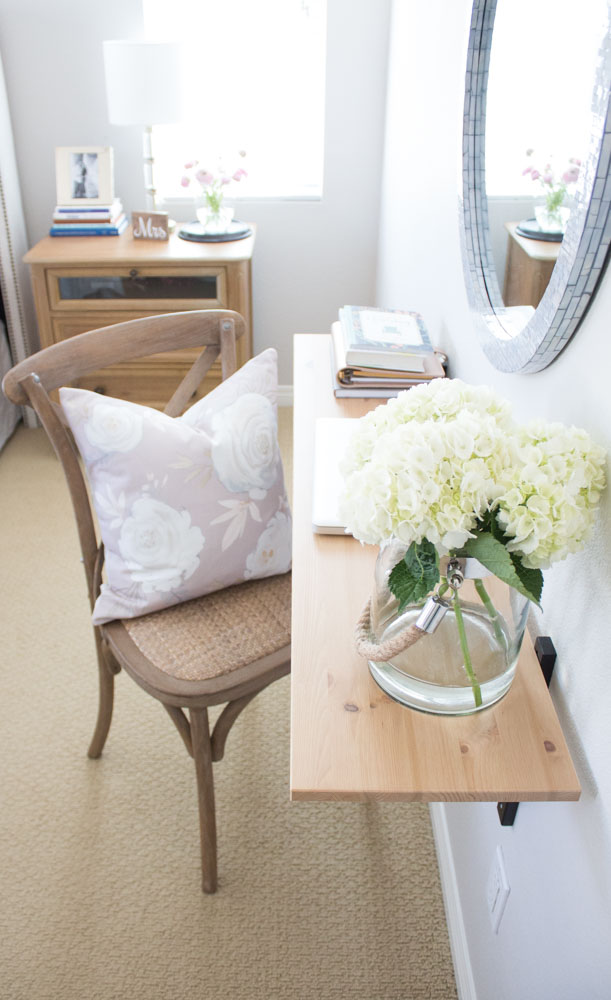 Style Your Work Space
I styled my little work space so that it complimented our current decor and color palette. It blends in nicely and doesn't compete with the rest of our bedroom furniture.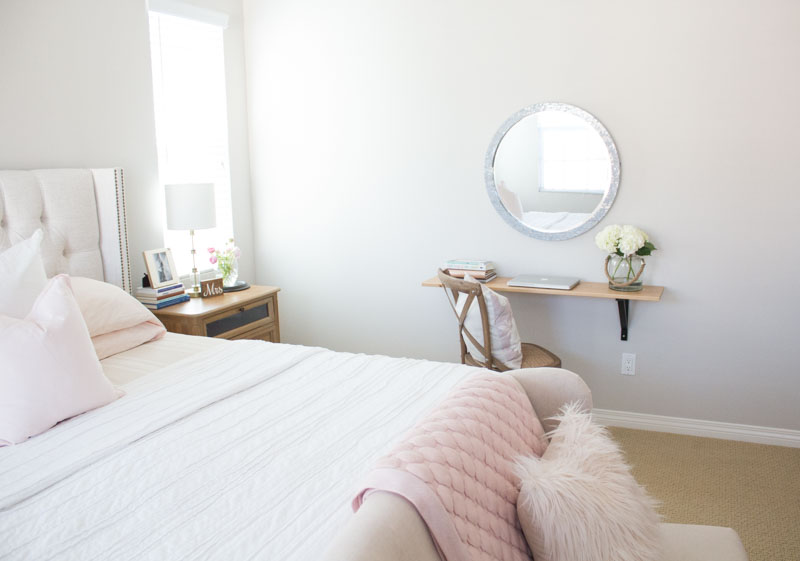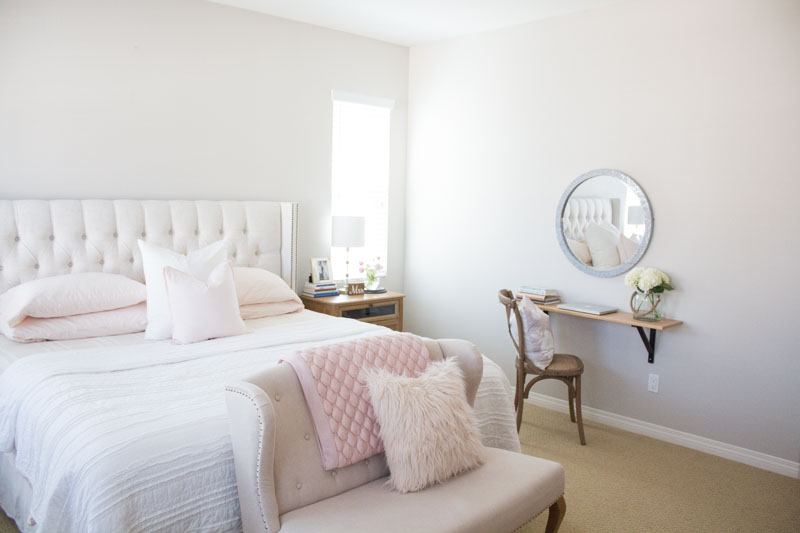 I hope you have enjoyed my IKEA shelf hack and stylish work space! Stay tuned for more on this little space and how you can style it many different ways for many different functions! Don't forget to subscribe to the blog for all the latest tips and posts!
Thanks as always for stopping by!

*Affiliate links used, all opinions my own.
Save