Welcome friends to my modern farmhouse style living room holiday tour! I am so honored to have you join me on this tour along with my fellow blogging friends. We have joined together for a blog hop to bring you holiday decor inspiration because after all – 'tis the season!
Now onto the tour – did you grab your coffee, tea and hot cocoa? I hope this tour helps to get you in the holiday spirit!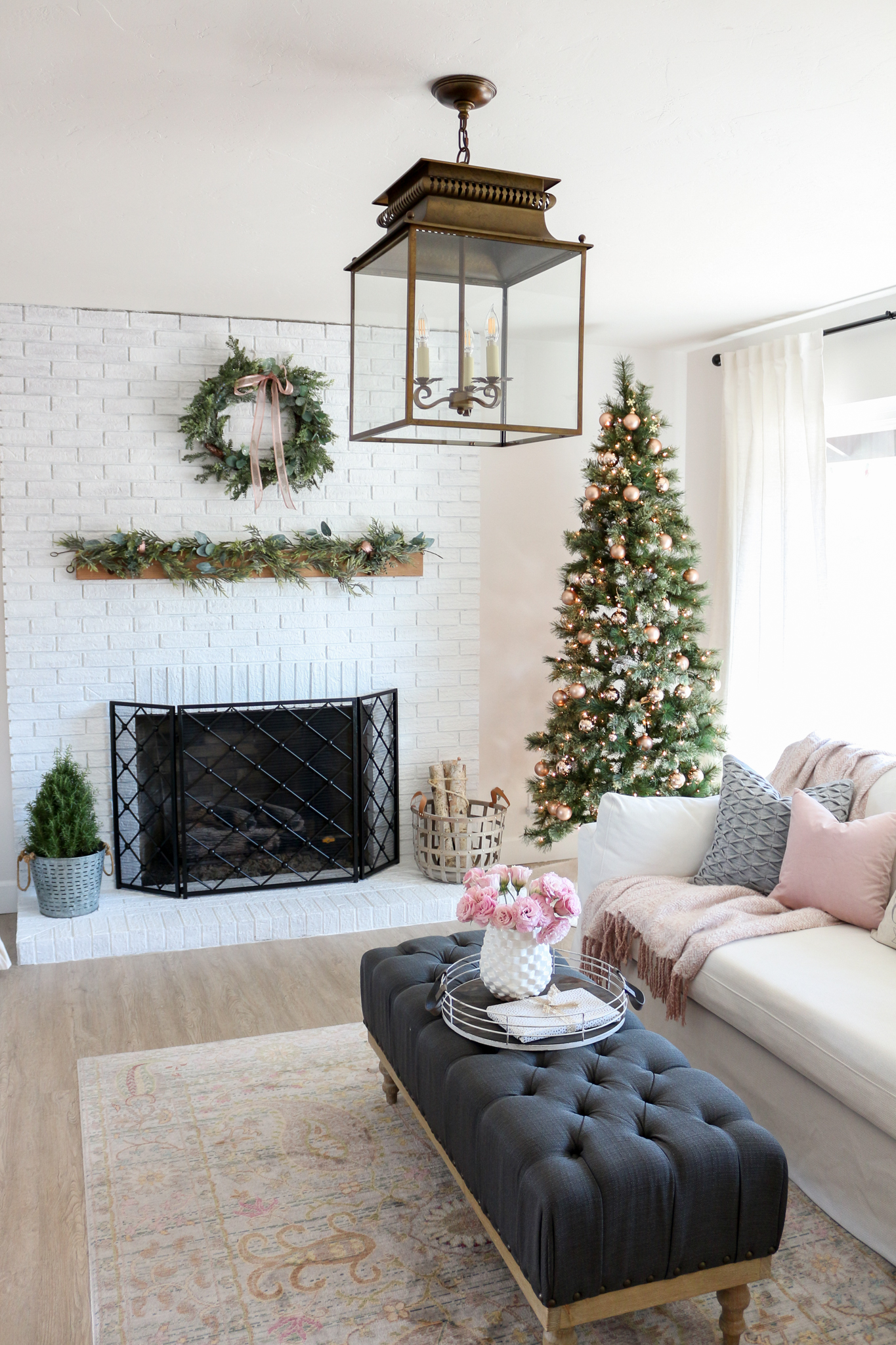 Our Modern Farmhouse Style Living Room Decked For the Holidays
Our living room has been a labor of love. We recently purchased our fixer upper this past summer and renovated every square inch. I can't wait to share in a future post the before and afters side-by-side. It's amazing how paint and home decor can transform a space! I was so excited to be able to decorate this room for our very 1st Christmas.
I decided to keep the decor simple for our faux tree with rose gold ornaments and gold snowflake ornament hooks. I love the subtle pop of color and the warm glow of the ornaments against the lights.

Adding Touches of Holiday Cheer
We decided to stick with a faux tree this year and I invested in this tree because I love the thicker branches and it was a great price. To be completely honest I didn't have the energy to deal with the needles and maintenance of watering of a real tree. I think it's perfectly ok to realize your level of commitment and not feel pressured to make a decision based on what everyone else may have! I may change my mind next year – one never knows! lol!
With that being said I did purchase this adorable fresh rosemary tree because it smells amazing and it's a great way to add a fresh element with the faux decor. Placing the tree in my olive bucket gives it that modern farmhouse style I just love!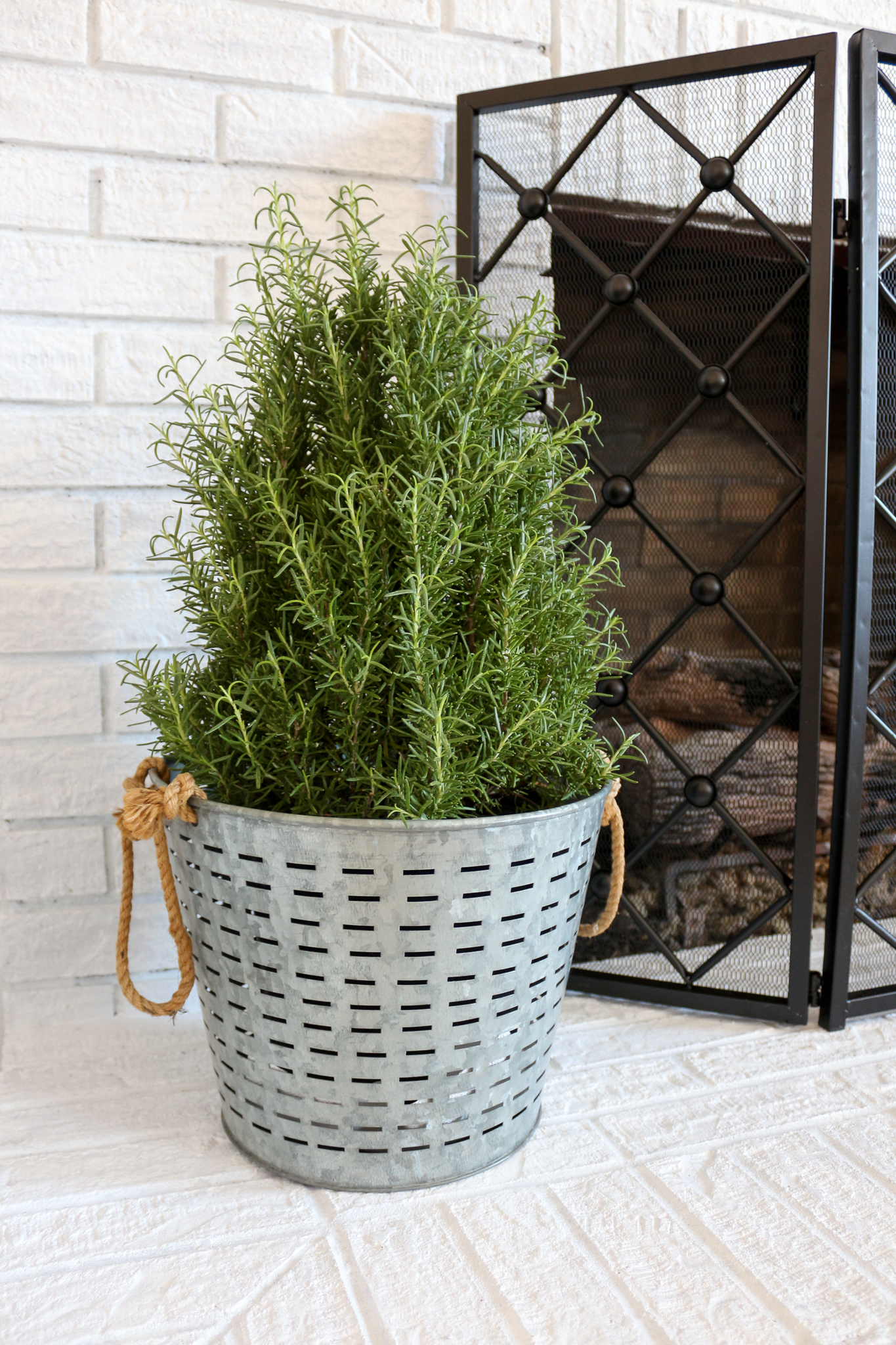 Modern Farmhouse Style Brick Makeover
I've received a lot of questions about our fireplace brick and I'm so glad we painted it before the holidays! We just need to finish it with another coat of paint. For those who have asked – we painted the brick with one coat of primer and need to finish with a second coat of regular paint. After the holidays we will tackle this project but I'm so glad we painted it because it brightens the entire space. The white brick is the perfect background for these pretty lisianthus blush pink flowers (my grocery store flower score). I added these pretty blooms to my new modern vase to compliment the blush pink tones in our living room.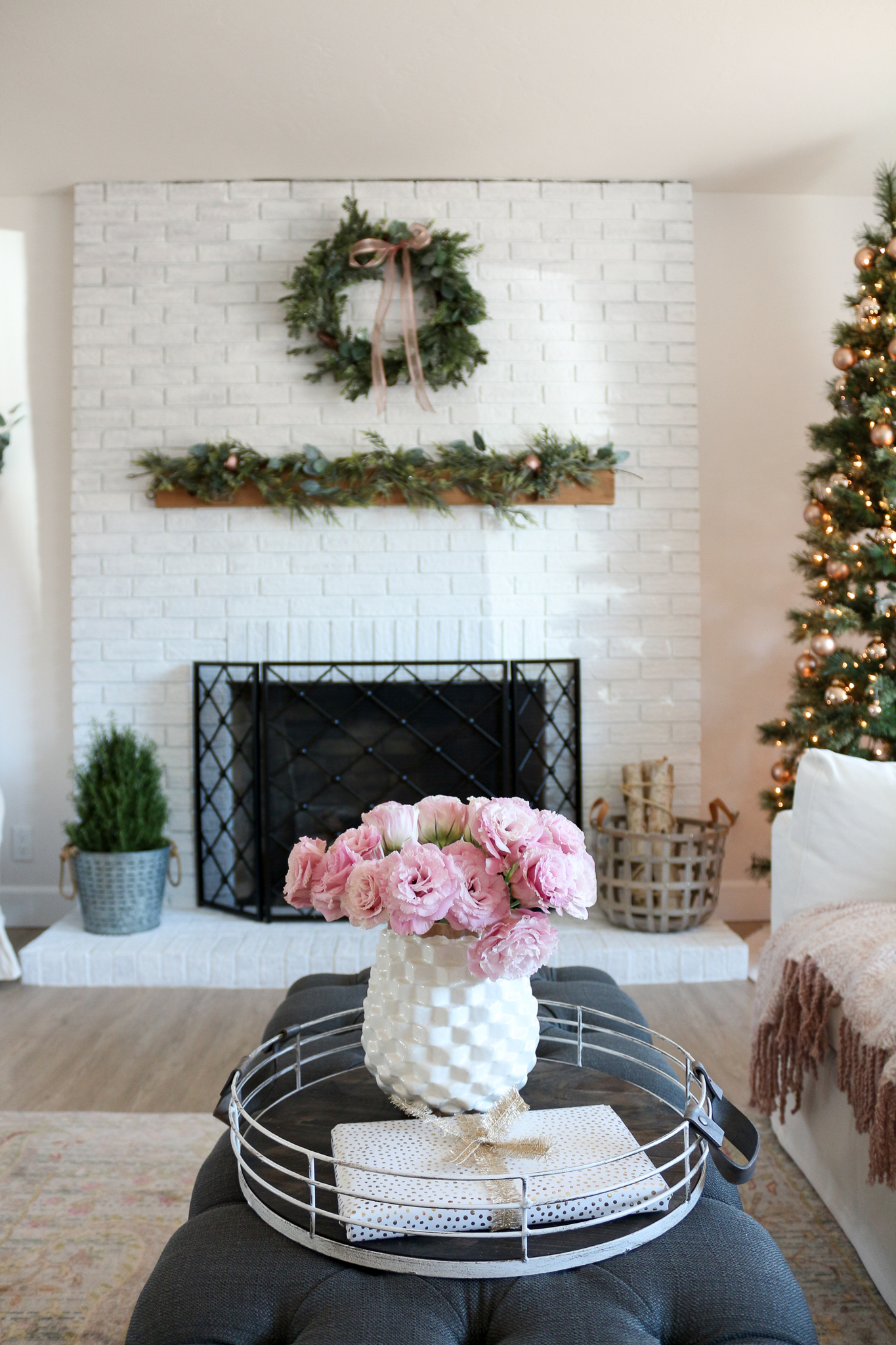 Decorating our Unfinished Mantel
I also had to get creative this year because we don't have an official mantel. Another work in process…we removed the old dated mantel and this remaining piece of wood is covering to large bolts. The best thing I could do was to cover the mantel area with faux garland. I also found this pretty faux eucalyptus and pine wreath and I added a blush pink ribbon.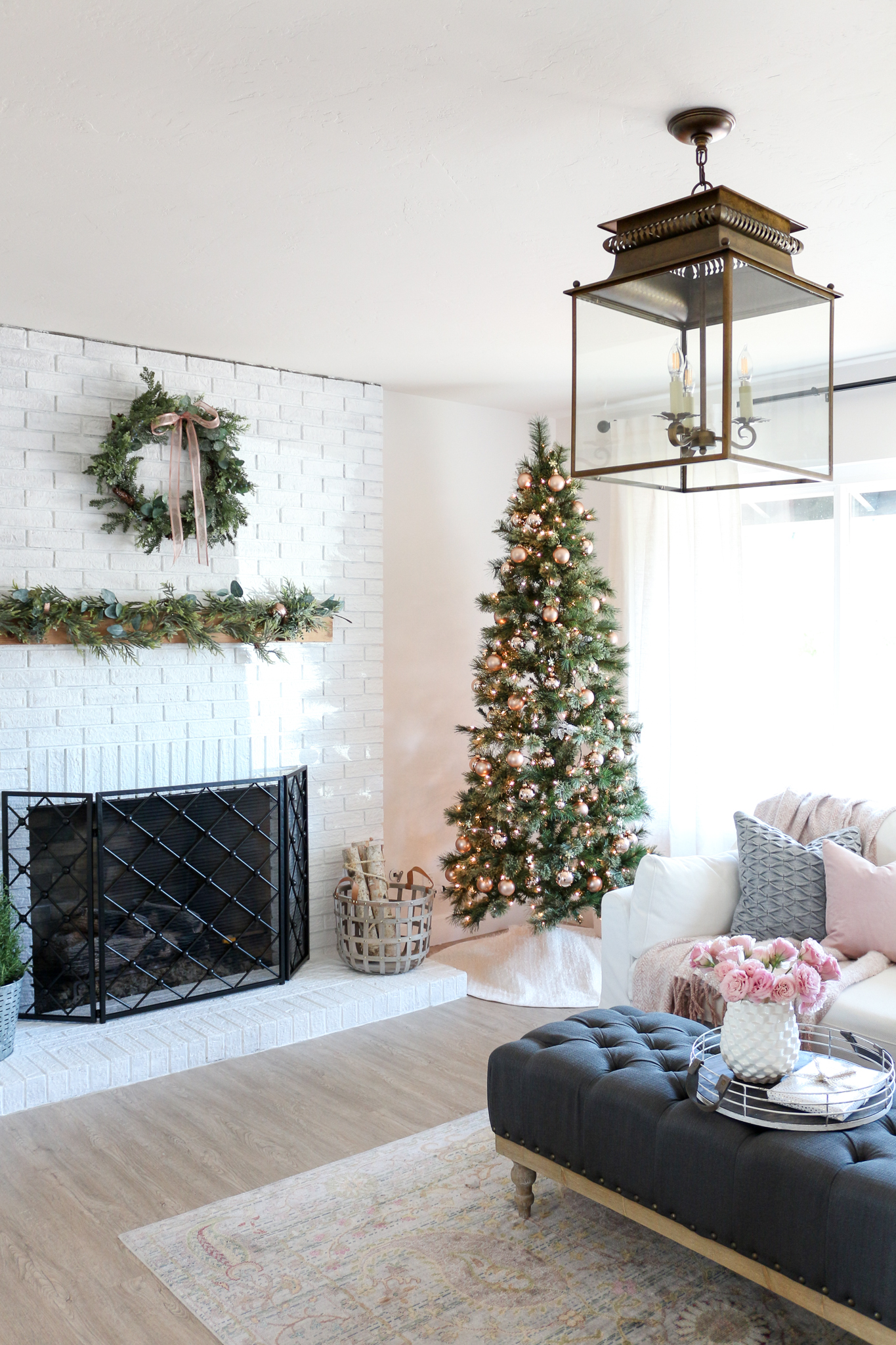 Updating the Fireplace Area
We also removed the fireplace insert and I scored this amazing fireplace screen on sale. I'm obsessed! The little logs in the basket add warmth and a rustic feel to the space.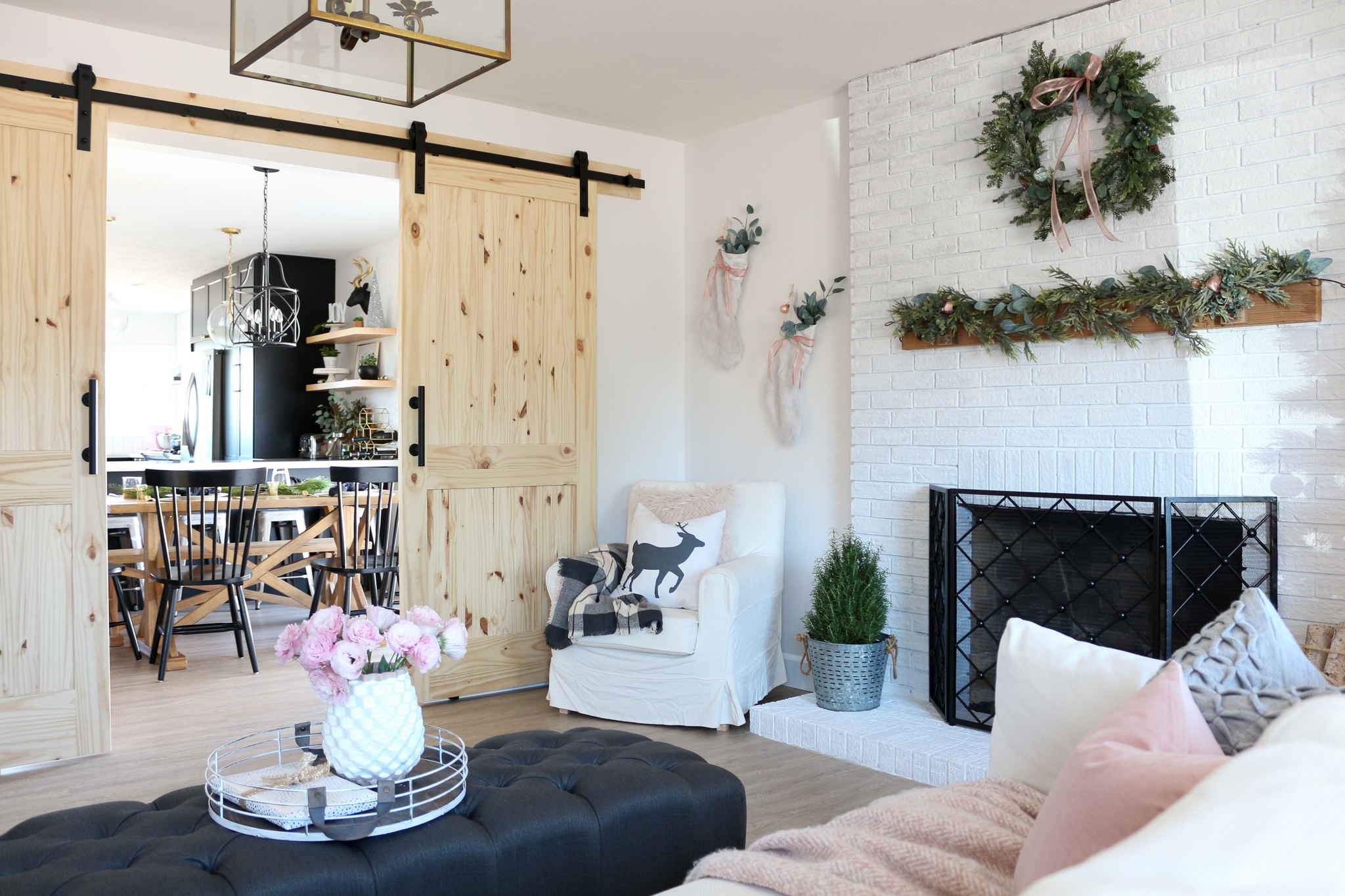 Modern Farmhouse Style Barn Doors
Here's another view of our living room looking towards our barn doors and the dining room area. I added our stockings to the wall next to the fireplace since I'm not a "stocking on the mantel girl" and because of my non-official mantel situation – lol!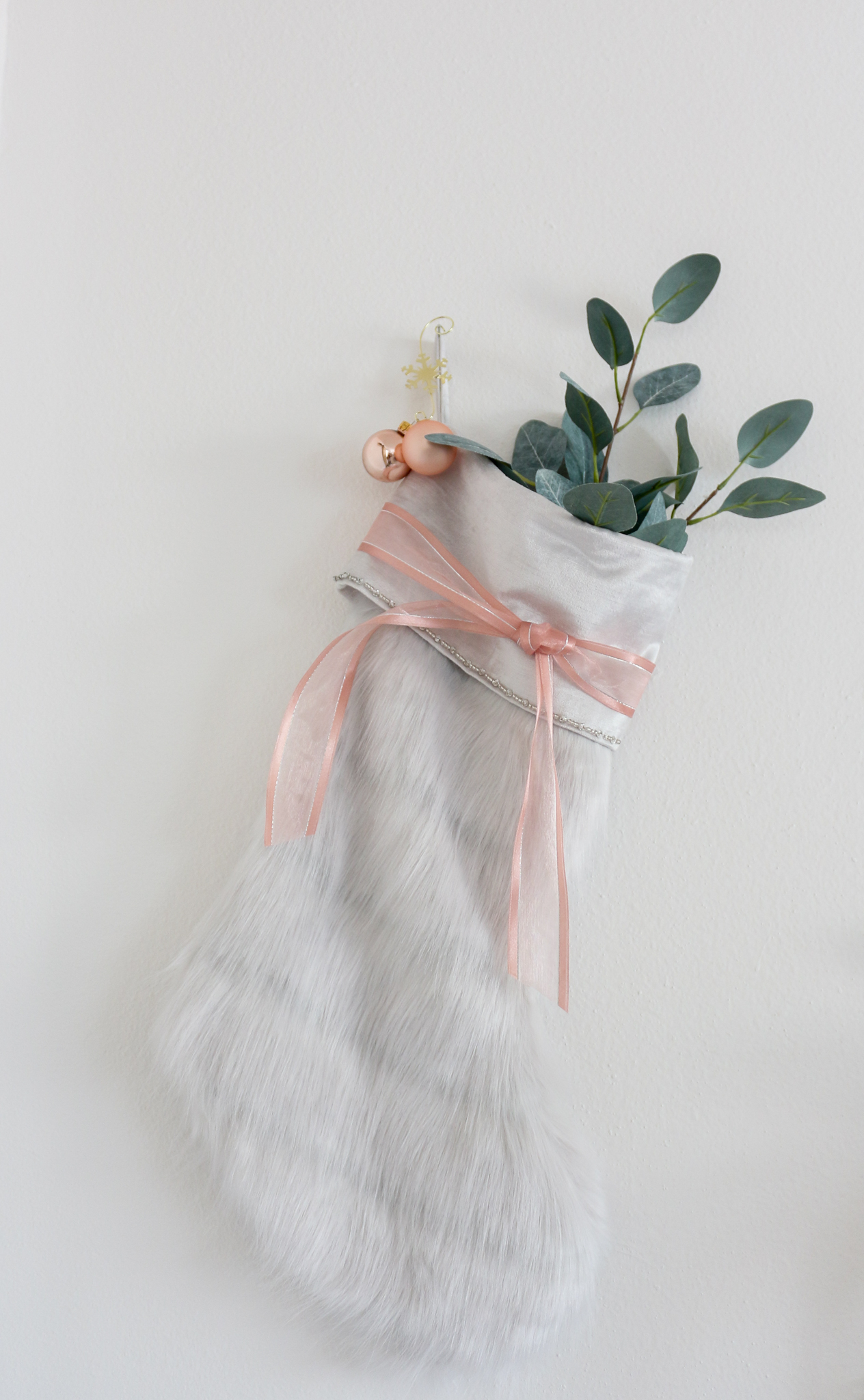 I love the fur on the stocking and added blush pink ribbon and ornaments for a little pop of color. The faux eucalyptus is a fun and different touch to add to the stocking.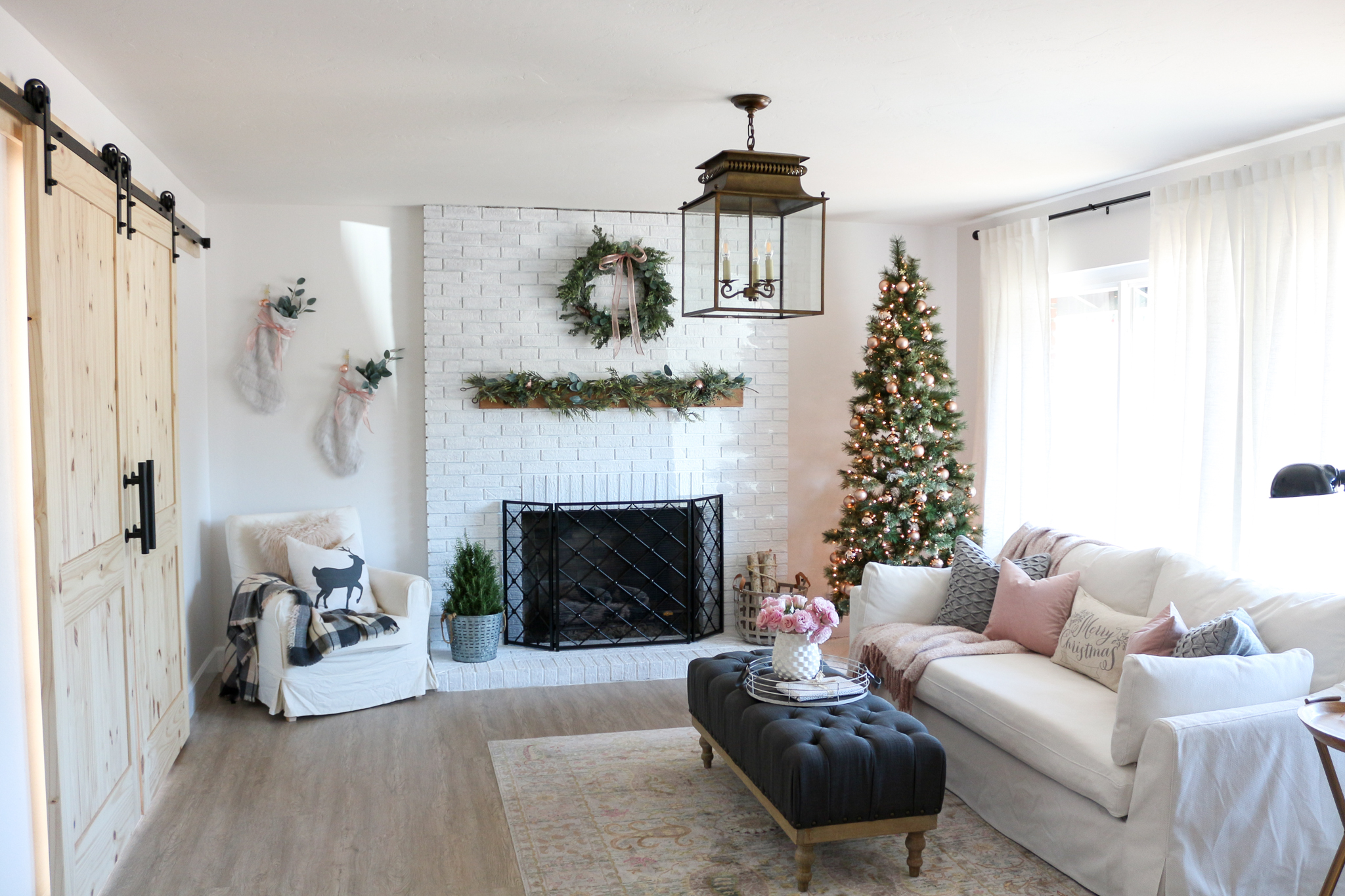 Here's a full shot of the room with morning sun and shadows. I love how cozy and festive it feels in here.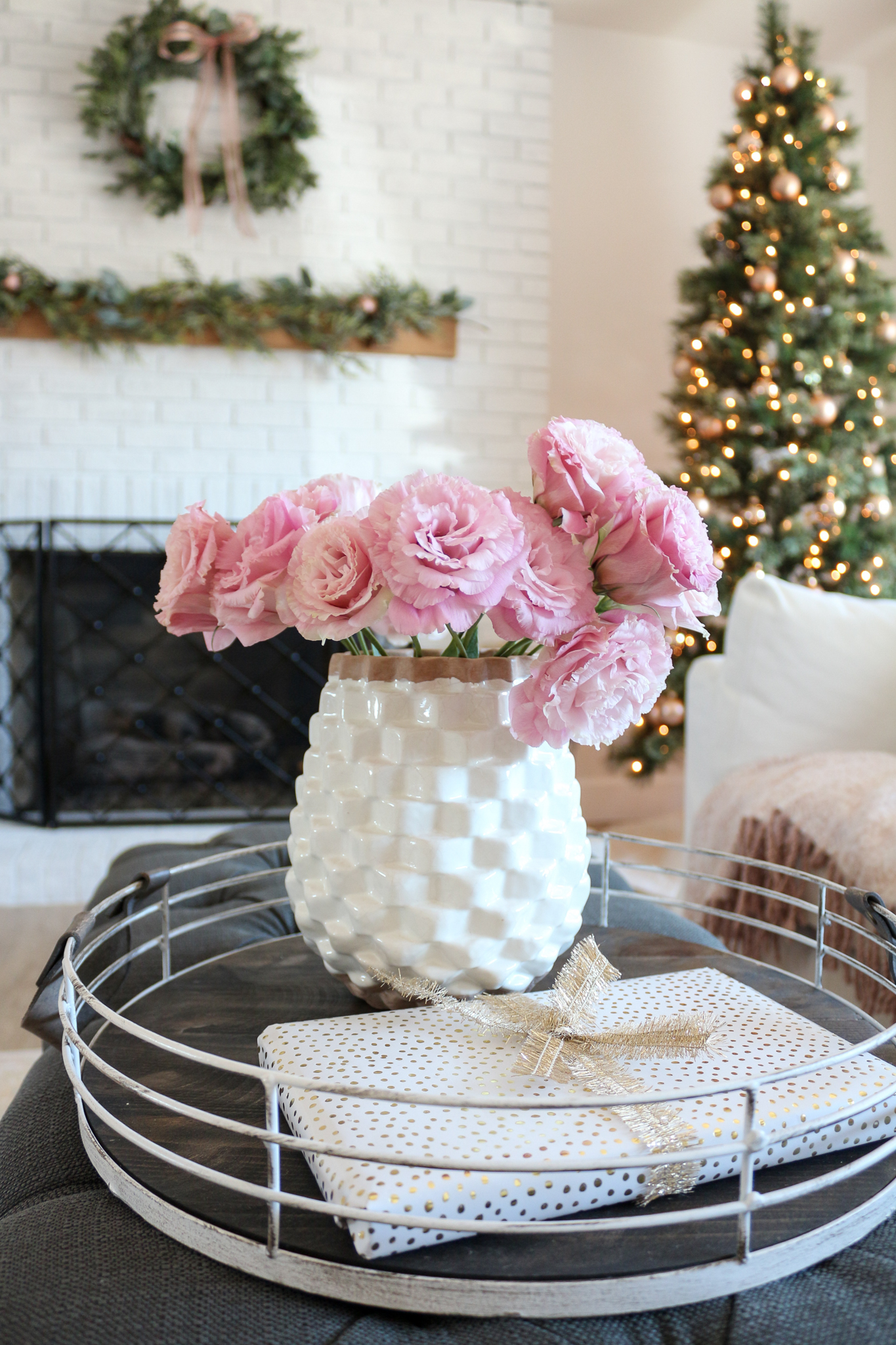 Thank you for stopping by to see my modern farmhouse style holiday tour. Have you finished your holiday wrapping? This post might help! I hope you have a wonderful holiday season with your loved ones.
Don't forget to head over to my blogging buddies for more holiday inspiration!
Sarah || Dreaming of Homemaking
Kelly || The Tattered Pew
Brendt || She Gave It A Go
Lindsay || Aratari At Home
Bethany || Crisp Collective
Happiest Holidays to you!

*Affiliate links used, all opinions my own.