Today I'm sharing how we transformed our tract house into a modern home with style and personality. Our builder grade home needed character and a bright, airy feel however the wall color and finishes didn't lend themselves to anything special. Using a mix of modern farmhouse style with a side of industrial chic decor I slowly infused our home with personality. We made numerous updates including our kitchen, dining room, fireplace, lighting, paint, & moldings. Here is how we transformed our home and my tips on how to update any tract house to a modern, stylish home with character and personality.
Adding Character to Your Entryway
Your entryway is your first impression and you want to make it stand out from the rest of the homes in your neighborhood. Typically in a tract house or planned development the same homes can be found with slight variations in floor plans. Depending on the variety of builders most houses tend to look the same. Your goal is to make yours different from rest. I added lighting to our entryway wall and a little character with a welcoming, cozy bench and mirror combo. Depending on my decorating mood I've swapped this bench for my console table and replaced the mirror with beautiful artwork. You can see this look and read my tips for console table styling here. Consider these options for your entryway for added personality.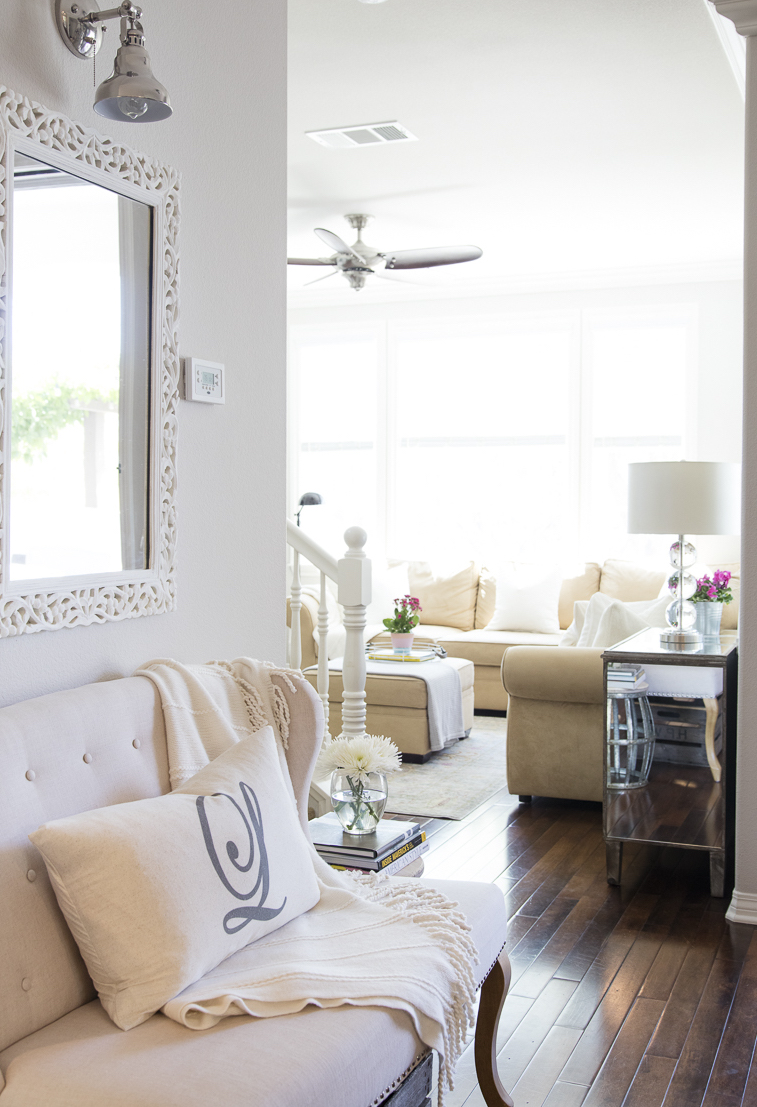 Add Personality to Your Lighting
I'm sure you have heard this before but lighting matters in a home and it's an easy update that can make a major impact! You don't have to spend a fortune upgrading your lighting – there are so many stores online that offer great prices. I've included links to shop ours below. We opted to upgrade our recessed lighting to a soft white LED lighting for energy efficiency and to remove the yellow-tinged tone that our previous recessed lighting was emitting. It was a simple update that went a long way! We added a chandelier in the dining room, converted a recessed light to a pendant light in the kitchen and updated our hallway and entryway lighting with pretty flush mount and crystal chandeliers. You can see our hallway chandeliers in my fall home tour by heading here.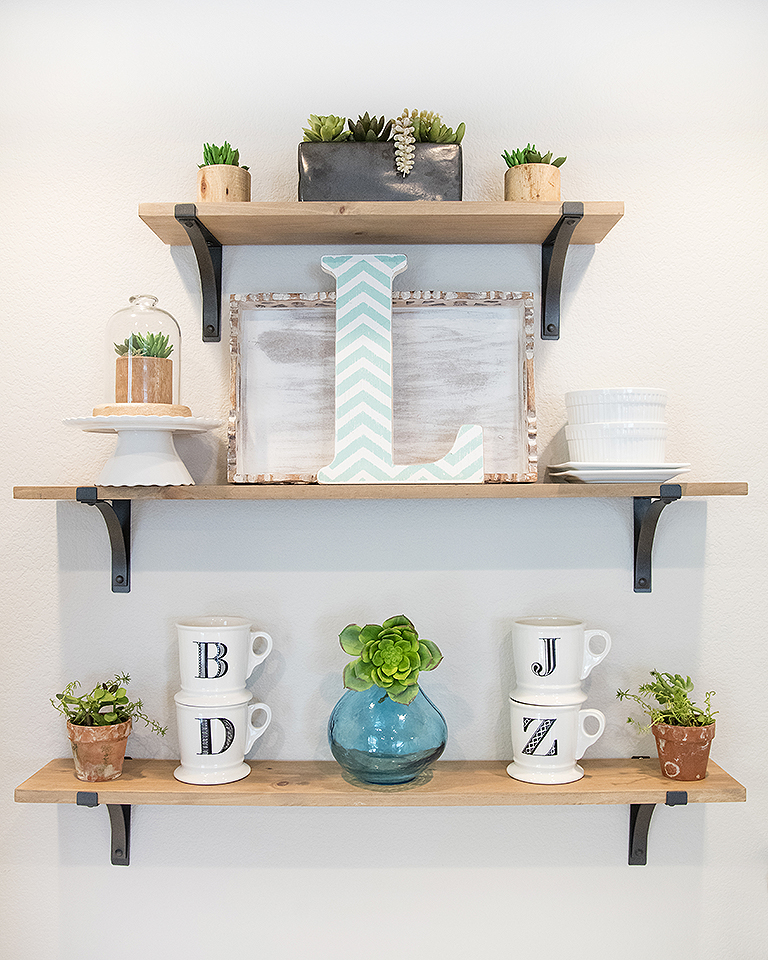 Add Style with Built-In Cabinets
Prior to adding our dining room built-in cabinet this little dining nook was an empty space. It was screaming for a built-in! We decided to add the same IKEA cabinets that we used in our kitchen to this area to add more storage and function to this once empty space. We store our coffee goodies in this cabinet and it's right at our fingertips in the am when we are brewing our am "Cup of Joe" :). You can read about my recent post about updating and transforming empty spaces and adding a media niche, fireplace, and mantel here.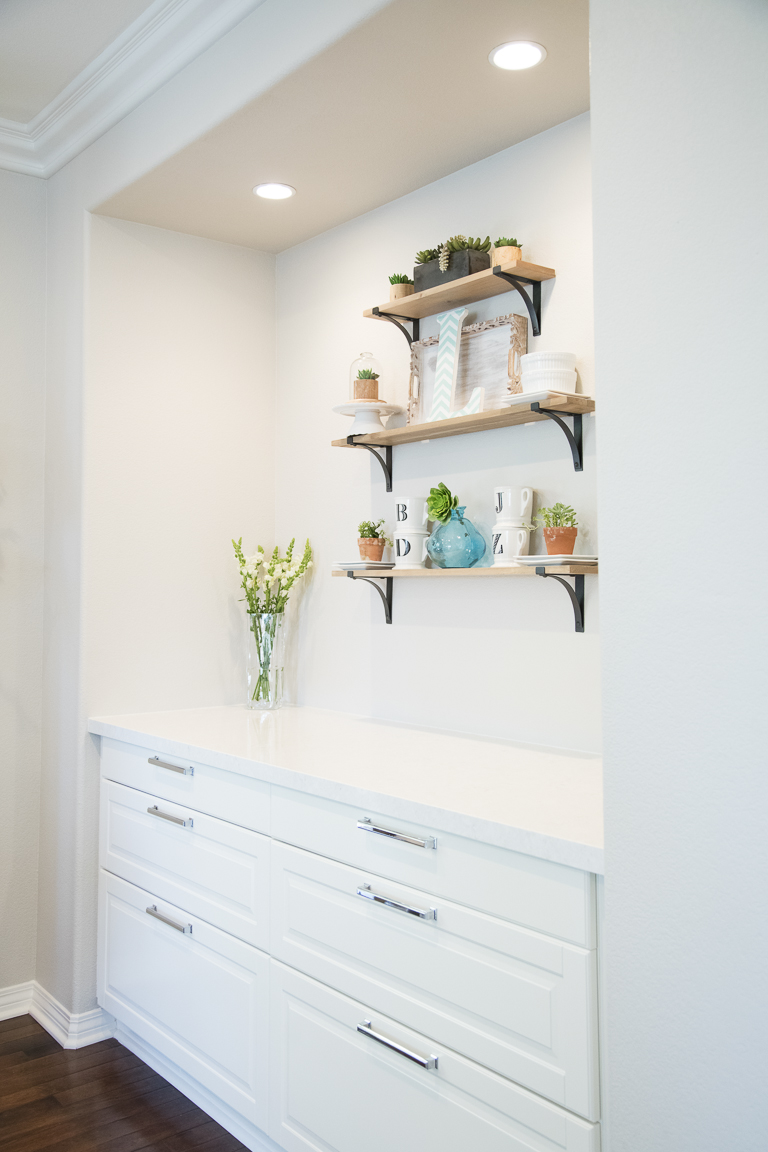 Elevate Your Kitchen from Builder Basic to a Modern Stylish Area to Cook
Our kitchen prior to the remodel can be found in this post. It wasn't awful – it just wasn't us. The cabinet color made our kitchen very dark and dreary. In order to brighten the space it needed a lot of white. When we decided to move forward with our kitchen remodel I chose finishes and items that would look great yet were affordable. You can learn all about our kitchen remodel by heading here.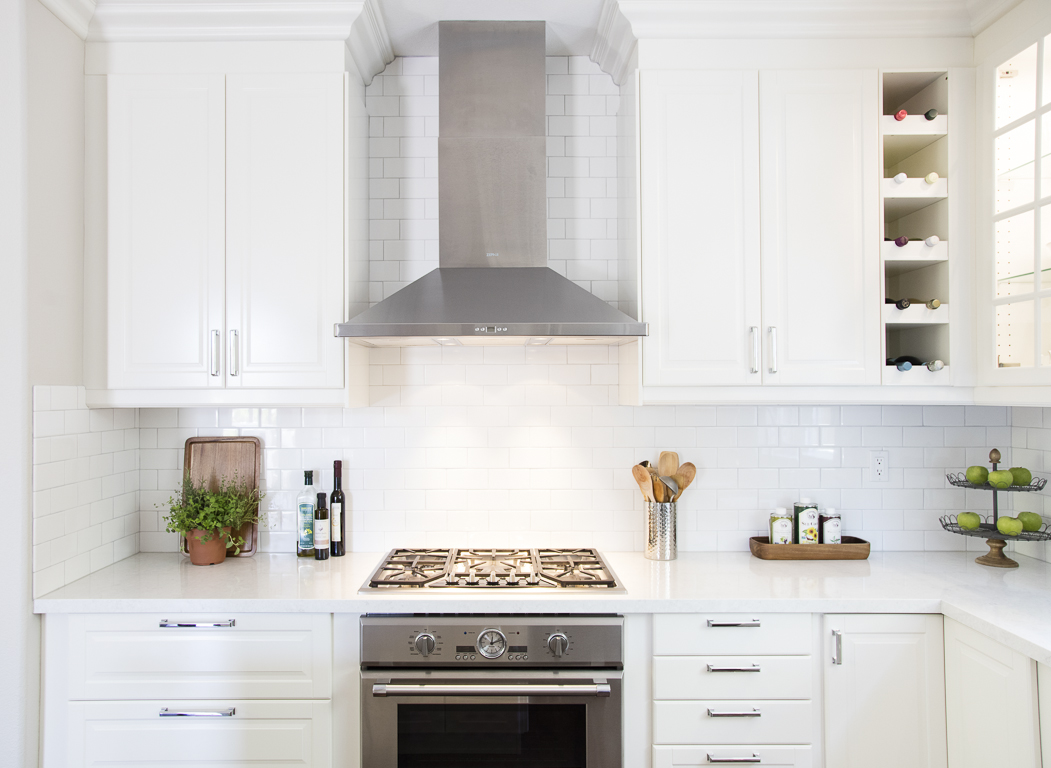 When updating a tract house the details in the kitchen matter. I added glass cabinets and interior cabinet lighting to add to the light, bright and airy look.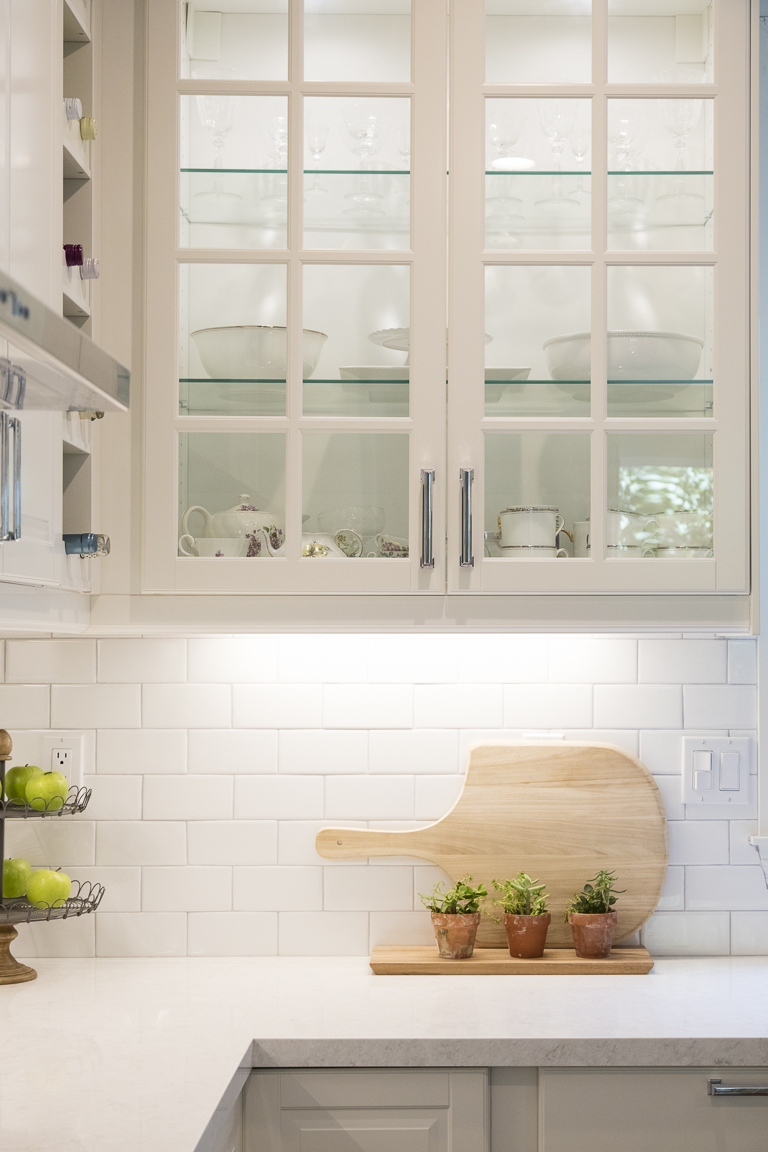 I went with classic touches like subway tile that stand the test of time. We relocated our microwave from above the stove to a smaller built-in cabinet so we could accommodate a professional range hood.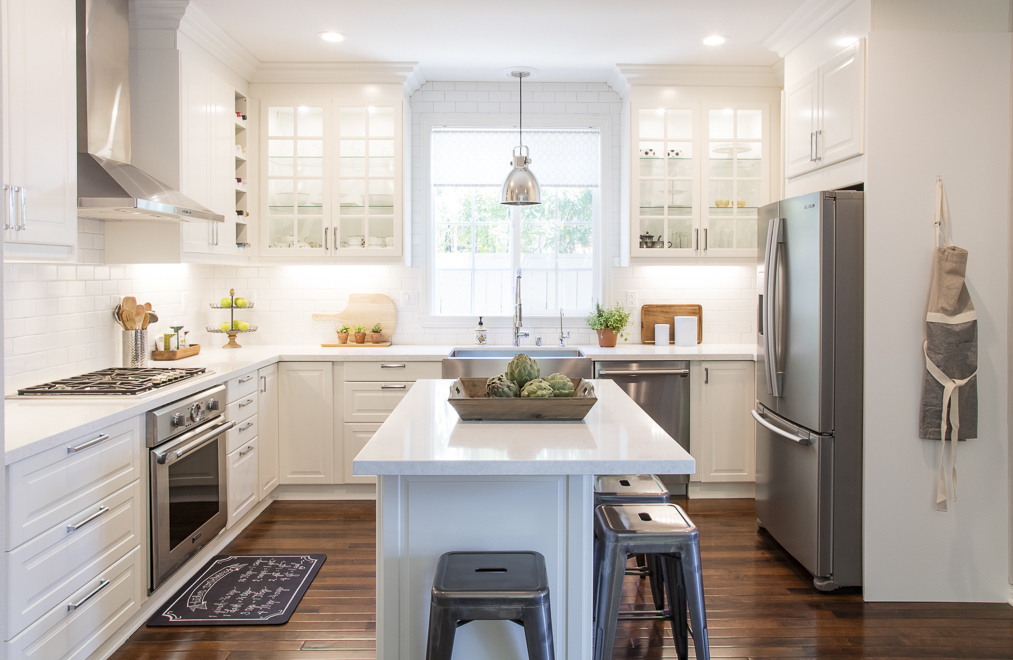 We also adjusted our kitchen island and extended the quartz countertop to allow for stools for seating.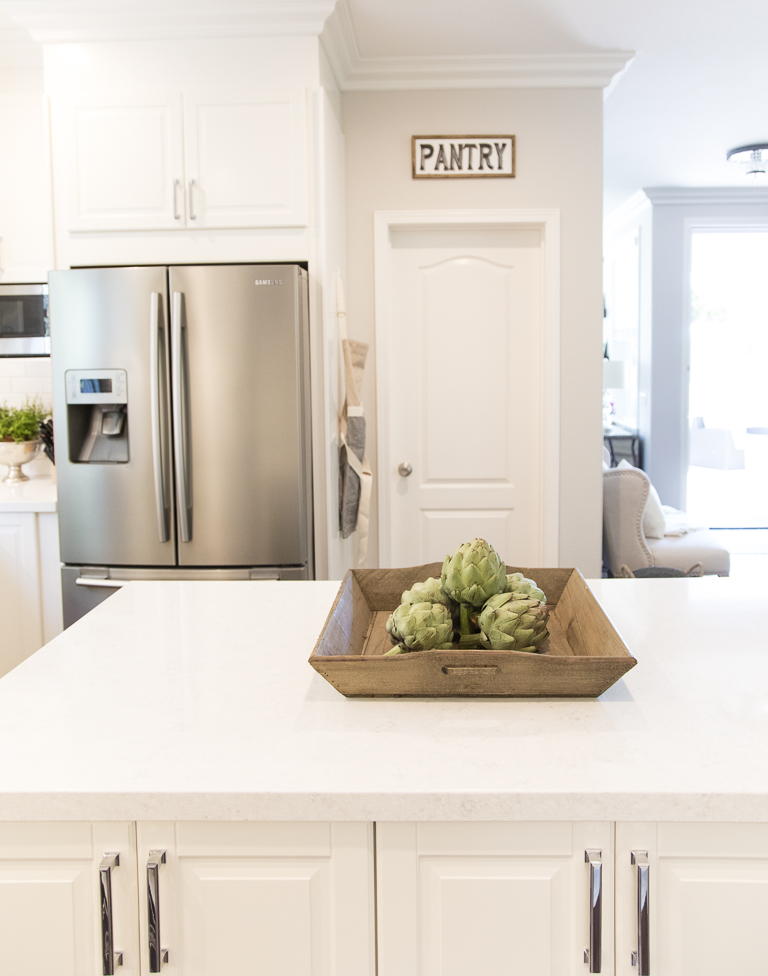 Add Character with Wood Moldings & Feature Walls
Moldings and feature walls add extra personality to any space. I opted for white shiplap because I love the subtle texture and brightness it gives to a room. It made the entire family room feel larger. Crown molding was added to the entire downstairs for a custom and stylish look. We also added window framing and casings for a more finished, polished look. The fireplace and mantel were also updated and you can read all the details here.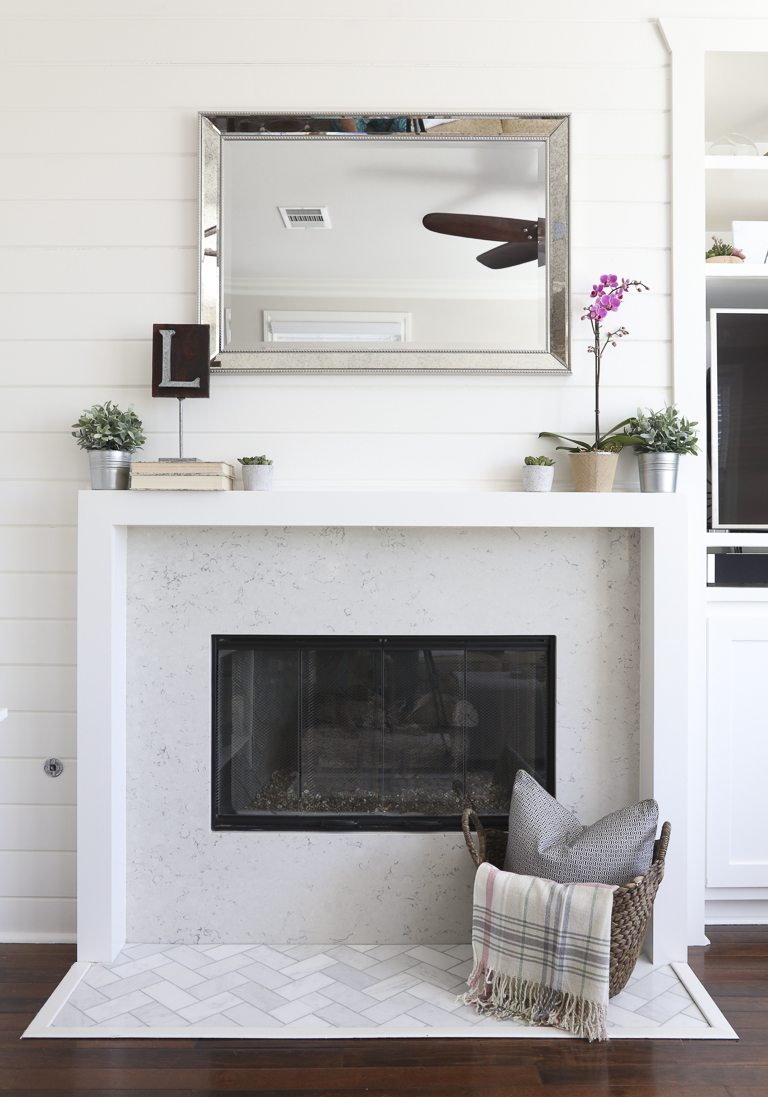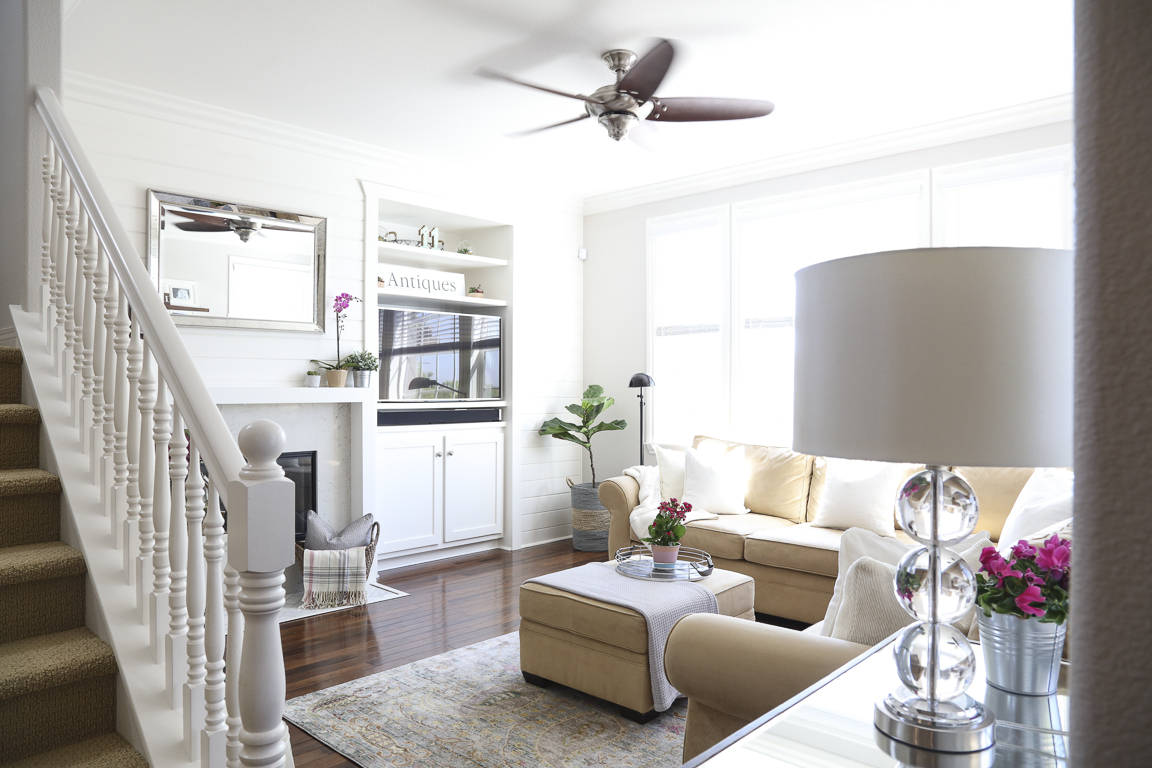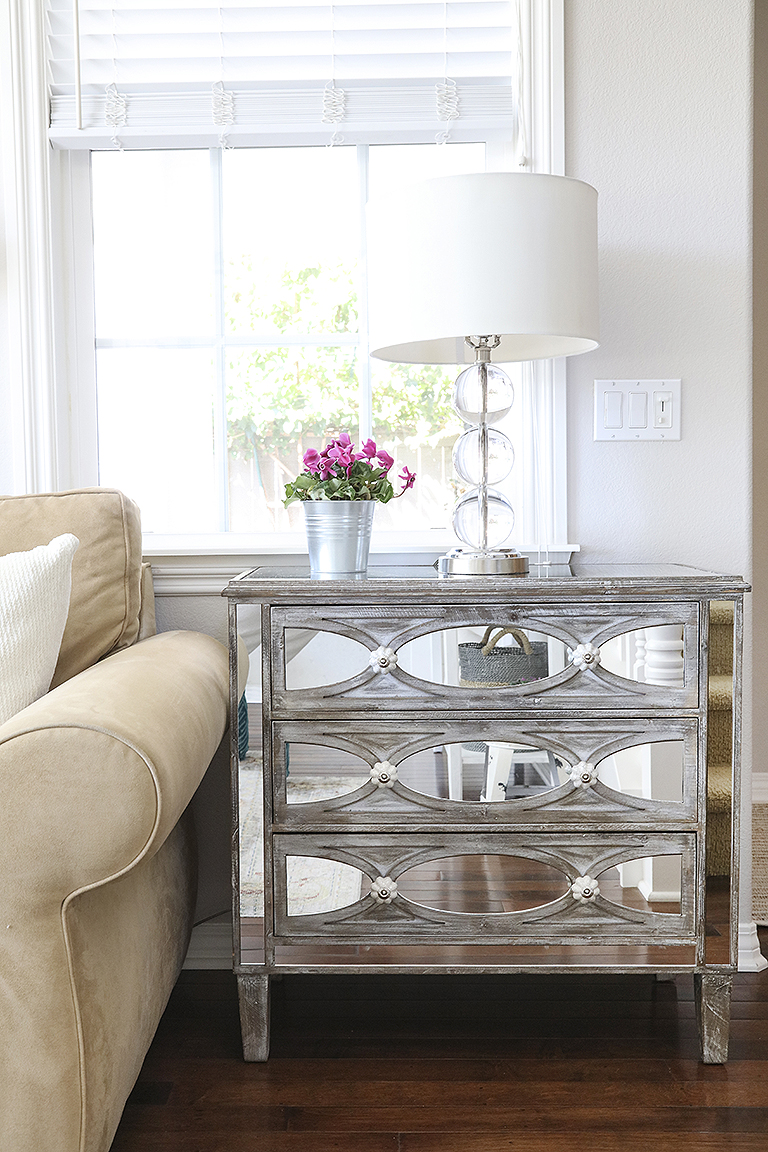 Update Walls with Modern Paint
After 2 years of living in our home we were ready to paint the entire house to update the look of our home and give it the style and personality it desperately needed. We chose Sherwin Williams Modern Gray for our dining room and kitchen. For the rest of the home we used Valspar Weathered Wood. They look almost identical but I wanted a lighter grey in the kitchen and dining because of the natural lighting. They are both great neutral paint colors that add just a little color to make your trim stand out! Paint can make such a difference! It's so much better to choose what you like rather than what the builder or previous owner chose!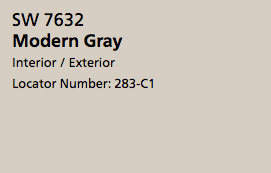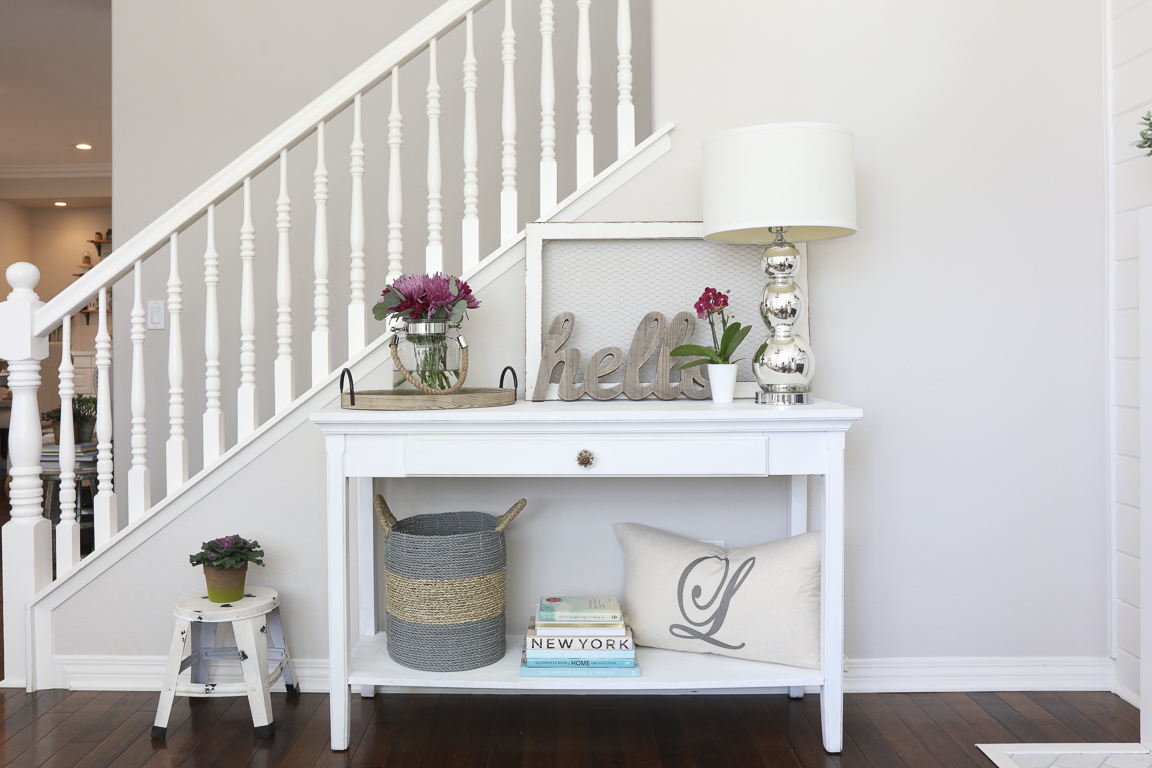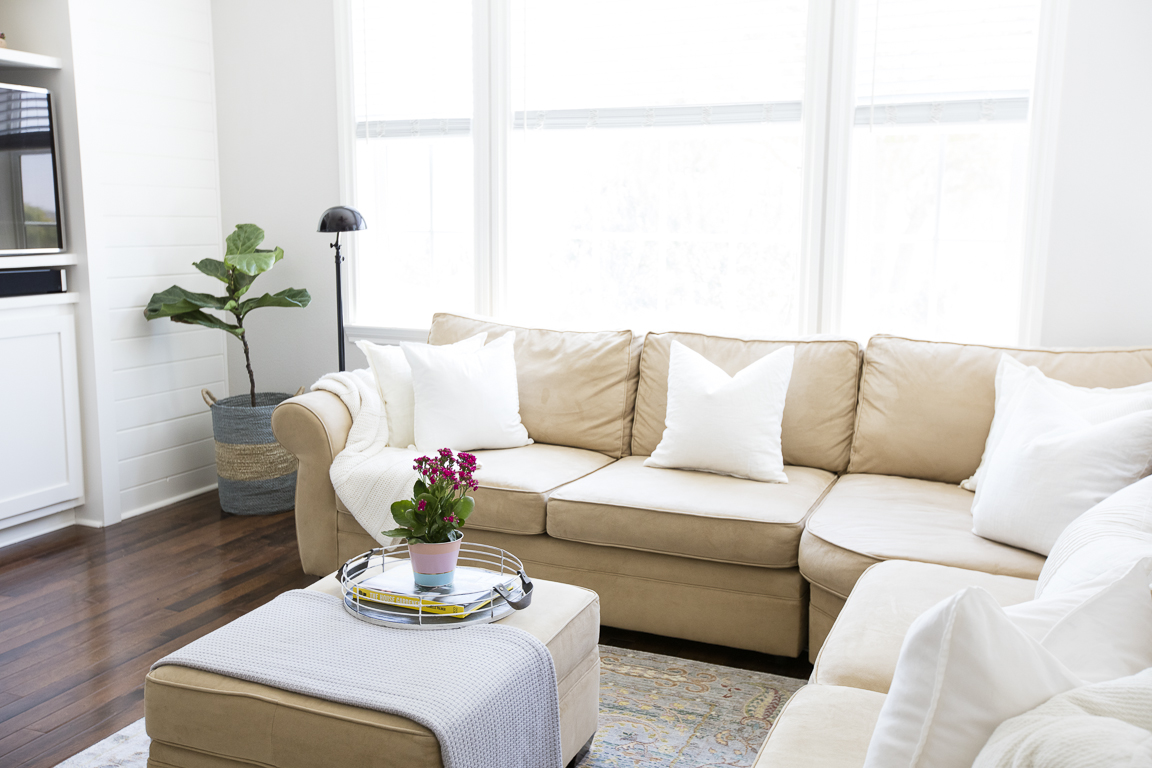 I hope this post has inspired you to add style, character and personality to your tract home! We loved living in our tract home and really enjoyed customizing it to fit what we love. We can't wait to give our next
home
– a custom home – the love it deserves! Follow along with us on our next renovation journey by subscribing to the blog, following us on
Instagram
, and on our
You Tube Channel
🙂
A special thank you to the talented Lauren from Pixels & Pigment for the gorgeous photos of our home!
Thank you for stopping by!

*Affiliate links used, all opinions my own.
Save
Save
Save
Save
Save
Save
Save
Save
Save
Save
Save
Save
Save
Save
Save
Save
Save
Save
Save
Save