Today I'm sharing how to style a console table. If you have been following me on IG you know I love a good console table! I also love putting forth my decorating efforts when it comes to the entryway. There is nothing like walking into a home and feeling welcomed. The entryway is typically the first impression and if you do it right it can make a big impact!
I have received a ton of comments and questions on this topic so I thought I would share some of my tips here in this post! I truly believe there are no "right" or "wrong" ideas when it comes to decorating and design because everyone's eye and aesthetic will differ. You can use all of these tips or just a couple depending on what resonates with you! For example, I love fresh flowers but you can add faux stems or pretty greenery for the same effect. Some of you may think adding a pillow is unconventional but I know many of you have messaged me and commented that you like it! Remember – your home and spaces need to make YOU happy! Here is my breakdown below.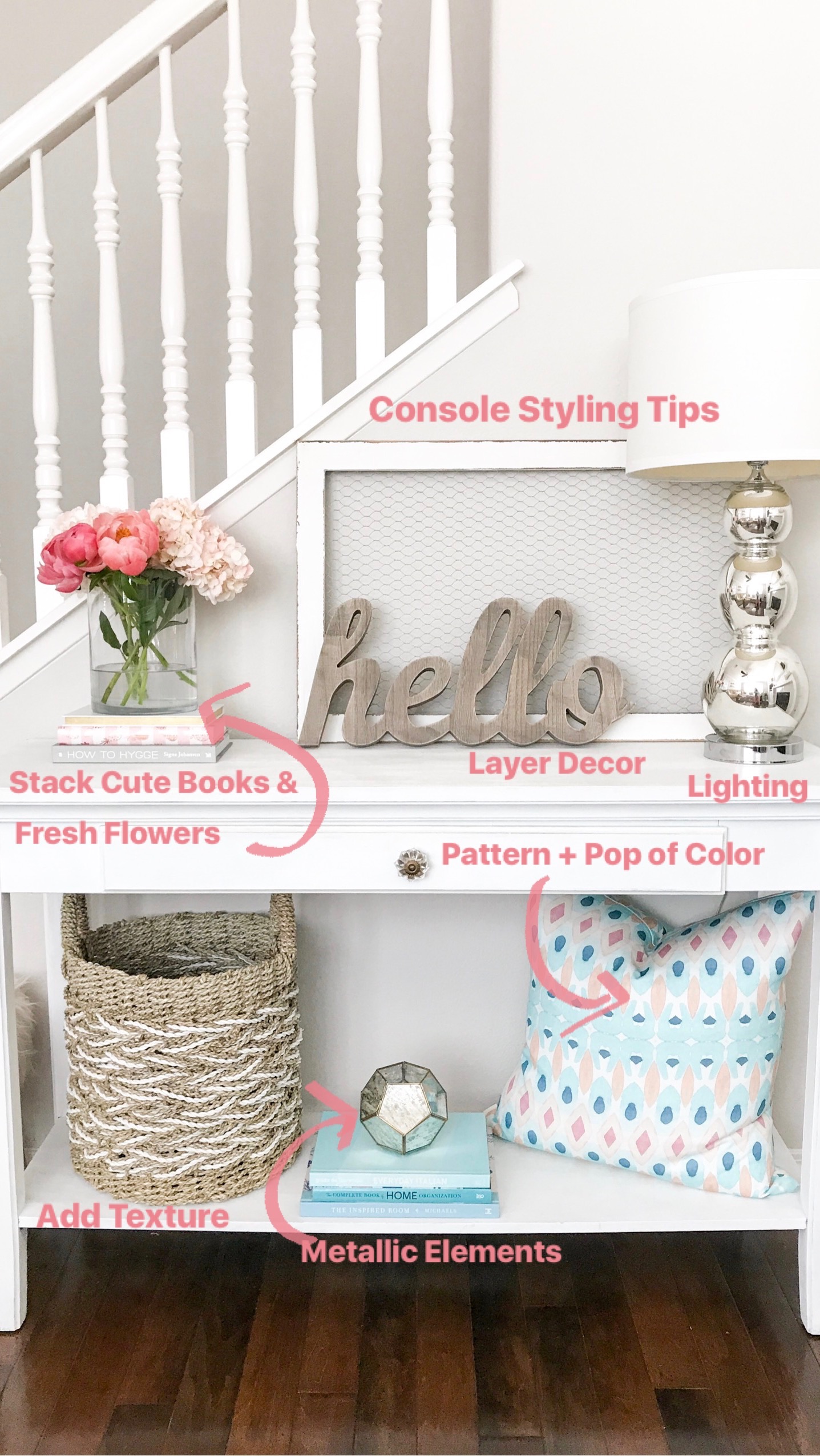 Console Styling Tips:
Add lighting: table lamps and task lamps look great and are functional on a console table.
Add different heights to your console table. One simple way is by stacking books. Use either neutral colored book spines or colorful ones depending on the look you are going for. You can turn the spines out or turn them in.
Add flowers or greenery to stacked books or a small tray for pretty color. This also brings nature indoors which is always a good idea! A pretty orchid also adds color and height to a console table.
Add metallic elements for interest. Gold, mirrored decor, chrome, brass, and copper make great choices.
Add a fun pillow with a pattern for color and dimension. This is an unexpected touch but keeps it looking fresh and different.
Add texture with a basket and or a throw blanket. This basket also pulls double duty hiding toys or anything else you want to stash!
Layer your decor (hang a mirror, a cool print, add a sign or artwork, and/or picture frames for a layered look).
Change it up for the seasons and different holidays.
Opt for a neutral colored console table – think white, cream, black, grey, or a light wood color. This will provide a neutral backdrop for the decor you choose to use on your table.
Reduce clutter and space things out for a clean streamlined look!

Here's the same picture without the design details highlighted: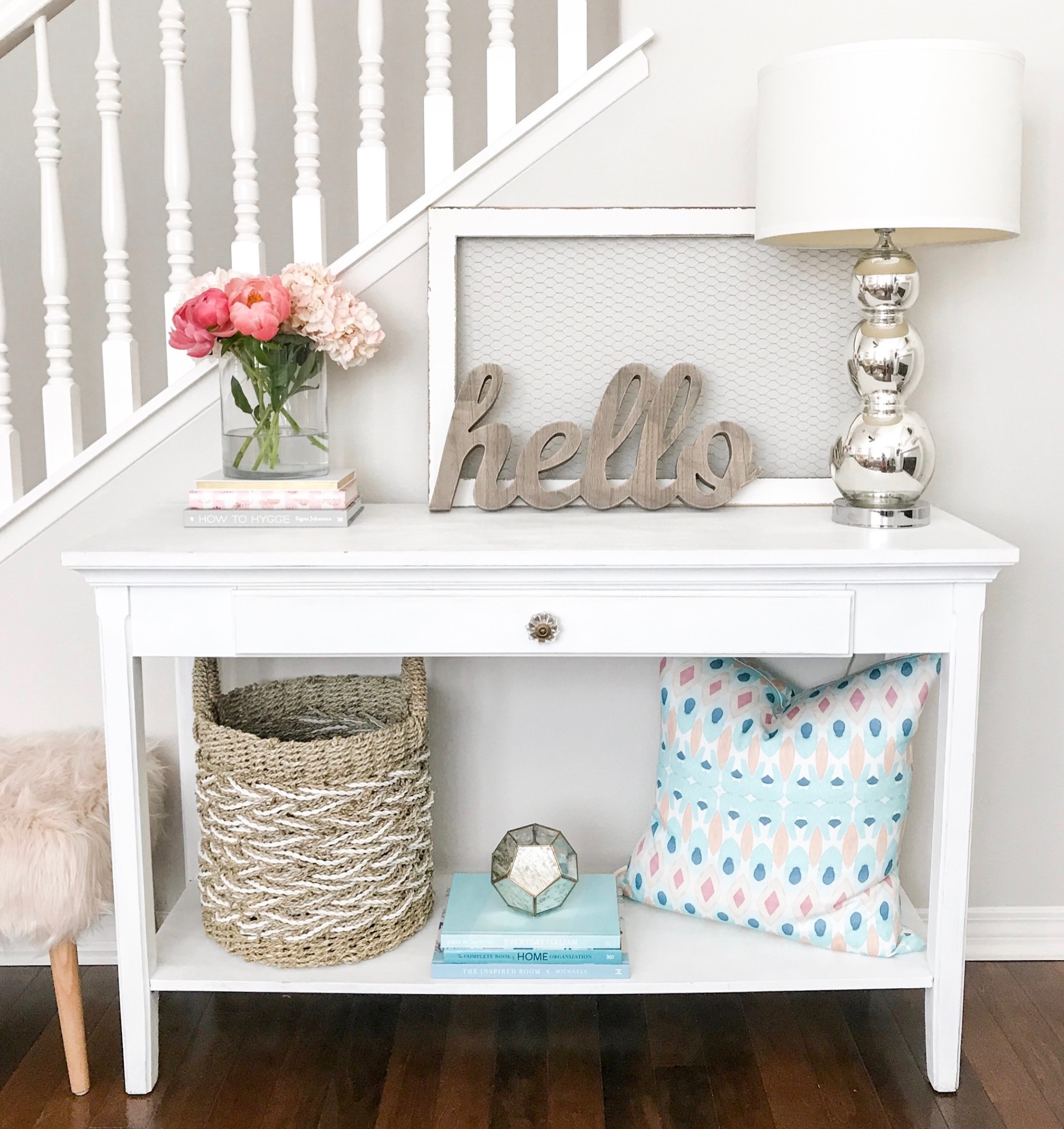 Here's another look with artwork, palms, and this cute gold pineapple I found. Nothing welcomes your guests more than a cute pineapple!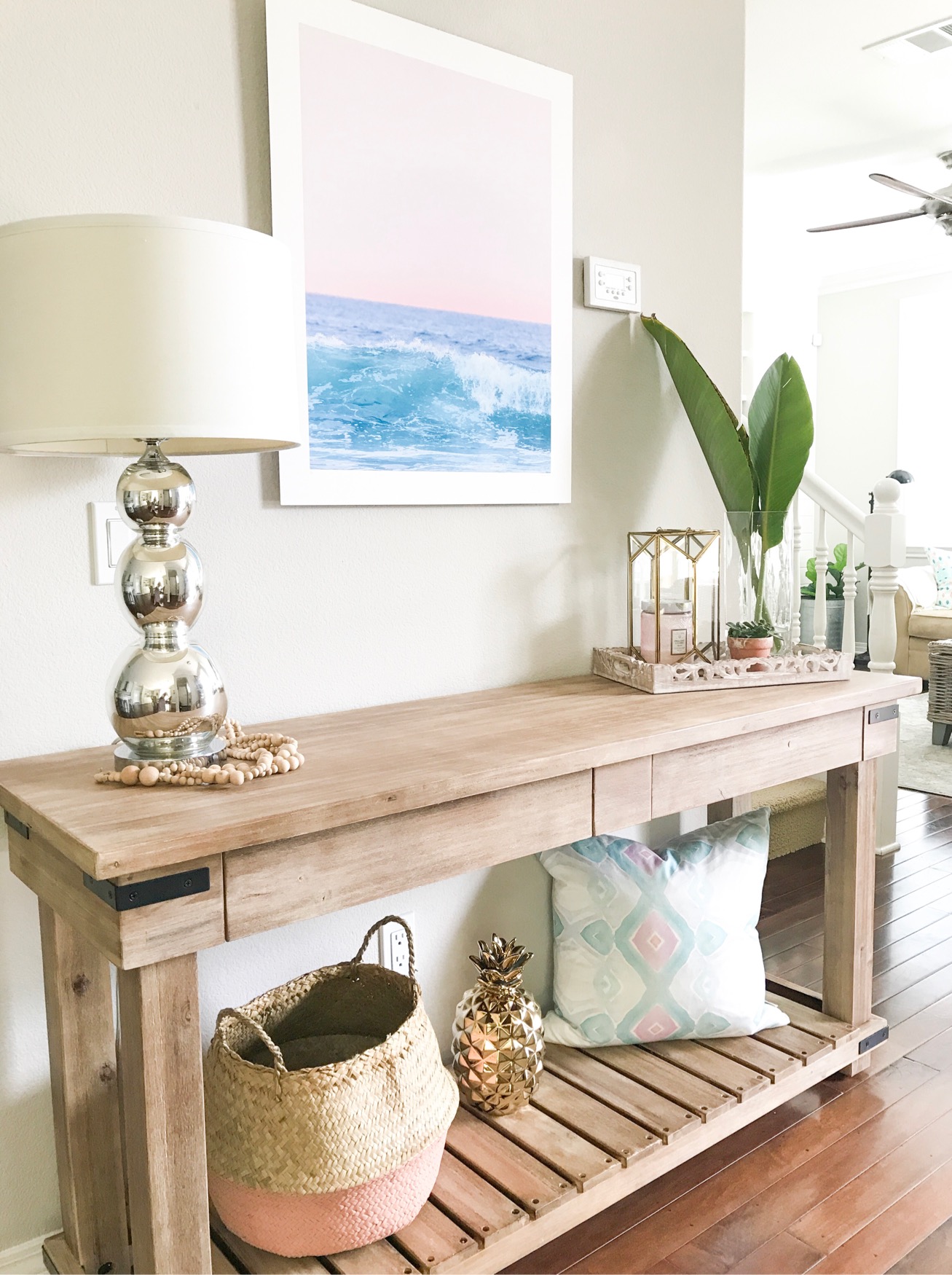 Photography/Ocean print from the talented Jessica Cardelucci.
And one more of my console table looks:
To put these styling tips into action – shop here:

I hope you found inspiration for console table styling! Also there are a lot of exciting things coming soon here at 1111 Light Lane – including an announcement that you will need to stay tuned for – don't forget to subscribe to the blog for all the latest posts! Also head over to IG to see my latest console styled for spring/summer.

*Affiliate links provided, all opinions are my own.
Save
Save
Save
Save
Save
Save
Save
Save
Save
Save
Save
Save
Save
Save
Save
Save
Save
Save
Save
Save
Save
Save
Save
Save
Save
Save
Save
Save