Today I'm sharing how to add whimsy with a girly vintage teepee! This gorgeous teepee was handmade by Bender Bee Company.
Vintage Whimsy
There will always be an endless amount of pillow and cushion forts being made in our home since my daughters love to create little nooks of space to play and hide. So it was natural for my design eye to gravitate to a beautiful spot they could play without needing to pick up the cushions and pillows every single day! Our new vintage teepee is one of the best additions to their play routine we've added in a long time.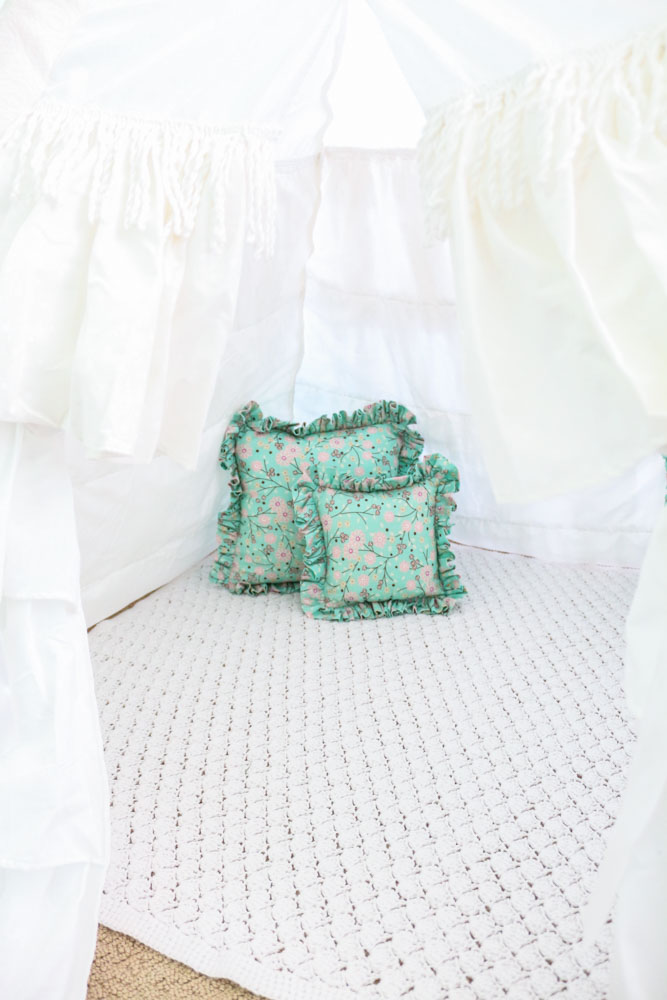 Teepee Design
My daughters adore a girly style and lots of color. I knew the clean and bright look of a white teepee would compliment the colorful palette in their bedroom. We added a beautiful white blanket that my grandmother crocheted many years ago. I had it saved for the girls and it makes me smile to see a little piece of my grandma there beside them. The pillows were made from left over fabric we had from a bedskirt that we used for my oldest daughter's first "big girl" bed. They are the perfect size for the teepee.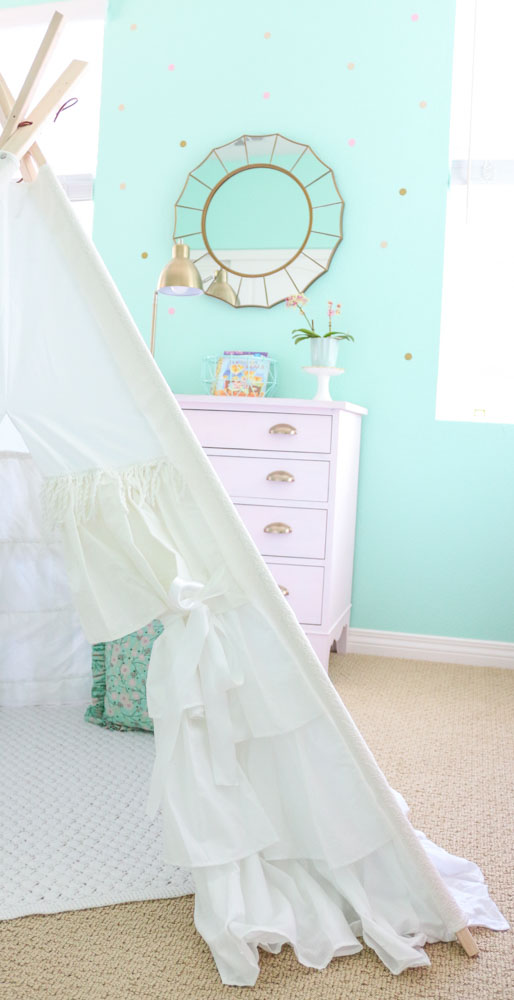 It's all in the Girly Details
The details are absolutely gorgeous. Ruffles, fringe, and a beautiful combination of white textured fabric, this teepee is every bit whimsical, vintage and girly at the same time. It is the perfect addition to their bedroom.
Bender Bee Company was so amazing to work with to achieve the exact look we wanted. I truly love all of the care that goes into handmade items and supporting small businesses. If you head over to my Instagram account you can enter to win your very own vintage teepee. In the mean time, I'm looking forward to getting more done around the house now that the girls have fun new place to hang out and play!
p.s. If you are interested in how I chalk painted their vintage dresser you can find that link here.  Sources for their bedroom coming soon & don't forget to subscribe.
Thank you as always for stopping by!

{Disclosure: We received this teepee from Bender Bee Company. All opinions expressed are my own.  My opinions and recommendations are honest, genuine and based on use in my home.}

Save
Save
Save
Save
Save
Save
Save
Save
Save
Save
Save
Save
Save
Save
Save
Save
Save
Save
Save
Save
Save
Save
Save
Save
Save
Save
Save
Save
Save
Save
Save
Save
Save
Save