The first day of fall is fast approaching and I'm eager to get the house fully decorated. Fall is one of my very favorite seasons. Today I'm sharing 5 ways to add fall decor to your home. I've also included a link to my fall letter DIY if you are feeling a little crafty!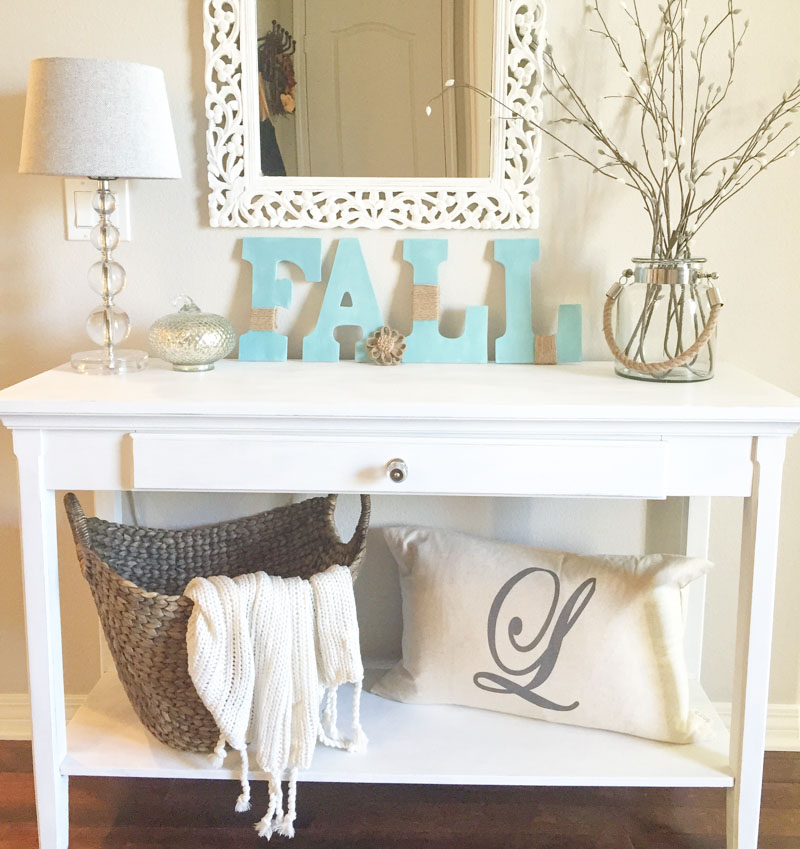 Create a Cozy Vibe
When I think of fall I think of cooler breezes, beautiful autumn colors, and knit sweaters with tall boots. In my home I try to evoke this same feeling adding textures and warmth using knit throws, burlap, and faux or real branches. This was our entryway from last year. I made these simple and inexpensive chalk painted fall letters – you can read about this fun inexpensive DIY here.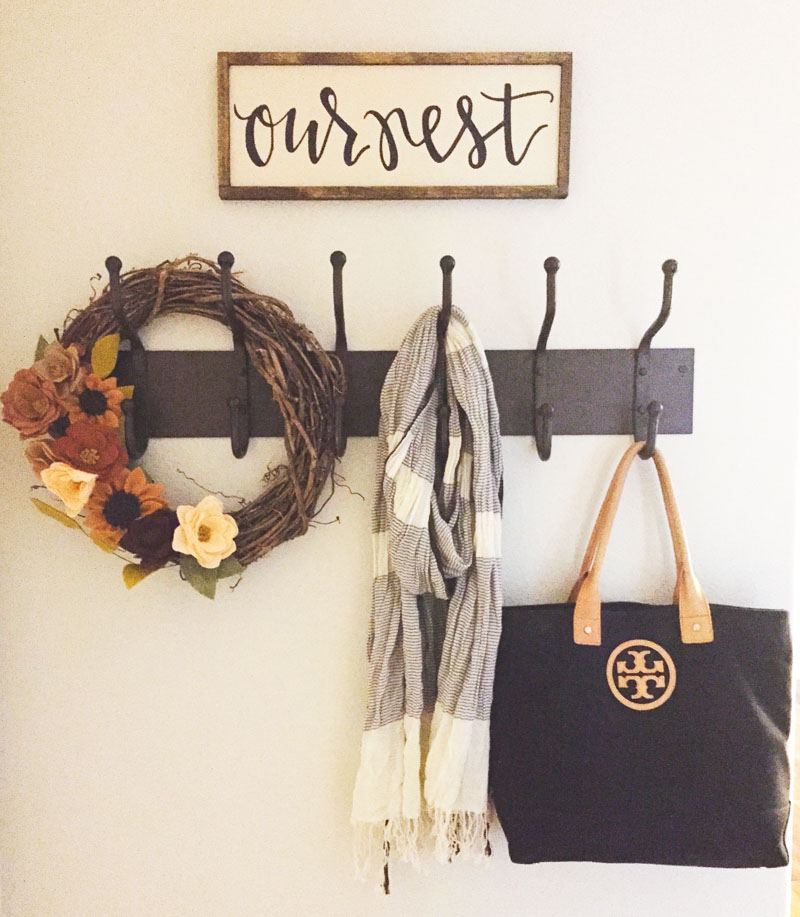 Decorate with Subtle Touches
I displayed this gorgeous fall wreath and hung a cute scarf. My tote and sign blend with the colors and add warmth to the space. Utilize items you already have that give you all the fall feels.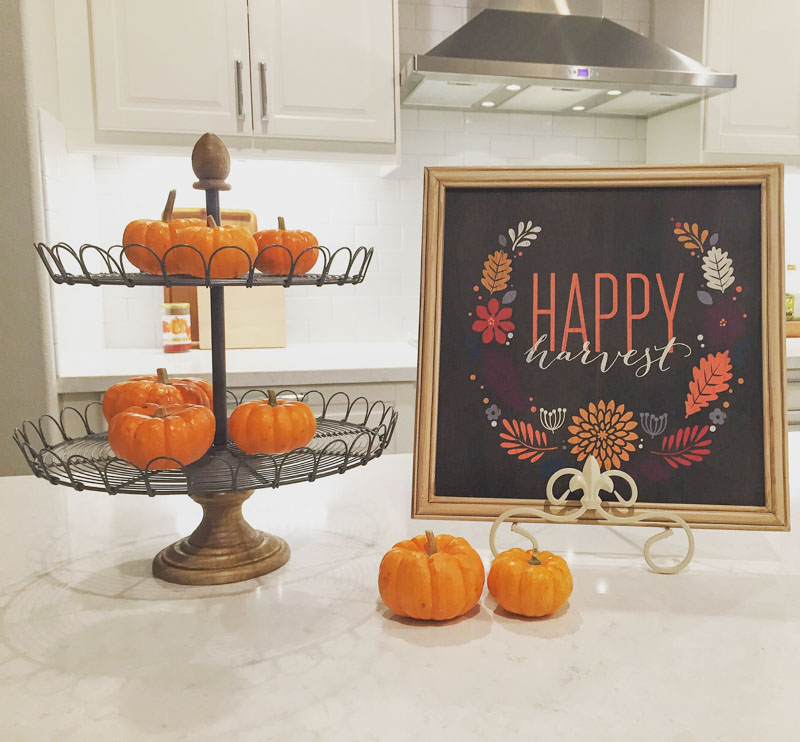 Don't Forget the Kitchen
Often times a kitchen is the hub of the home where friends and family gather. Adding a few fall touches to your kitchen can make your home feel festive and fun.  Mini pumpkins make a great addition to any kitchen. They are always a good idea in my opinion 🙂 I added them to my tiered tray with this fun fall sign.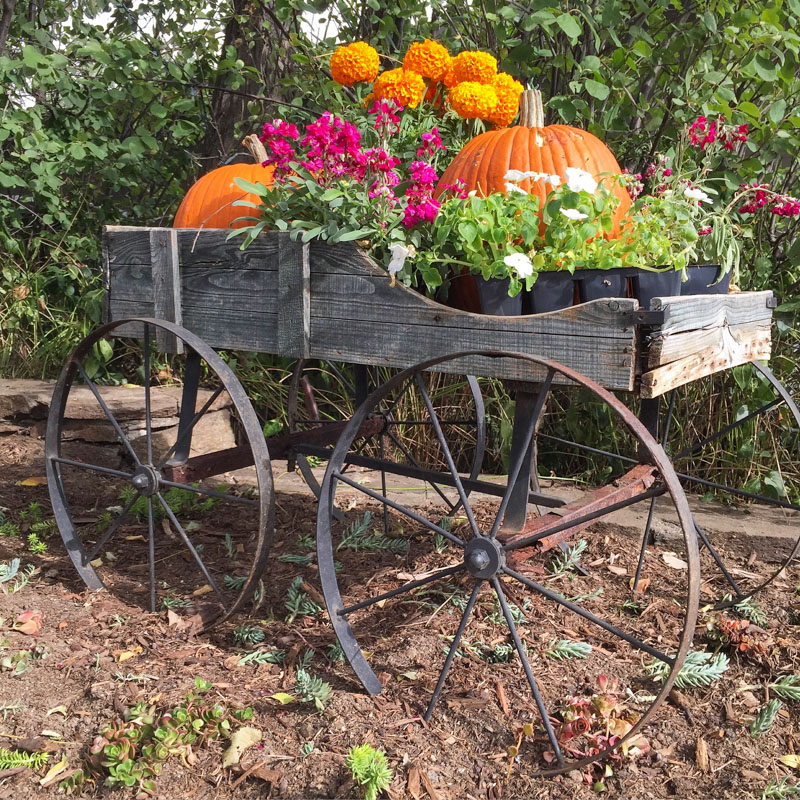 Find Inspiration In Your Surroundings
Growing up in Upstate New York was such a treat because every fall was filled with crisp air and gorgeous autumn leaves. Living in California is wonderful but in order to experience fall we have to drive to the mountains. Last year we drove to Julian, CA to get our fall fix. I found this adorable rustic wheelbarrow filled with pumpkins and fall flowers and couldn't resist taking a picture for inspiration! Now I'm wondering how I could create a smaller version somehow on our patio near our front door.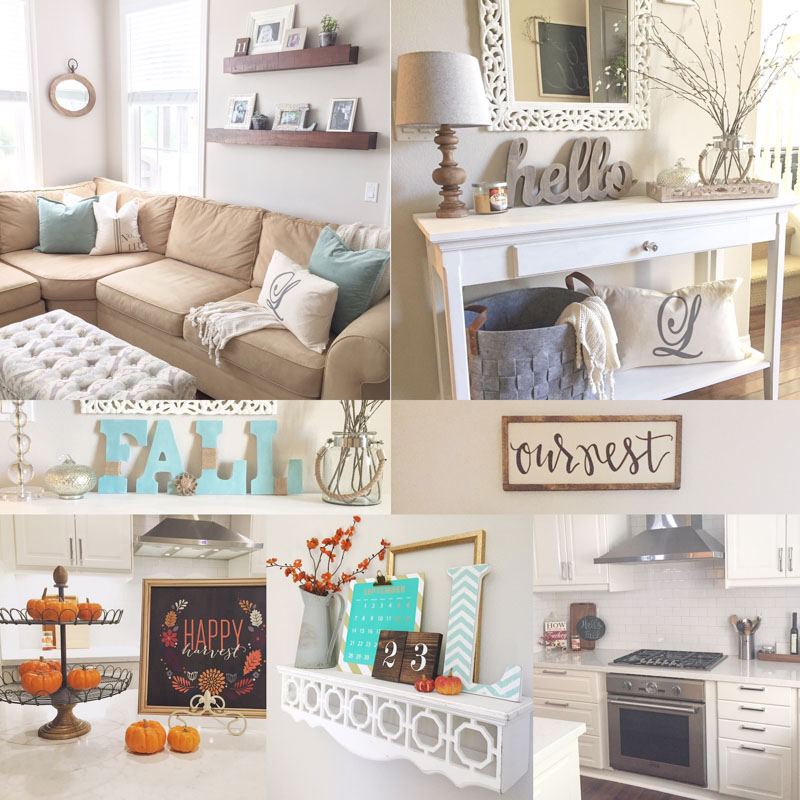 Choose a Color Scheme
Last year I went with oranges, blues, and mixed in metallic finishes with wood elements. Sticking to a color scheme will give you a cohesive look. You don't have to go with the traditional fall color scheme either – be creative and try different options.
Wherever you live you can add elements of fall. I hope you enjoyed the 5 ways you can add fall to your home! Stay tuned for more fall decor with a fall home tour coming soon! What elements do you enjoy using in your home during the fall season? I'd love to know! I've also rounded up a few items from Amazon that I have my eye on – they are super cute for fall (click on the pictures below for price & more info).

Thanks for stopping by,

p.s. don't forget to subscribe for all the latest posts & updates!
Disclosure: {This post contains affiliate links, if you purchase something through these links, I receive a small percentage of the profits, with no additional cost to you!  All opinions and recommendations expressed are my own.  My opinions and recommendations are honest, genuine, and based on use in my home!}
Save
Save
Save
Save
Save
Save
Save
Save
Save
Save
Save
Save
Save
Save
Save
Save
Save
Save
Save
Save
Save
Save
Save
Save
Save
Save
Save
Save
Save
Save
Save
Save
Save
Save
Save
Save
Save
Save