Today I'm sharing everything you need for a unicorn birthday party! Unicorns are super popular right now and of course we had to give this fun and magical birthday theme a try! I'm rounding up everything you need to make your unicorn party extra magical and sharing pictures from our very own unicorn birthday celebration!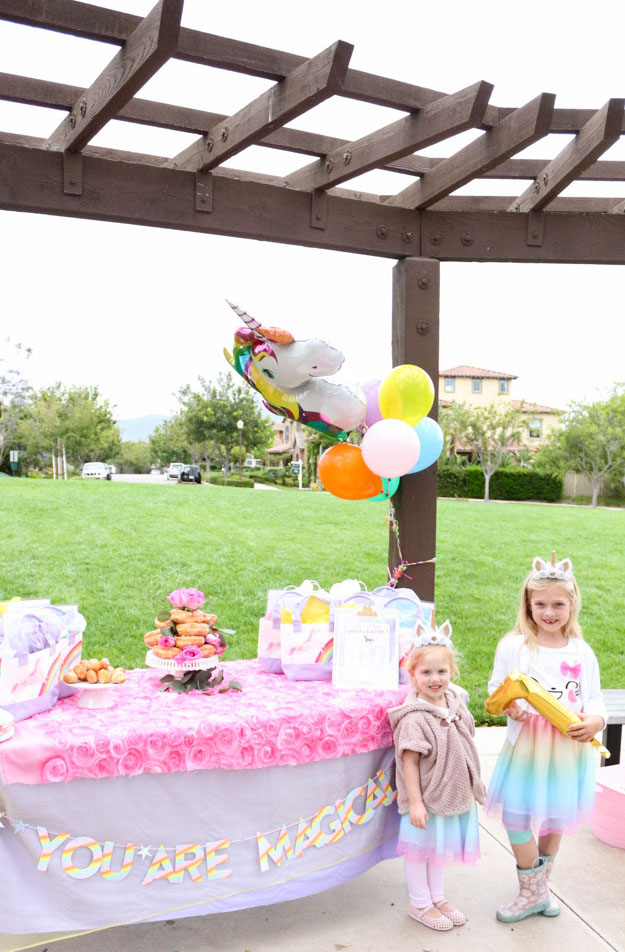 We celebrated at one of our neighborhood parks. It was a super windy day, everything was moving around and I quickly put things together, crossed my fingers and wished for the best! I was trying to remember one of my favorite mottos – grace not perfection 🙂 Instead of a standard plastic table cover I opted for fun fabric and found these colorful fabrics for a total bargain. I layered the different fabrics for a whimsical look. I've linked all the items from our unicorn birthday celebration for you below.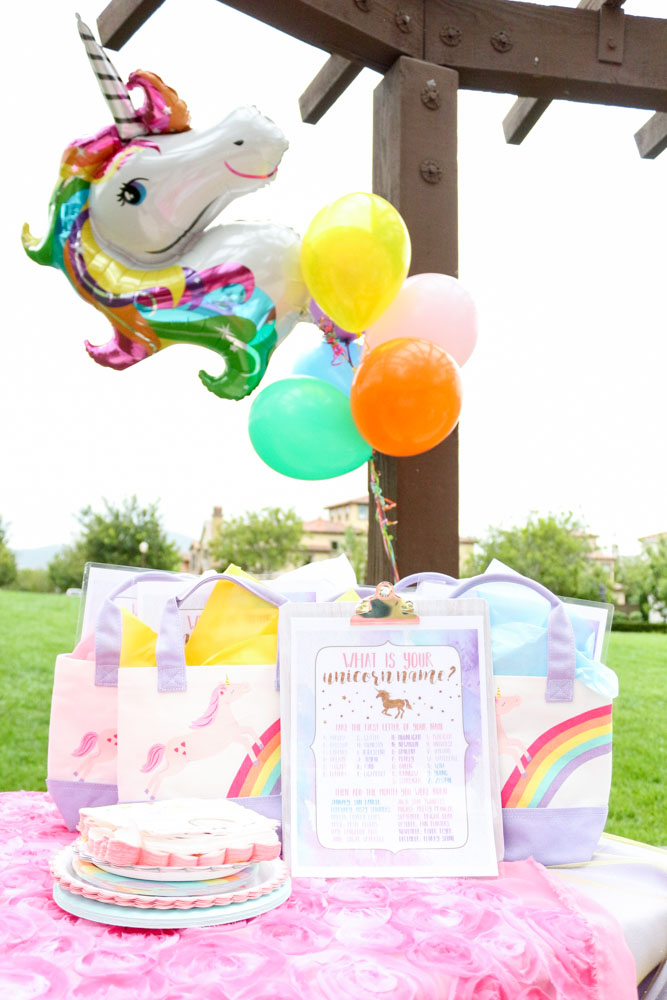 I laminated this cute unicorn printable for all the kiddos and added it to their goody bags. You can find it here.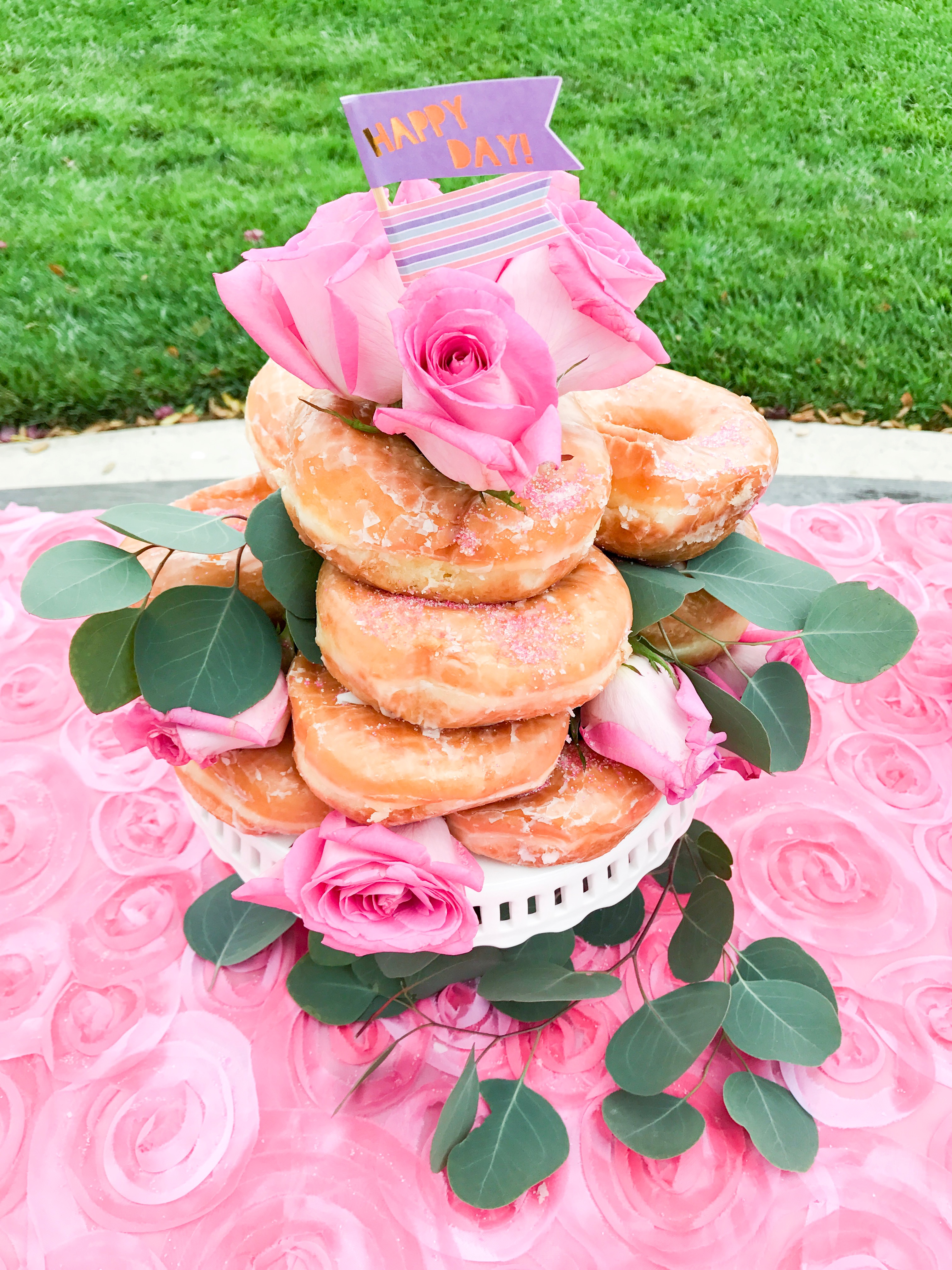 If you followed my instatories on IG recently you may have noticed my "practice" donut tower. This is the one I made for the birthday party – I'm really happy with how it turned out! I added pink roses and eucalyptus to the donut tower to make it extra special and magical.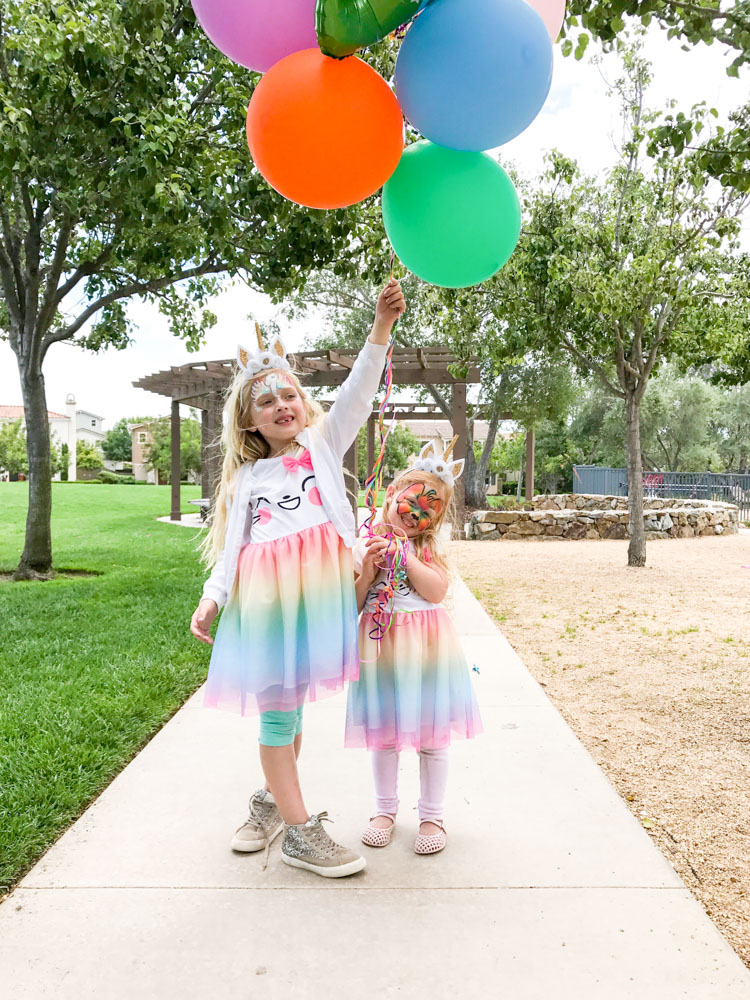 I searched for a fun colorful dress for the girls and found this rainbow tulle skirt dress. It was a hit and it's only $14.99 and I've linked it below. Since the grass was wet because it was cold and rainy the day before we decided to save our gold sparkle sandals for another day. I love how my sweet girl can rock glitter high tops like no one's business! The adorable unicorn headbands are from the cutest shop that you can find here.
Unicorn Party Dress & Shoes:


Unicorn Hair accessories:

We hired a face painter and balloon maker for all of the kids and the girls loved it!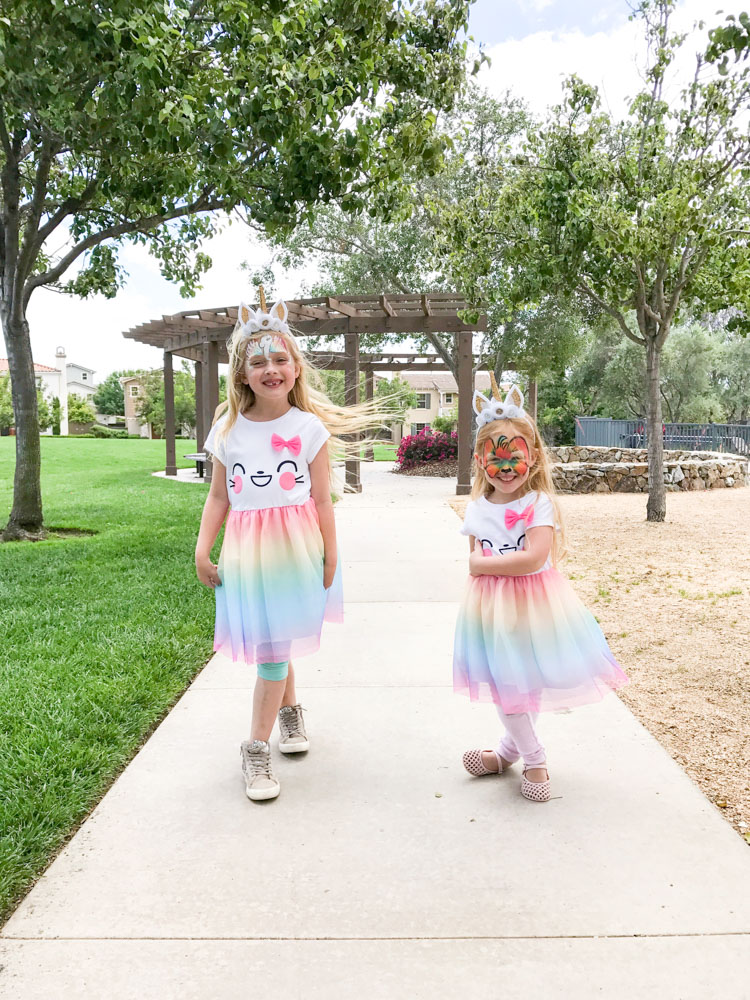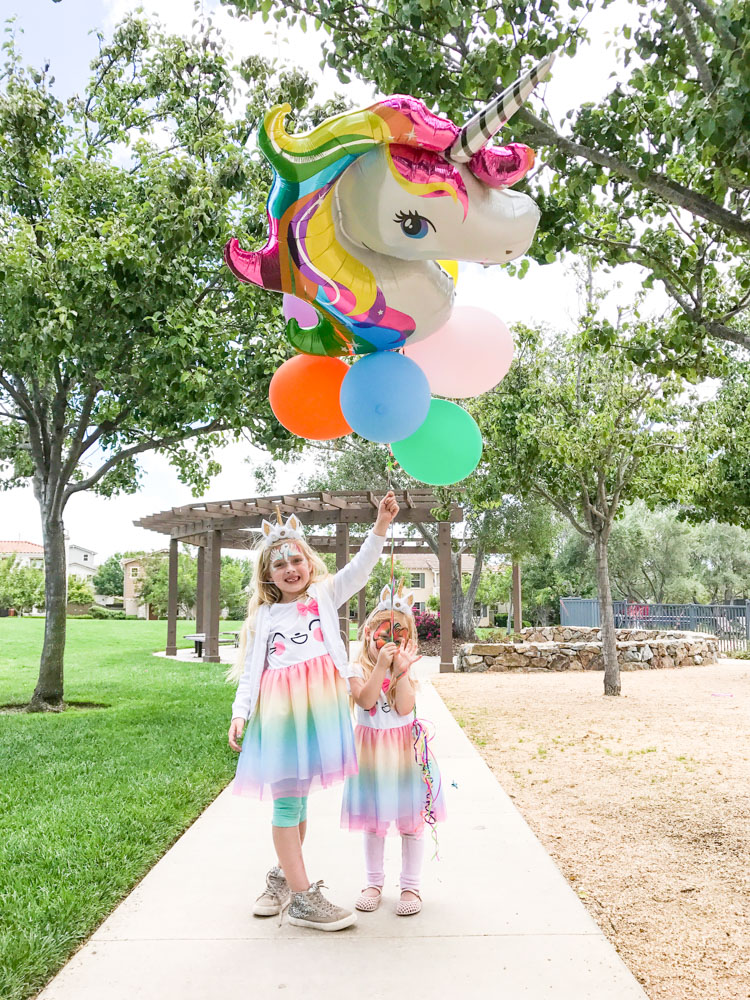 Unicorn party essentials:

Unicorn goody bag for your guests: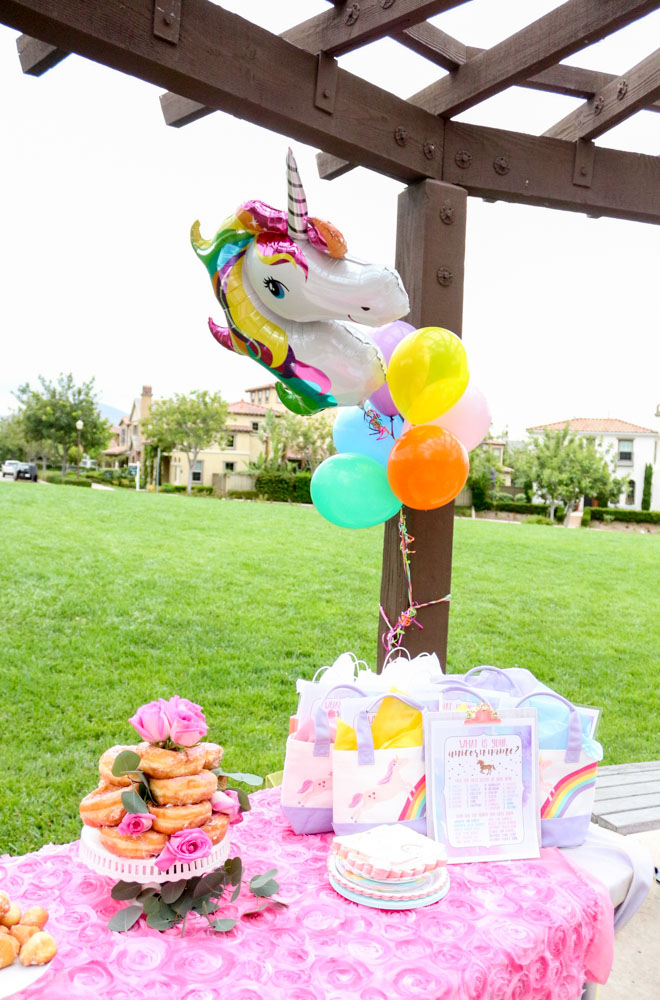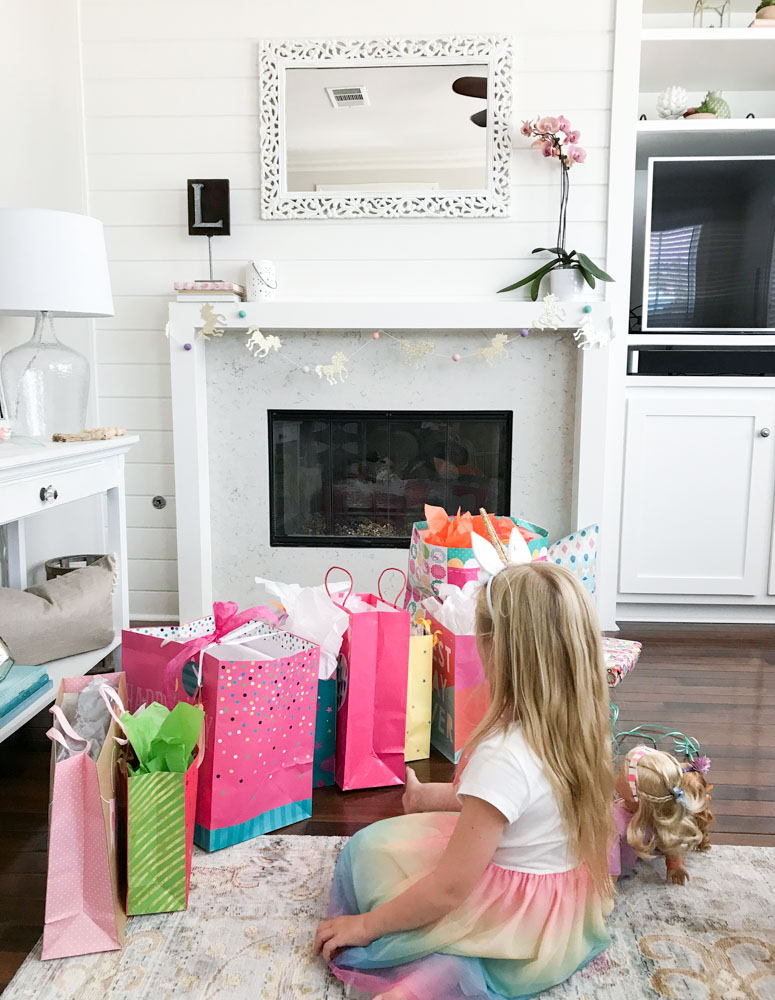 A special thank you to all of our friends who came to celebrate and one of my new favorite shops Pearl & Jane who sent us this beautiful unicorn banner. I am using it to decorate our home for the birthday girl and will be sharing how to incorporate this amazing banner into bedroom decor. The girls can't wait for me to decorate their room with it! Head over to Amy's shop for more beautiful banners and tell her I sent you! Stay tuned for my post with the girls room decorated in unicorn theme.
As always thank you for stopping by! Hopefully this post has been helpful and gives you ideas for a unicorn party. If you should decide to have a unicorn party – I hope it's extra magical! I've created a pic below to pin and you can follow me on Pinterest here.

Shop items from this post including some of my fav unicorn items by clicking the photos below: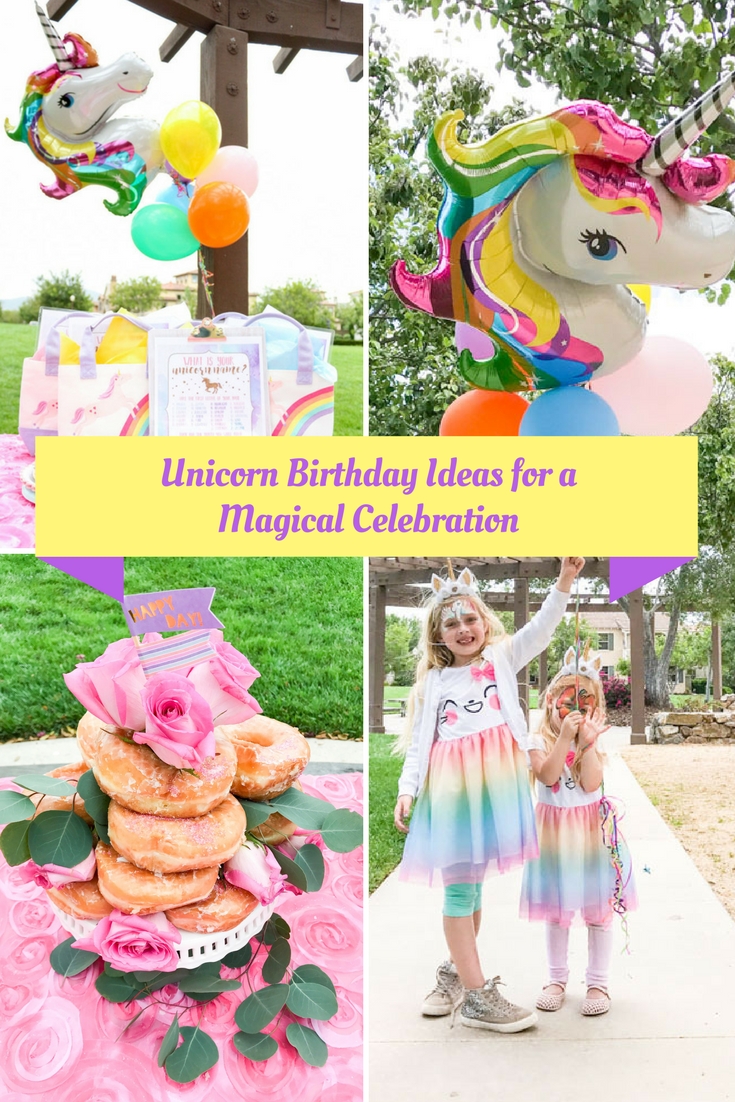 *Affiliate links used, all opinions my own.
Save
Save
Save
Save
Save
Save
Save
Save
Save
Save
Save
Save
Save
Save
Save
Save
Save
Save
Save
Save
Save