Today I'm sharing 13 real-life beautiful and inspirational IKEA kitchens. If you are joining me from Instagram you know I post my kitchen frequently and it is always one of my most popular posts! We have a white and bright IKEA kitchen – if you would like more details about our kitchen renovation click here. When we were designing our last 2 IKEA kitchens we looked for inspiration and had some challenges finding kitchens beyond the examples from IKEA's website and catalog.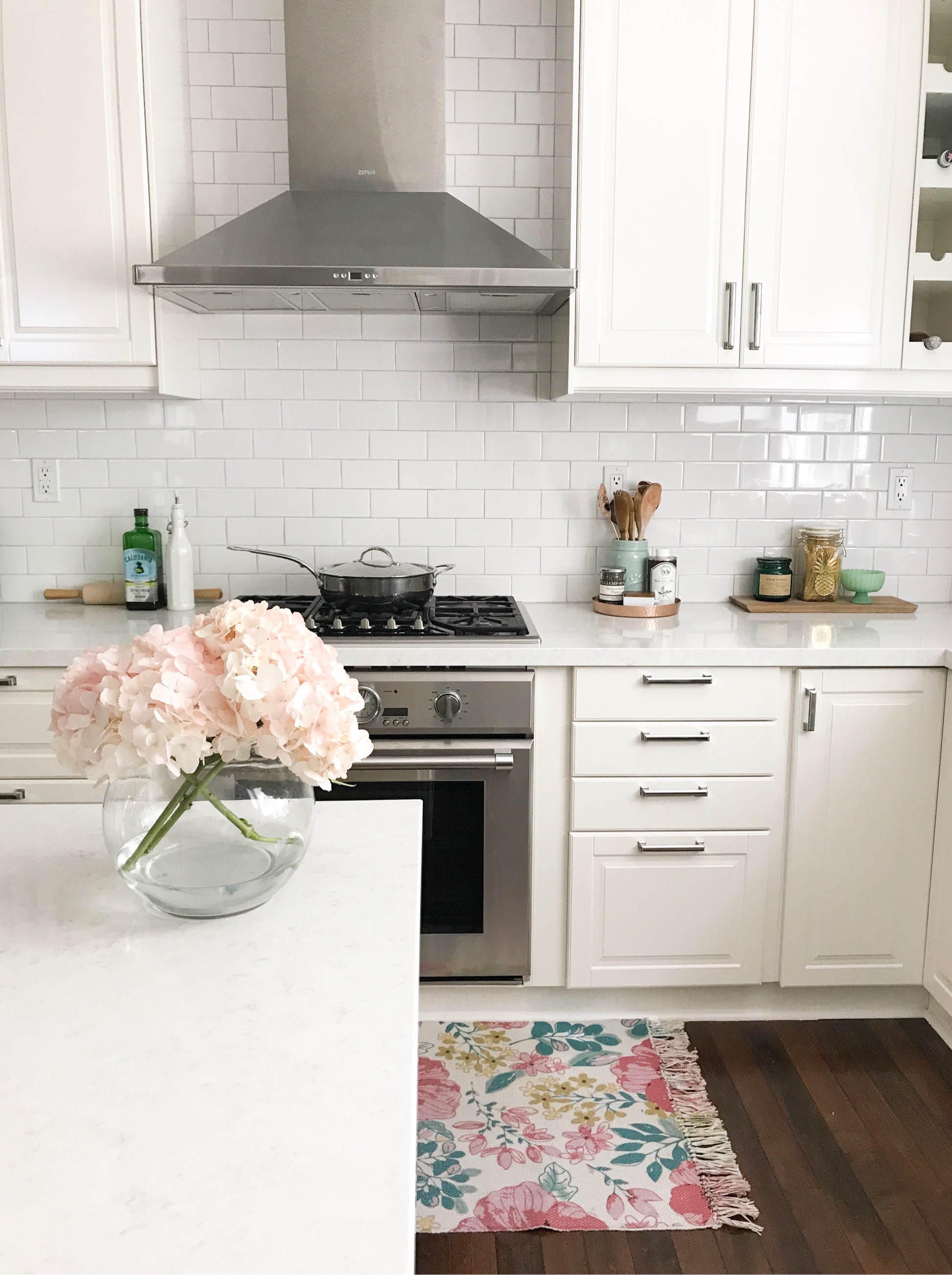 Luckily, when I searched the internet for IKEA kitchen design inspiration I stumbled upon one of my favorite real-life IKEA kitchen's from blogger Dana Miller from HouseTweaking. It was so helpful to see a real-life version and it provided inspiration for my very first IKEA kitchen design. So let's go back in time for a moment to 2012 when I designed and installed our very first IKEA kitchen. I've included a picture of our very first IKEA kitchen below – this was pre-Instagram and pre-blog.
We weren't able to update our kitchen flooring – it simply wasn't in the budget. This was our first fixer upper, a townhome in La Jolla, California. I designed the kitchen using a modern, minimalist vibe. I chose white quartz countertops, modern hardware and a grey and white mosaic tile backsplash. The IKEA cabinets for our first kitchen were IKEA's AKURUM in black/brown. The AKURUM line was the first IKEA kitchen cabinet line and has now been discontinued and replaced with the new SEKTION line of cabinets.
To give you more IKEA kitchen inspiration I've rounded up 13 real-life beautiful and inspirational IKEA kitchens. I found kitchens with white, grey and black cabinets. Kitchens that have a modern feel, farmhouse flair, boho chic, and a more traditional style! There is inspiration for every style and the best part about IKEA cabinets is that you don't have to spend a fortune for a beautiful kitchen! Let's get started!
13 Real-Life Beautiful and Inspirational IKEA Kitchens
First on my list is my sweet IG friend Alma. I absolutely adore her new gorgeous white and bright IKEA kitchen. So much inspiration here! I love all of her design choices. Her kitchen is so bright and airy! A perfect combo of all the right finishes to compliment her white kitchen. Head over to her blog for more inspiration and tell her I sent you!
If you haven't heard of the design powerhouse – Chris Loves Julia than you might be living under a rock! lol! Julia Marcum of Chris Loves Julia is one of my favorite bloggers and IG feeds to follow. Chris and Julia's IKEA kitchen is so incredible and I'm in love with their black cabinetry. The spared no detail in their kitchen design. I love all the finishes and combination of their design choices. If you aren't already following them head over and be prepared to get lost in their feed – you will get sucked in – guaranteed! Also make sure to listen to their podcast – it's one of my absolute favorites!
Sarah from Dreaming of Homemaking is my new favorite IKEA kitchen. She has a gorgeous white farmhouse style IKEA kitchen. Her open shelves are always styled to perfection and I love her faucet and farmhouse accessories. That pot-filler behind her range makes her kitchen look so professional and custom. Kuddos to Sarah for an amazing job. Head over to her blog for more inspiring pictures!
I'm including my sweet mama in this kitchen roundup because we designed her gorgeous grey IKEA kitchen together and I love how it turned out! The grey BODBYN cabinets are such a great choice for anyone who may be over a white kitchen. We paired classic subway tile, wood flooring tiles to warm the space, and pretty chrome hardware for a traditional look. The pendant adds a modern and industrial flair and I love this space sooo much! Way to go mama!
Dana Miller's kitchen is THE kitchen that gave me inspiration when I was designing our first IKEA kitchen back in 2012. I love her classic, clean, modern lines. Her style never gets old for me – it's so fresh, open, and airy. The black cabinets ground the space beautifully and all of her choices from adding glass upper cabinets and open shelving makes this IKEA kitchen one of my absolute favorites! Dana hosts a series of real-life IKEA kitchens on her blog – if you look for the San Diego post you will find mine!
Laura at Willow Street Interiors is the biggest sweetheart and I met her via IG. I recently found out that her kitchen is IKEA and have always admired how beautiful it is! The brass light fixtures are absolutely gorgeous paired with the white cabinets and grey subway. She always styles her kitchen so beautifully. Head over to her blog for more of this pretty kitchen.
Alita is another IG buddy – see how this amazing community works my friends?! So much inspiration! I'm sharing Alita's gorgeous IKEA kitchen for major white kitchen inspiration. It has such an open, modern vibe. I love how she took the cabinets all the way up to the ceiling for a custom and dramatic effect. It always is sparkling clean and styled so beautifully. Head over to her IG feed for more inspiration!
I stumbled upon Molly's IKEA kitchen via Instagram a few weeks ago and fell in love with all her design choices! From the range hood, countertops, lighting and cabinet hardware – they all blend beautifully for a modern white kitchen look. Head over to Molly's IG feed for more of this gorgeous kitchen!
I found Christine's kitchen via my blogging friend Kendra from Kendra Bester Design. Christine designed this gorgeous IKEA kitchen and I had all heart eyes when I found it! From the backsplash choice to that gorgeous roman shade – everything is stunning! What an amazing job Christine! Kendra – love your styling of the kitchen and the beautiful photos! Head over to both of these lovely ladies IG feeds for more inspiring pics of Christine's gorgeous kitchen.
Tanis has been one of my long time favorites for her beautiful IKEA grey kitchen. I love the interior cabinet lighting. I love the placement of her cabinets and the finishes she chose. There isn't a single picture of her kitchen that isn't gorgeous! Tanis is a super talented designer and you can head over to her feed for more of her beautiful kitchen.
I found Sarah's kitchen via Instagram and was instantly drawn to her modern boho elements – hanging plants, black hardware, and grey cabinets make for a beautiful combination. She did an incredible job designing her kitchen and if you want more inspiration head to her IG feed!
I found this beautiful kitchen via IG – she is a blogger in the UK and created a modern minimalistic style I just love! The butcher block countertops, brass hardware, and open shelves are my favs! Head to her IG feed for more inspiration.
Last but not least I included a pic of mine. Because – why not?! This is how I accessorized my IKEA kitchen for the holidays, you can read the full post here. For a full kitchen tour head to my You Tube channel by clicking here.
Well that's a wrap! Which ones are your favorites? I love all of them and I hope you have found inspiration from these 13 real-life beautiful IKEA kitchens! Head over to their blogs or IG feeds and tell them I sent you! We have been so pleased with the quality, maintenance and functionality of our IKEA kitchens. I've become a pro with the IKEA kitchen planner 🙂 Do you have an IKEA kitchen you would like to share? I would love to see it  – let's connect by contacting me here.
SHOP:
Shop our kitchen here:

 DESIGN INQUIRIES:
For design inquiries about our kitchen or for design assistance for your IKEA kitchen head to the contact area here.
READ:
This was my go-to article about IKEA kitchen cabinet reviews via Apartment Therapy – you can find the link here.
PIN THIS POST:
Click on the photo below: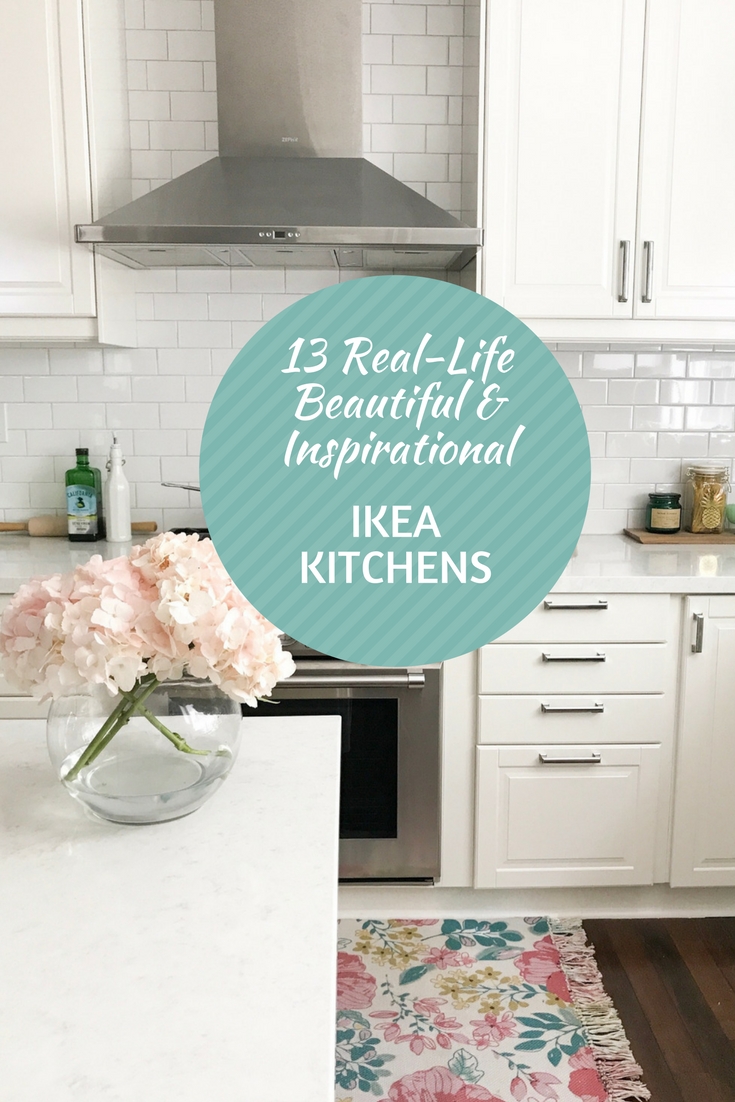 *Affiliate links used, all opinions my own.
Thanks for stopping by!