Today I'm sharing my new house design inspiration for the kitchen. This week on IG I shared sneak peeks of our kitchen progress and one of my design choices for the kitchen. Guess what?! They weren't white cabinets! I know many of you were surprised since our last kitchen was an all white kitchen. White cabinets will always be a favorite of mine however I opted for something different for our new kitchen because: 1. I was ready for a change and 2. I had to take into account the overall design considerations for the kitchen space. When designing our new kitchen there were several factors to consider: the design layout, amount of natural light in the space, and the overall aesthetic for the house. Let's take a look at two of my favorite kitchen design inspirations and a peek at my design board for our new kitchen!
Kitchen Inspiration #1
This gorgeous kitchen by Elizabeth Lawson Design has been a huge source of inspiration for our new kitchen and I'm obsessed with every detail. The tuxedo effect is to die for! I love how the dark lower cabinets add depth to the space while the all white uppers make it feel light and bright. When I redesigned our kitchen layout I added a large window to add more natural light and take advantage of our amazing view. In doing so I wanted to make sure the space felt grounded and decided matte black shaker cabinets would give the space much needed depth and interest. I wanted to keep that light, bright, airy feel so felt the only upper cabinets we needed would be a cabinet above the refrigerator and a large pantry cabinet. We will be adding open shelving because I not only love the look but have wanted open shelves forever!
Kitchen Inspiration #2
Another gorgeous kitchen design I'm obsessed with is from the talented Studio McGee. They are one of my favorite design teams to follow. This beautiful kitchen has all the elements I wanted in ours – white subway tile, warm wood floors, open shelving and a lot of black and white. If you want to see the exact cabinets we have chosen head here. I knew when Shea shared this kitchen she recently designed that I was heading in the right direction with our kitchen design. I felt validated when I realized my absolute favorite designer chose similar options for her recent kitchen design project! Here is a look at my design board for our kitchen.
New Kitchen Design Board: 1111 Light Lane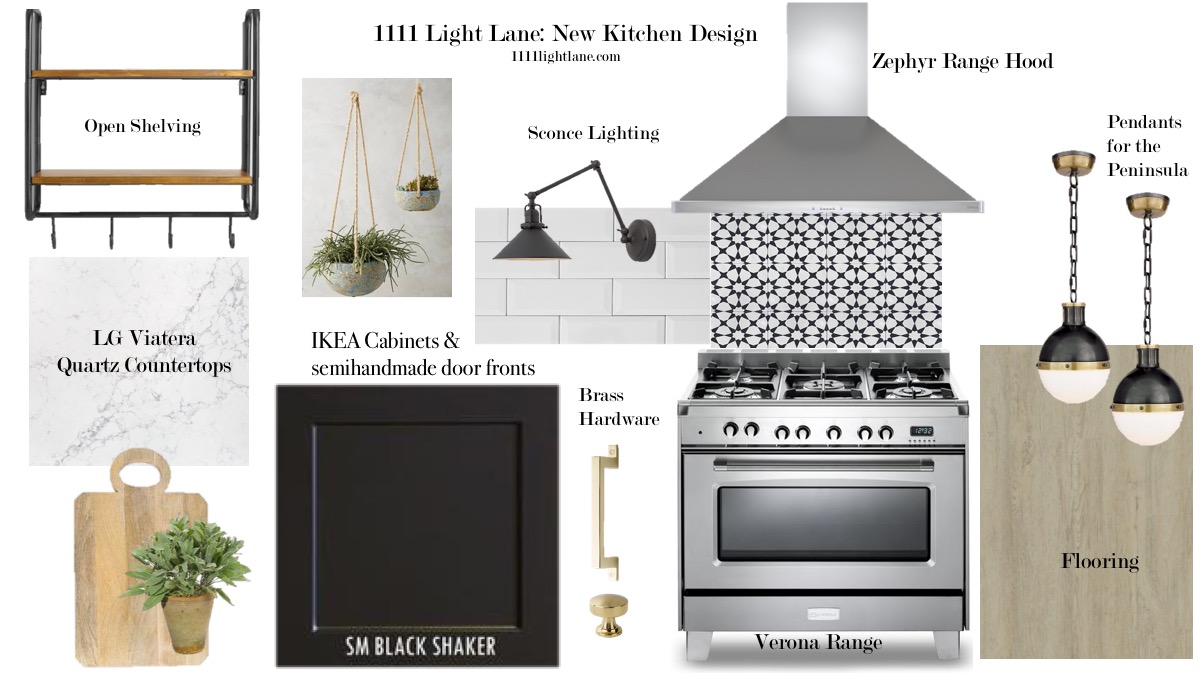 I am so excited to use IKEA again but this time with a twist. We are collaborating with a company called semihandmade and I couldn't be more excited! I'll be sharing more details about why I decided to update our cabinet doors with their amazing selection of quality products in an upcoming post so stay tuned! Other choices I stay trued to from our last kitchen – quartz countertops from LG Viatera and the same amazing range hood from Zephyr. I'm over the moon excited for our new Verona 36″ dual fuel range and can't wait to cook and put it to good use! I'm not sure if I am set on the cement tile yet however I need to decide soon! I've linked all the sources for you below including that beautiful brass hardware and a couple items missing from the design board like our new sink and faucet that you can find here and here. I'll be sharing more about these amazing products and brands I chose and why after a lot of research I included them in our kitchen 🙂 In the mean time you can shop the items in this design board below.
Shop Sources for Our New Kitchen

Make sure to follow over on IG for more on my instastories – I'll be sharing real-time progress as we move in next week! Don't forget to follow my design boards on Pinterest by heading here and subscribe to the blog for the latest updates.
Thank you as always for all of your kind feedback and support and for following along on our renovation journey,

For more on the timeless look of tuxedo kitchens head to this link.
*Affiliate links used, all opinions my own. I only recommend brands I trust and believe in, see disclaimer here.
Save