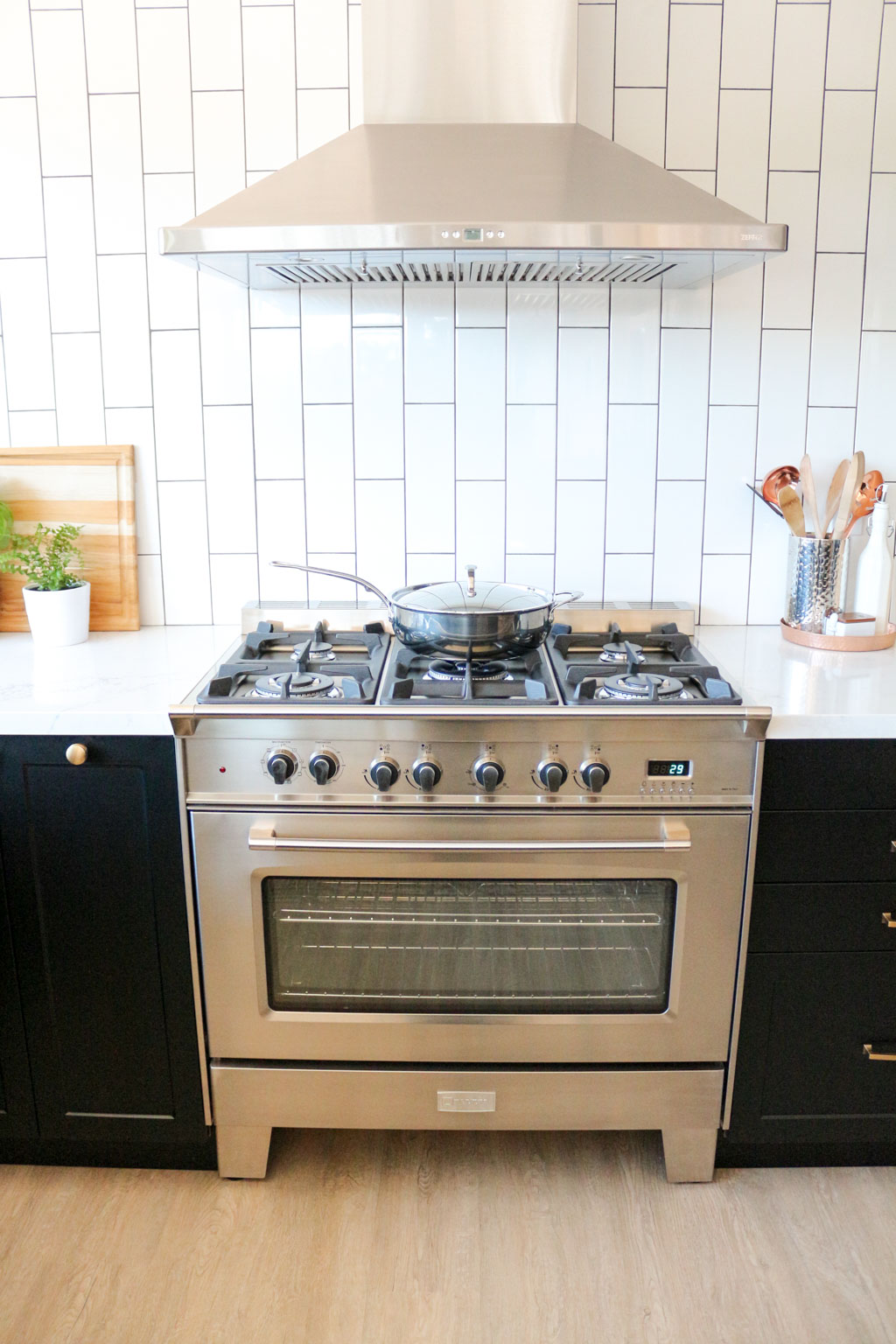 Sometimes the best recommendations are via word of mouth. As I researched professional ranges for our new home and kitchen I discovered one of my favorite designers that I have been following on social media for the last several years owns a Verona pro-style range. After reading the review Anissa wrote on her blog, House Seven Design, and admiring the beautiful pictures of her Verona Range I was intrigued and wanted to know more! I did my due diligence and began researching the Verona brand and all of the features that make their 36-inch range so awesome. I was really surprised at the many cooking options the range has, especially for the price point.  In all, there are seven modes to choose for oven cooking – can we say options?! Yes – please! Because I need lots of options! This also comes in handy for baking any type of food.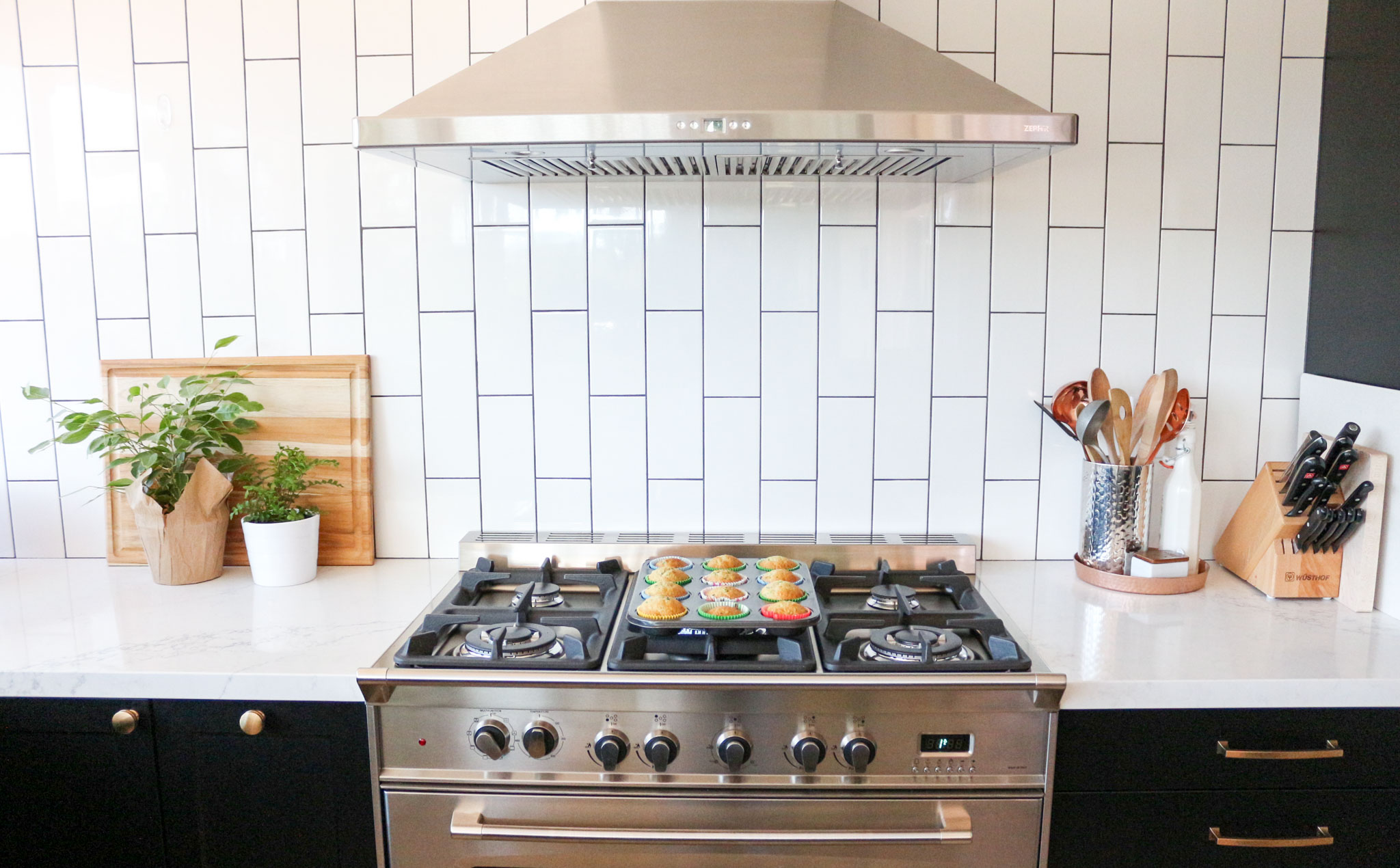 I couldn't wait to get baking and put the convection mode to work with my kiddos favorite zucchini muffins. They came out perfect! Am I making you hungry? These muffins were gone in no time and did I mention they came out PERFECT, and quickly?! I'm already in love with this range 🙂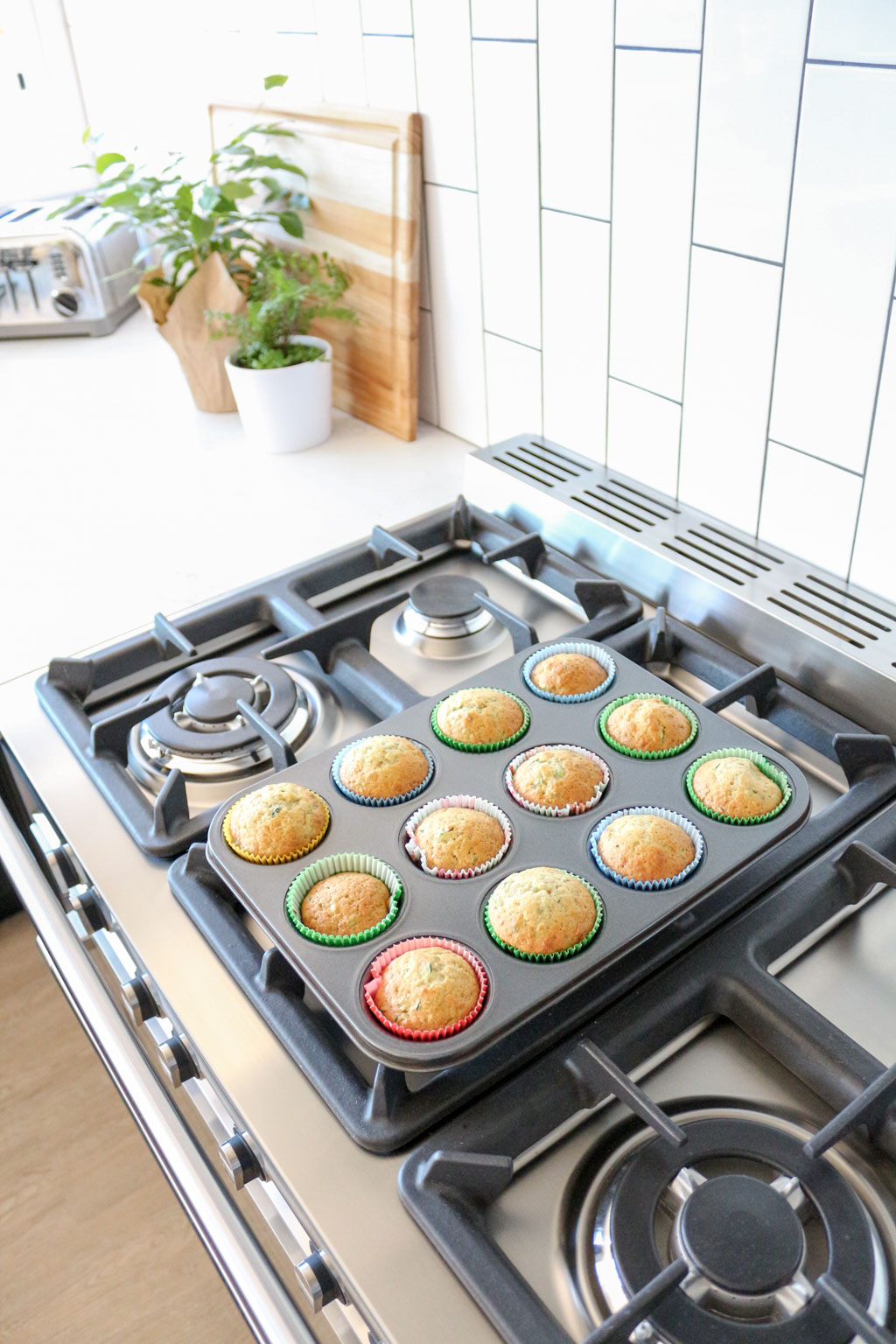 Now, for a little more about why we chose this range. I knew we wouldn't be able to justify spending a third of our kitchen budget on a professional-style range; yet, I knew I wanted all of the fun and functional features of one. About two years ago we splurged on a 30-inch professional gas cooktop and oven and while we enjoyed using it daily we always wished we had the space for a 36-inch freestanding range with more space and performance. Fast forward to a couple of years later and we found ourselves renovating a new home and kitchen which allowed us the opportunity to make our dream become a reality. I mean, look at all of this space!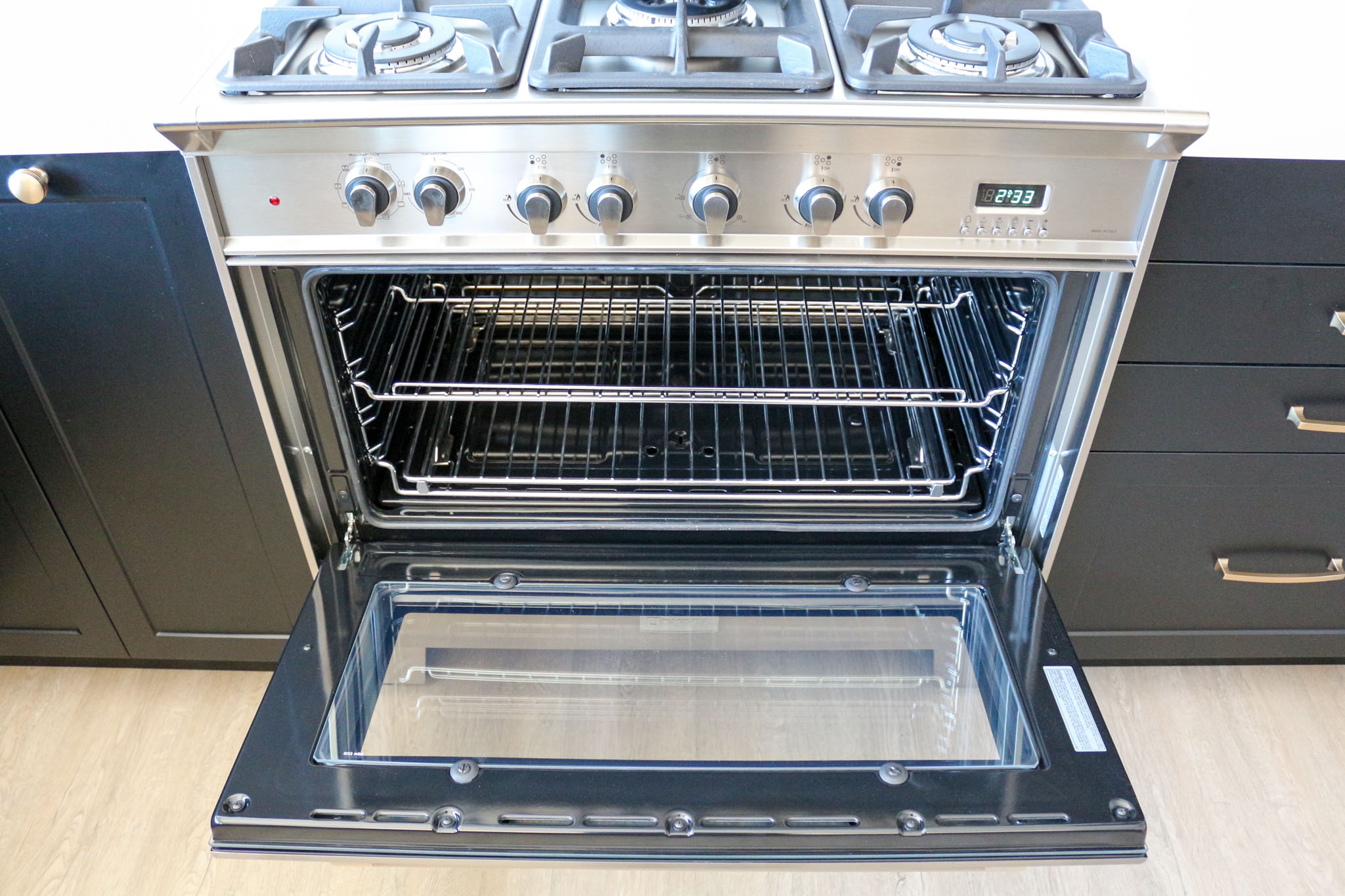 I fell in love with sophisticated look of the 36-inch Verona Classic dual fuel range. It has 5 sealed gas burners that make cooking a dream. I now have plenty of space to maneuver pots and pans when cooking multiple items. The gas burners have several features that allow for high heat and simmer, including a powerful 16,000 BTU burner that is located in the center and is perfect for my large pots. With the large burner I can boil a pot of water for pasta in record time!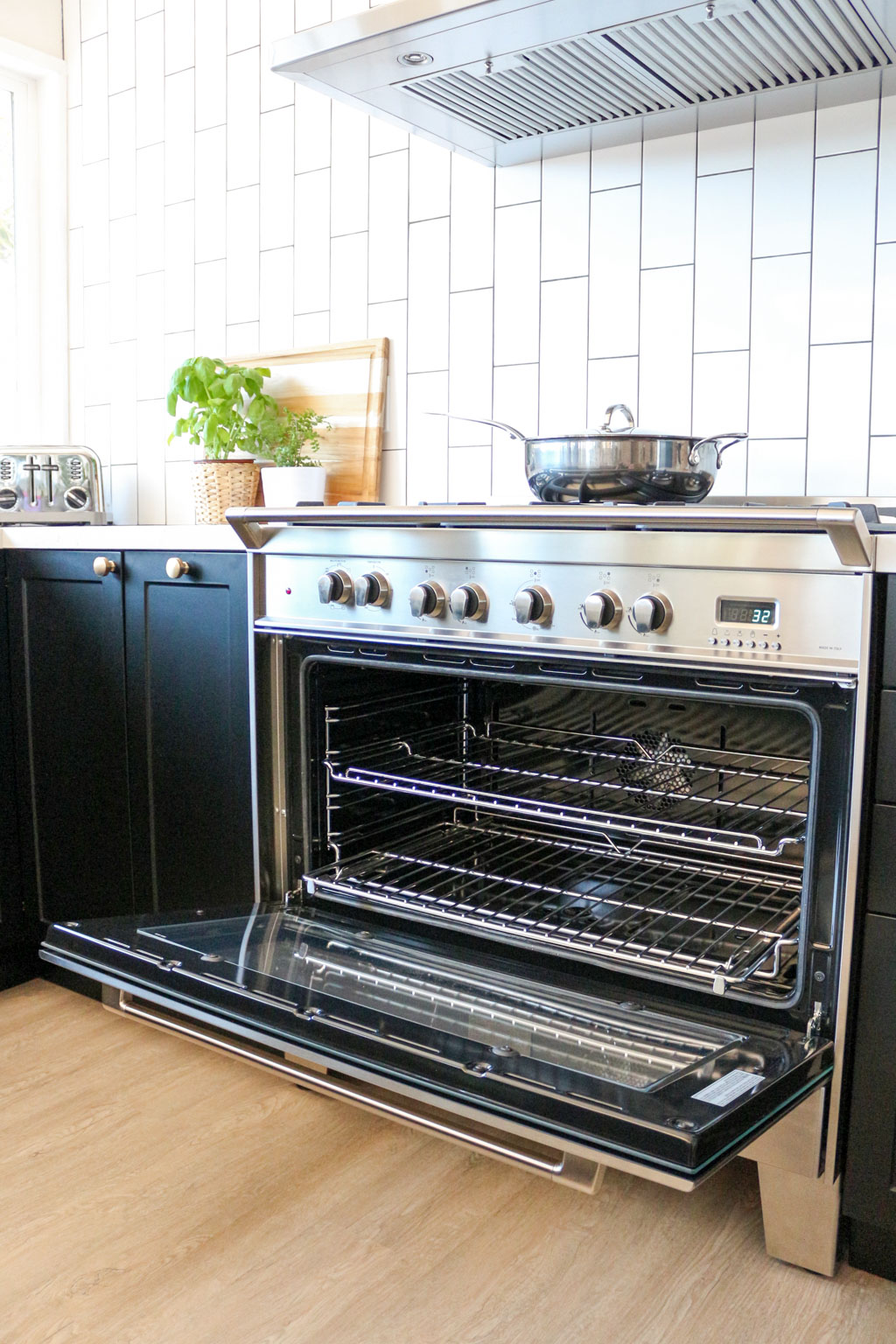 Another feature I love is that Verona ranges are made in Italy. Growing up in an Italian family I've learned that you can't go wrong with something made in Italy! My grandma would be so proud – I know she would have loved cooking on this range. She always loved sharing her cooking tips and amazing recipes that have been passed down from generation to generation. I can't wait to test out some of the family recipes on our new range this holiday season. I've already been sharing many recipes cooked on my new Verona range on my instastories – it has been so much fun to share!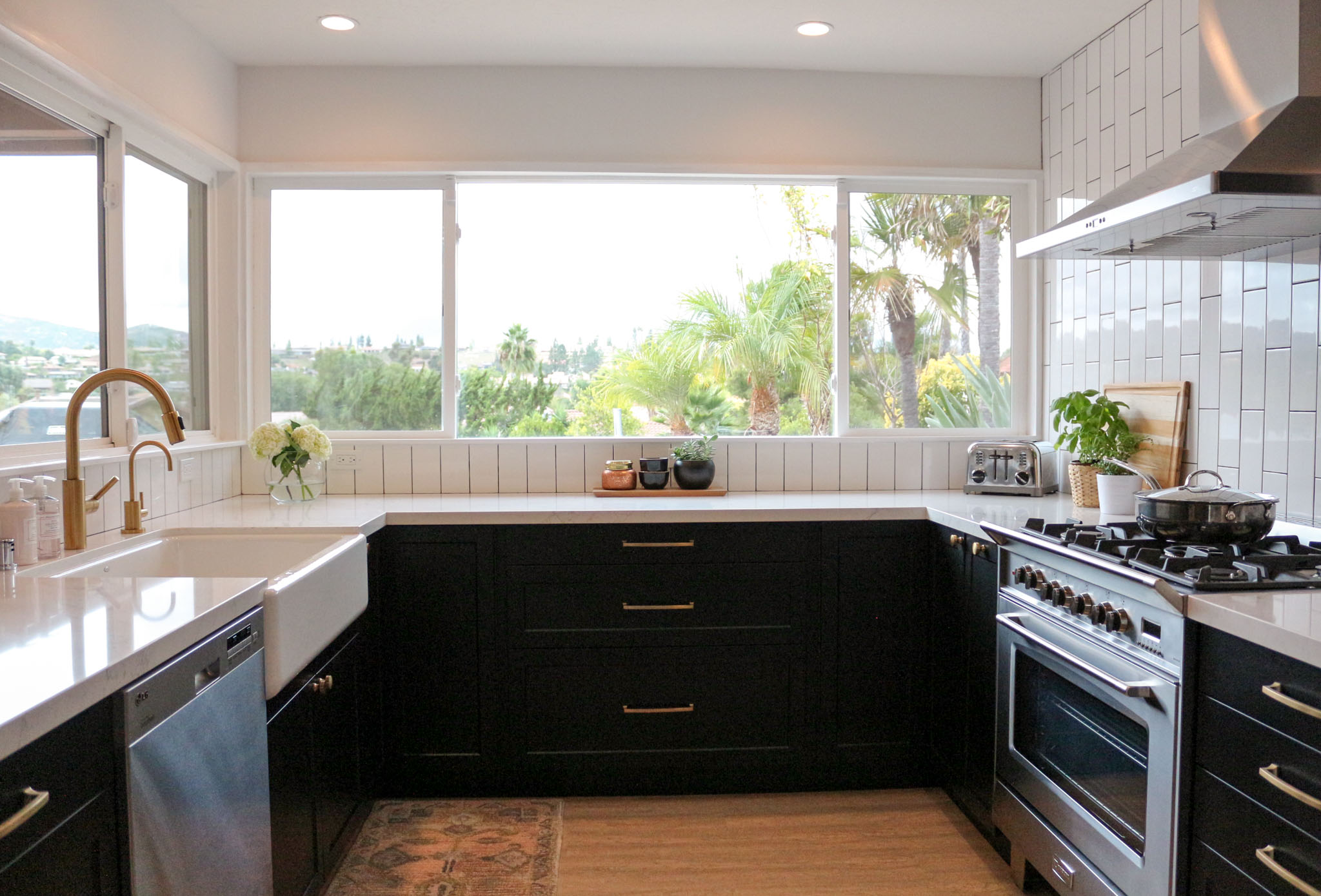 I've been receiving a lot of compliments and questions about our new range – if you have questions about it please send them my way! I'm always happy to share with you because something as awesome as this range should not be kept a secret 🙂
What I Love About This Range:
Wide range of oven cooking options – like the "Defrost" mode – because I'm not always the best meal planner and the defrost option gives me the freedom to quickly take frozen foods to the dinner table, without drying them out, and is much quicker!
5 sealed burners – makes for precise cooking for a variety of different foods.
Clock & Timer
Overall style and visual appeal- I chose the Verona Classic because I love the legs and knob detail – the sleek aesthetic adds such a beautiful element to my kitchen.
Telescopic rack- the glide system for the oven rack makes it so easy to move my dishes in and out of the oven!
Dual Fuel Option – this gives me the power of gas burners and the functionality of an electric oven, the best of both worlds!
Why Verona:
Quality
Ease of Use – simple cooking technology that won't become obsolete
Great Price Point for all of the Amazing Features
Excellent Reputation
Beautiful & Ergonomic
When Researching Professional Ranges:
Keep in mind how often you cook and what you cook.
Do you have the space for a larger range? If you are able to make a larger range work for your space – I highly recommend it!
Do your research, listen and read other reviews.
Make sure you check for items that come standard – is there a timer, are there a variety of cooking options?
It is worth investing in a range you will have for many years – think about the quality, safety, and reliability!
I hope this review was helpful and that you stay tuned for more! If you'd like to shop for your own Verona range, click here to find a retailer near you.

*My reviews are genuine and honest. I work with trusted brands that I use in my home. All opinions are my own, for more info please see disclaimer here.
Save
Save
Save
Save
Save
Save
Save
Save
Save
Save
Save
Save
Save
Save
Save
Save
Save
Save
Save
Save
Save
Save
Save
Save
Save
Save
Save
Save
Save
Save