Today I'm sharing how you can make your home cozy with winter decor. Decorating after Christmas can be tricky. It's the time when some of us are ready to bid farewell to our Christmas decorations, clean, and de-clutter. Some may choose to keep their holiday decor longer enjoying the festive vibe through the new year. But what about the time right after the new year rings in? It's a little tricky – not quite spring, still winter, and many of us still crave that cozy vibe. Imagine the fireplace burning, sipping hot chocolate, cuddled under soft blankets, and laying on a faux fur pillow. If you are longing for a cozy home for winter then you are in the right place! I'm sharing my tips as well as items to get this same look – cozy vibes here we come!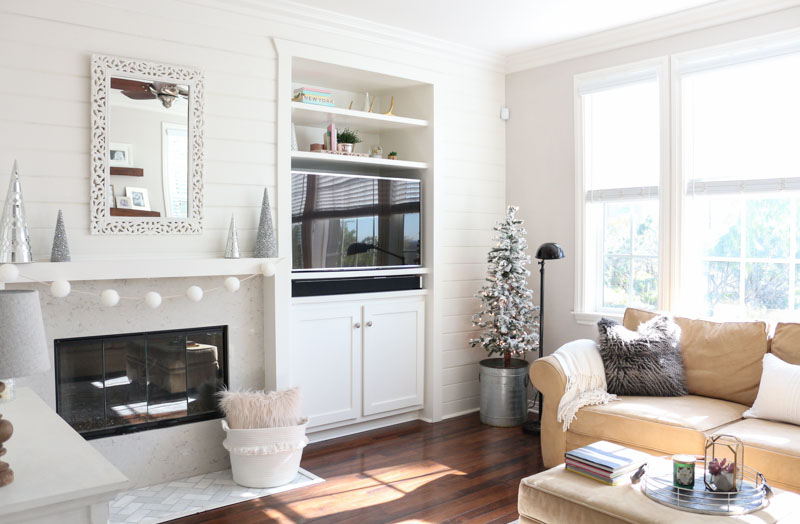 Tip #1: Say Goodbye to Christmas
Bid farewell to anything that says "Christmas". This includes signs, pillows, anything with a Christmas theme. Tuck those away for next year in a storage container. Keep neutral winter decor such as anything with snowflakes or a snow theme. Snowflakes and items with a snow theme can be used in either Christmas or Winter decor. It's easy to transition those items into winter decor by sticking to a neutral theme. They look great for winter decor in neutral colors – think white, grey, blush pink, silver, and gold. I kept my silver trees and moved them to our mantel. They make it feel like a winter wonderland. My little ones think they they should be in a castle of an ice princess 🙂

Tip #2: Faux Fur
You may have already purchased faux fur items around the holidays so you can easily incorporate them or keep them out for winter decor. Items such as faux fur pillows and blankets, and knit throws are perfect for creating cozy vibes. Place a fur blanket in a basket or place one on your sofa. You can also put a pretty fur pillow in a basket near your fireplace or console table.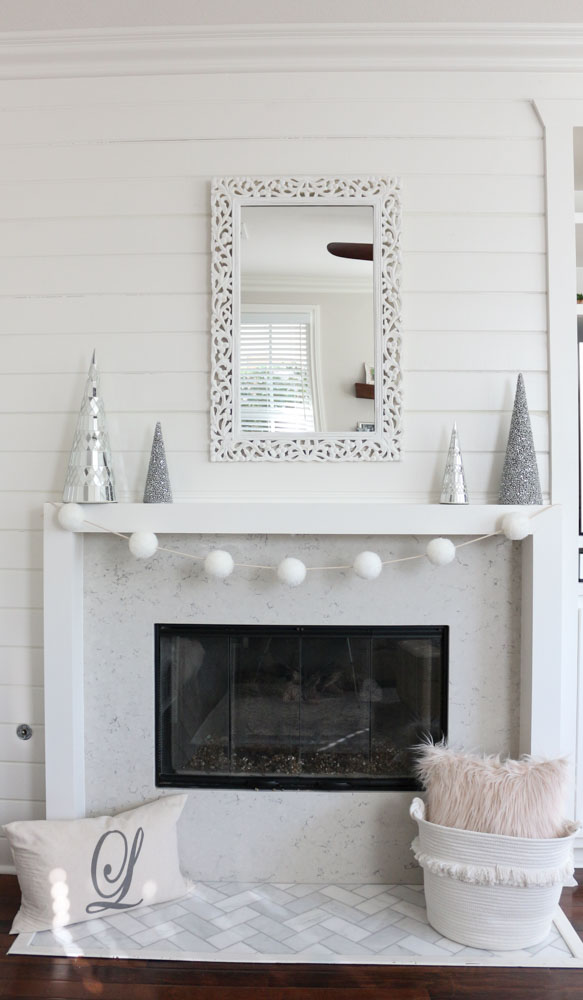 Tip #3: Say Goodbye to Ornaments but Keep the Tree
This one is optional as I know some want to put their tree away shortly after the holidays. However, you can keep your tree – just make sure to remove the ornaments. If you have a small flocked tree like mine or plain tree and love the festive feel keep it to create a winter woodland feel. This can be used during the month of January and will definitely keep your home extra cozy. Just make sure to remove the Christmas ornaments (back to Tip #1) anything that screams Christmas should go 🙂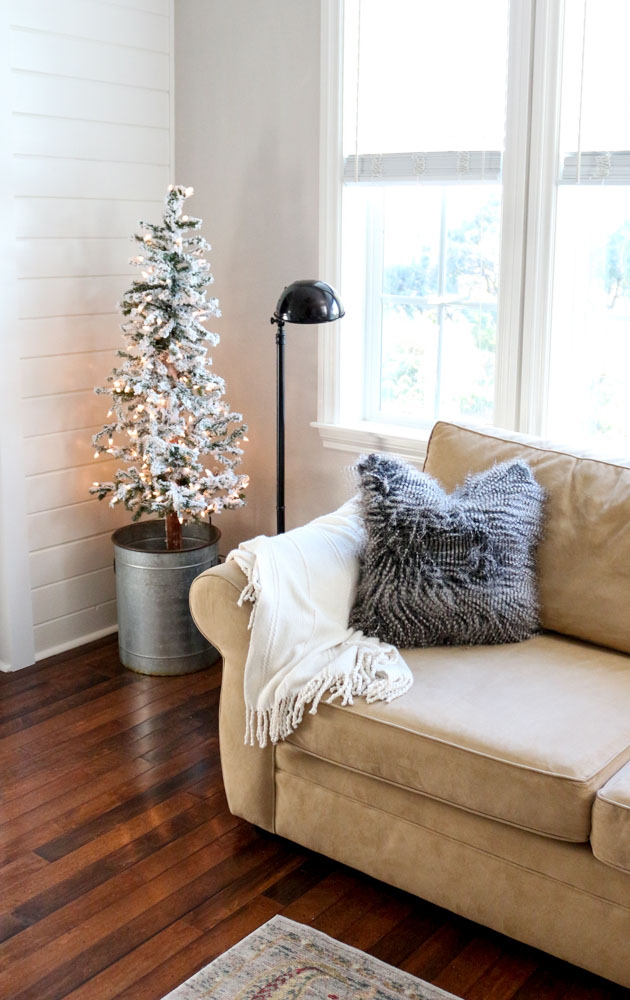 Tip #4 Keep it Light and Bright
You can never go wrong with white decor for a pretty winter look. I already use white throughout my home so this was easy but a simple way is to add this pom-pom garland in all white which gives major winter vibes. I also added a pretty winter floral bouquet to our console table for a touch of greenery.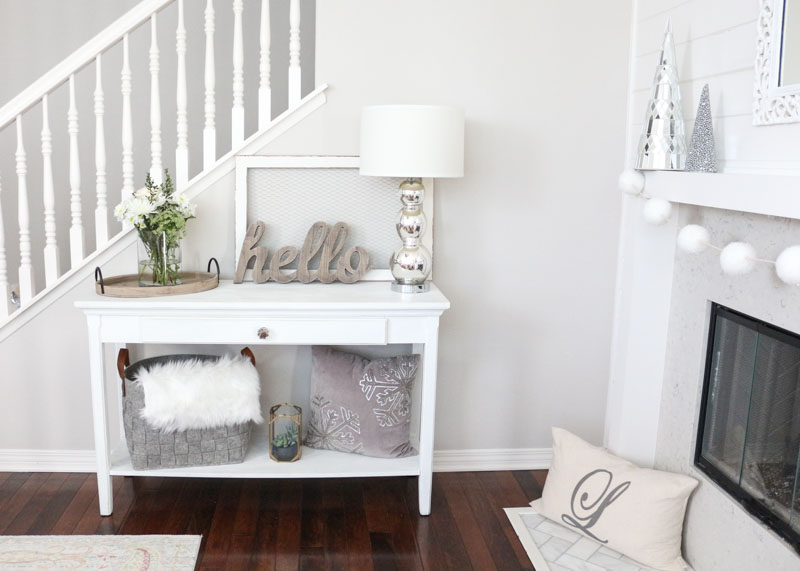 Tip #5 Warm it Up
Warm up the space with gold, brass, and copper accents – I love gold antlers (kept them out from my Christmas Decor) and pretty gold lanterns. Gold, brass, and copper elements add warmth to any neutral or white space. They also add interest and dimension and look super gorgeous in any space.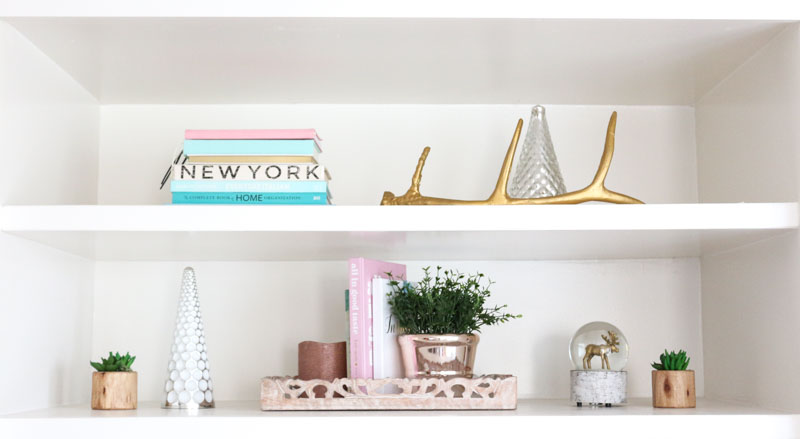 Shop this Post

I hope you found these tips to make your home cozy for winter helpful! How do you add a cozy vibe to your home? Would love to hear! You can shop our family room here. Don't forget to subscribe to the blog for more and our new You Tube channel here to check out more! P.S. I think I may have said "cozy" and "vibes" way too many times! lol!
Thanks for stopping by,

* Affiliate links provided, all opinions are my own.
Save
Save
Save
Save
Save
Save
Save
Save
Save
Save
Save
Save
Save
Save
Save
Save
Save
Save
Save
Save
Save
Save
Save
Save
Save
Save