Hi friends! Today I'm sharing my quick and easy makeup and beauty routine for every girl! I've had a lot of questions lately about what I use for my skin and make-up. Well I'll tell you that I'm all about quick and easy – when you are a working, busy girl or mama you need time on your side. I'm including my go-to products and items I use daily. These are items I've used consistently and recommend because I have tried them and use them!
*Affiliate links used, all opinions my own. See my disclaimer here.
Keeping it Real…
To keep it real I wanted to share something about my skin here in this post. Last year I was diagnosed with Rosacea and it has been a struggle and challenge. While Rosacea is completely manageable and pales in comparison to anything health related that is major – trust me I know this as a nurse, it does take its toll on your self-esteem. If you also suffer from Rosacea than I feel your pain. I get the bumpy kind that looks like acne. Super fun. I was lucky to go through adolescence with only the occasional pimple here or there. My heart goes out to you if you have dealt with any skin related issues and I can empathize with the struggle for clear skin. That being said I've found a strategy that works for me and my hope is that sharing my struggle helps you to understand that you aren't alone if you too suffer from Rosacea or any skin condition that impacts your life.
What I Use Daily For My Face
So now that you know that my skin is far from perfect – but perfect is so boring…right?! I am dealing with it and have also grown to love my freckles and I am definitely doing my best to combat signs of aging – I'm turning 40 soon and I feel like it is now or never to adopt a quality skin care routine. So here's what I have found to help keep my skin looking clear and fresh daily.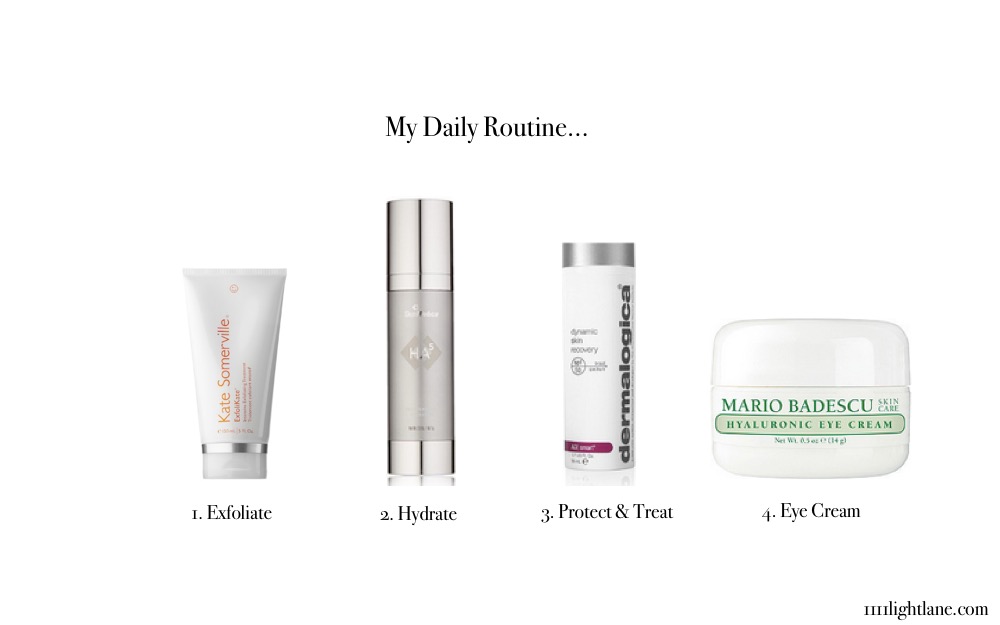 I use the exfoliating product a couple times a week – it works amazingly well and there is also a gentler version if you have sensitive skin. The hydrating serum has been a lifesaver. I use it as part of my day/AM routine only because its a little pricey. It is totally worth it for hydrating your skin (it's like giving your skin a big drink of water). I am religious about sunscreen – ever since I was a young girl, I've been slathering it on! This is my favorite sunscreen because it protects, doesn't make my skin look greasy and also treats the skin with anti-aging properties at the same time. I've tried a lot of different eye creams and I finally found one that I love – this one goes on super smooth and it's not greasy. On the days I'm not exfoliating I'll use warm water or a make-up remover wipe to cleanse my skin. I'm still searching for the perfect daytime cleanser… 🙂
Easy & Quick Everyday Make-Up Routine: What I Use & Love
When it comes to my make-up routine I try to keep it as easy, quick and simple as possible. I aim to get my make-up on in under 10 minutes. I always strive for the no-makeup look. I always feel more like myself with a more natural look. This makeup routine is also great for work. You can add on a few extras for a little more drama for a night on the town or a date night. When I need to step up my game for an event, date night or evening look I opt for a deeper eye shadow color from my palette, a little more eyeliner and a deeper lip color. The make-up items I've listed below are what I use everyday and for every girl!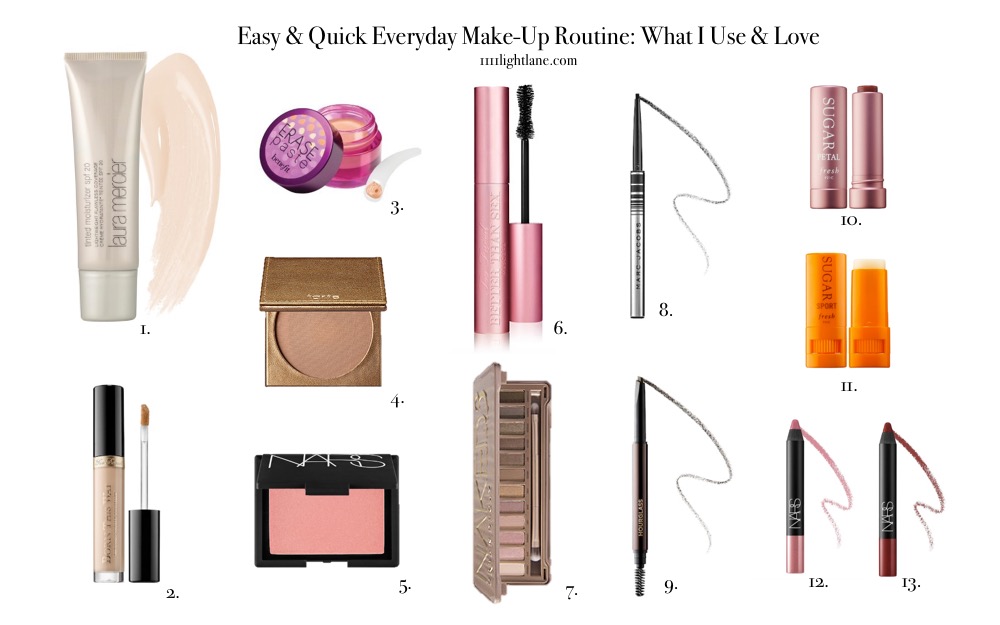 1.//2.//3.//4.//5.//6.//7.//8.//9.//10.//11.//12.//13.
Tinted Moisturizer, Concealer, Bronzer & Blush
I love a good tinted moisturizer for a more natural look and this one I've been using forever and is my favorite. The concealer is so soft and natural looking and when I feel like I need extra coverage I add a layer of this one to give extra coverage (it's also great for blemishes). Natural looking bronzer and blush are so important and this bronzer and blush have been my favorites for years – they give you such a pretty glow. Sometimes I add this cream blush stick first for an extra glow and then layer and blend my blush on top.
Mascara, Eye Shadow & Eyeliner
If you want full, long thick lashes than this mascara is the best. My eye shadow palette is perfect to go from day to night with my eye make-up routine. I can choose and adjust the eye shadow color from a great neutral selection. A good eyeliner stays put and doesn't smudge – this one does just that and is waterproof and allows for precise application.
Eyebrows & Lips
For eyebrows I finally discovered an angled natural color to fill in brows and it doesn't budge and looks realistic. When it comes to my lips I always make sure I apply sunscreen and this one has spf and a little color, it's not sticky, goes on smoothly and feels wonderful. When I have an extra minute I'll add my lip liner which is the prettiest shade for day or night first then add my lipstick or sunscreen. This color lip liner is great for a date night or night on the town with girlfriends. This is my favorite all around sport sunscreen for lips – great for the beach, outdoor activities and you can use it everyday when you don't feel like lipstick but need sunscreen protection.
My Go-To Beauty Items…
These are the items that will step-up your beauty routine to the next level without breaking the bank and give you a major impact to your skin and save you time! We all need that!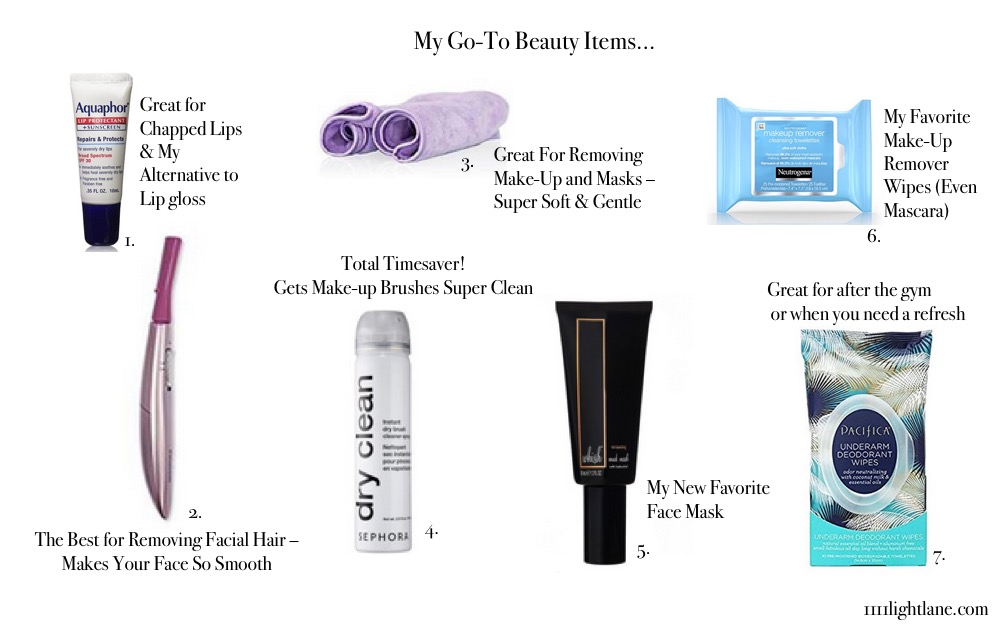 Lip Balm & Facial Hair Remover
This lip balm I apply at night for smooth lips (they make 2 versions – one with spf and one without). For night I opt for the non-spf version. It is also my alternative to lip gloss. For removing pesky facial hair (which let's be honest most of us have) this is my go-to beauty tool. It removes facial hair for super smooth skin. When I apply a facial mask or want to remove exfoliating creams I love using this super soft make-up remover towel. It is machine washable and doesn't tug or irritate the skin.
Brush Cleaner that is Quick & Easy & Facial Masks
My recent find and total time saver is this make-up remover cleaner. It works like a dream and you don't need water – just spray on make-up brushes, remove with a tissue or washcloth and you are done! So quick and easy! Many of you asked what was my favorite facial mask and this one is awesome. I'm loving how it makes my skin look and feel after I use it!
Make-Up Remover Wipes & Underarm Wipes
My nightly make-up removing routine involves these wipes – they even remove mascara. It makes removing make-up so easy – no excuses going to bed with make-up on with this simple and easy wipe! My night routine is pretty minimal, after I remove my make-up I apply eye cream and my Rosacea prescription cream (which helps prevent the red bumps). I find that night creams tend to clog my pores. Sometimes less is more. My last go-to beauty product are these underarm wipes. They are great for after the gym or early mornings (when you have showered the night before) and need a refresh. They smell amazing and are made with essential oils.
Must Have Make-Up Tools
Last but not least I wanted to share my must have make-up tools. These 3 items are what I use daily. I don't believe you need to spend a fortune on make-up brushes – I am practical about these things and have found that I don't use all the make-up brushes I do own and have narrowed down my essentials to these three tools.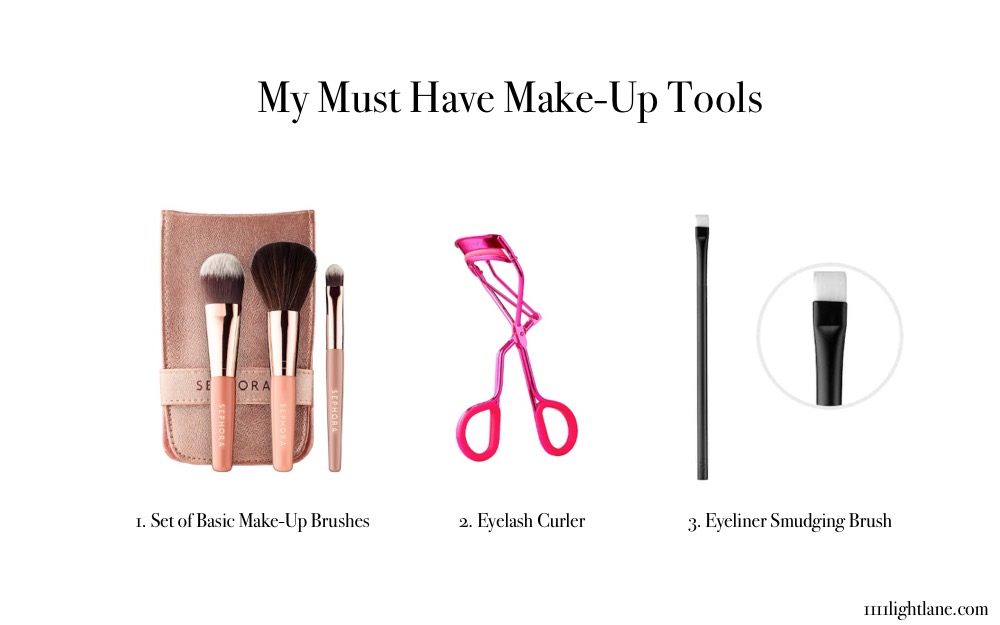 Basic Make-Up Brushes, Eyelash Curler, Eyeliner Brush
I believe in investing in a basic set of make-up brushes (one for bronzer, blush, eyeshadow are great!). There is also this set that offers five brushes – which is another great option. Investing in a good eyelash curler will make a huge difference with your lash game. This one really helps to give my lashes a gentle lift. I use this eyeliner smudging brush to blend eye liner for a more natural look. I've never been a big fan of blending sponges but I do use this brush occasionally when I have more time to blend my tinted moisturizer. I didn't include in my top picks because it's a nice to have but not a must have in my opinion.
What You Eat/Drink & Your Skin
I've always tried my best to be mindful of what I eat and typically stay away from a lot of dairy and anything that will make my Rosacea worse. Sometimes I'm learning it is all about trial and error in finding which things can exacerbate it but for sure what you put into your body does make a difference in your skin. I love lemon water and lots of healthy sources of vitamins, minerals and fats. I eat a lot of fish and get my protein from lean meats and also eat bacon every now and then – lol! I'm all about balance though – I love an occasional diet soda and indulging in yummy food that isn't always considered the healthiest. Having a balance is key and I'm working on curbing my sweet tooth because I've noticed a lot of gluten and sugar just doesn't agree with my skin.
I hope sharing what I use and a little bit more about me and my skin is helpful! Also don't forget to always keep an eye on your make-up and skin care product expiration dates – those can sneak up on you quickly! I know they do for me 🙂 I love recommending products I actually use daily and have been using for years – I  keep coming back to them every time! Have you tried any of my favs? Let me know and if you have and any that are your go-to and must haves!
*Also please remember when referring to the skin care and make-up products they are simply my recommendations, you should always consult with your physician or dermatologist if you have any questions before beginning any new skin care regimen.
Thanks as always for stopping by and don't forget to subscribe below for the latest posts,